WHY do supporters go to football matches?
Because we love the game? To support our team? To feel part of something?
To come together as one, get behind something, put differences aside, forget about the outside world and back a common cause for a couple of hours?
To escape from the bullshit of everyday life?
Liverpool play Brentford on Saturday evening looking to extend their best winning run of the season and continue to try to polish a campaign to forget a little further.
For regular match-goers, we'll walk the same roads. Catch the same buses. Jump the same trains. Drink in the same pubs. See the same faces. Same as it ever was. Except it isn't. Through no fault of our own.
What should be a procession to the penultimate home game of the season is now something else. A news story. A show. A charade. Mandated patriotism will now be part of a football match. Our football match. Pomp and ceremony crowbarred into our day, our ground, our city – and for what?
If the idea of a monarch is for you, Saturday offers you every chance to play your part. An estimated £100 million is being paid out to mark the coronation of King Charles. So maybe you want to involve yourself in the party in London. Or watch the wall-to-wall coverage on TV. You could hold your own party. Pledge allegiance. Wave flags. Whatever you wish, it's your choice. "Choice" being the operative word.
The Premier League – prompted and prodded by sections of the Government – has, in its infinite wisdom, been leaning on our football club to mark the occasion. Play the national anthem. God Save The King. Play these songs. Show this graphic. Put this in your programme.
One question: Why?
Before someone else points it out, I am more than aware there are varying views on the subject even in the city that hosts the club we love. No one expects nearly half a million people to think the same way.
And yet on Saturday we are all assumed to, guess what… think the same way. Even act the same way.
I know some people love the Royal Family. My own nan does. Some people think it serves a purpose. Some people are patriotic. Some people think they play a vital part in making Britain 'Great'. Or something like that.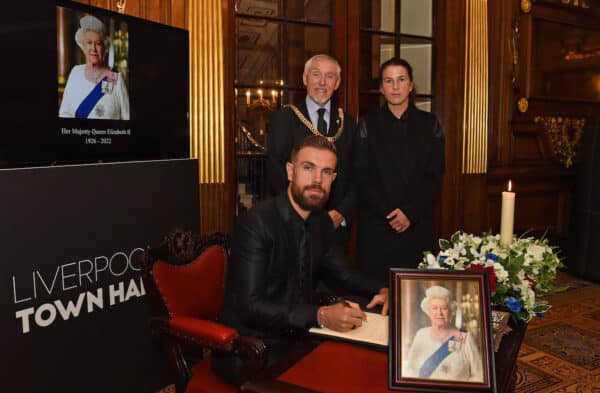 Others think they are part of the Establishment. Representatives of those in power who have shown little concern for our people and our city.
And everyone is entitled to their view, right?
On my travels this week, I've seen it for myself. On the streets of Kirkdale, Liverpool, one of the most deprived areas of the UK, there is little to no sign of what is being presented as the celebration of a nation.
Meanwhile, 15 miles north in well-to-do Birkdale, still part of Merseyside, flags flutter at every turn, bunting sways in the breeze, pubs have been decorated, the butcher is producing produce especially for the occasion (King Charles sausages perhaps?).
So back to choice. If some are for and some are against, some love and some hate; if it's known that within our number there are plenty who feel passionately that the coronation is not for them, why shoehorn it into a situation like a football match? Our football match.
Is Charles a football fan? A Liverpool fan? Does he love the game? Does he care what 54,000 people going to a match on a Saturday night at Anfield think? No. No. No. No.
He no doubt has plenty of hangers on to be dealing with. So again, why?
Are there clear instances of some of our number not being the biggest supporters of the Royal Family? Does this city have a demonstrable streak of historic defiance?
Is there also evidence some are not so patriotic?
Is there anything that suggests that making us part of something we haven't voted for or asked for or even enquired about could stir negative feelings, lead to anti-Royal, anti-establishment chanting/boos and will likely end up generating negative headlines for Liverpool and its people?
Is that likely, in turn, to lead abusive social media posts, the weaponization of tragedies and the other usual, all too common cesspit divisive behaviour that we're so often on the end of?
Yes. Yes. Yes. Yes. Yes.
So again, why?
Call me a victim if you like, or suggest I have a chip on my shoulder, it's nothing new, I've heard it all before.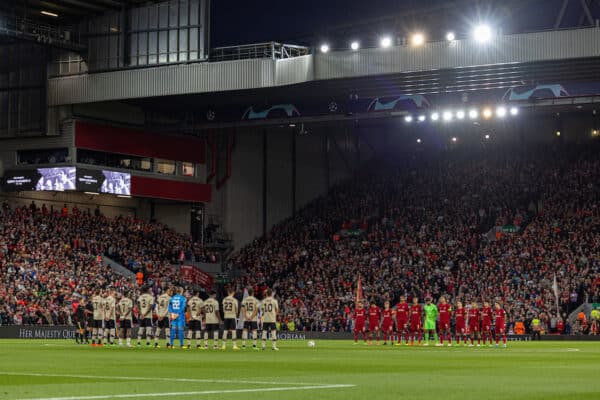 But despite there being plenty of people nationwide that don't think the antiquated set up in this country is the right one – only three in 10 thought the monarchy is "very important" according to a survey by the National Centre for Social Research, a historic low – it's all eyes on Liverpool now.
A televised game. A late kick off when many will have enjoyed a pint or two before. What could possibly go wrong?
Those that hate Liverpool, hate Scousers, and love to shout about it at every opportunity, will tune in, poised. Will "the Scousers" boo the anthem? Will they suggest the coronation is stuck up your arse?
Some were clearing their throats in readiness on Wednesday night against Fulham. That particular rendition regarding royalty and rectums wasn't especially loud. It wasn't the majority of the stadium either. But it was enough to generate an article in The Daily Mail and a cosy chat on GB News between multimillionaire Tory Jacob Rees Mogg and passionate Brexiteer Peter Shilton.
How dare anyone have an alternative opinion on these matters – you MUST doff your cap, right?
Well, no, wrong. But once this trial by singing is complete, expect the biteback to start. Hillsborough. Heysel. The stereotypes. The bile. The baiting. The othering of Liverpool. And for what? Why?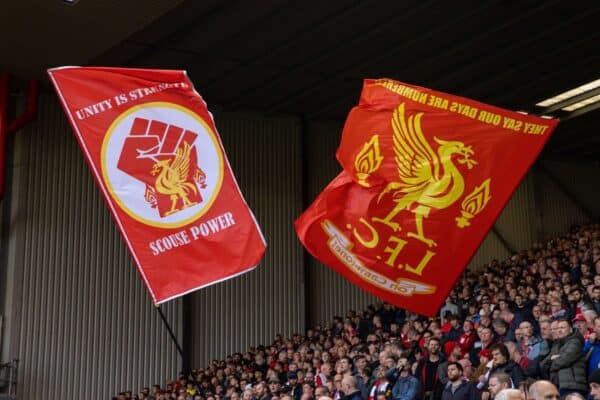 Why has the Premier League – and those leaning on the Premier League – made such a botch of all this and why is it anything at all to do with us?
When it was announced on Friday morning that "the club" had decided to acquiesce to the demands made of it, plenty reacted negatively. Some called it weak. Others said it was throwing supporters under the bus. After all, it's "the fans" who are now going to have fingers pointed at them when the inevitable happens on Saturday.
There is an element of "damned if you do and damned if you don't" about it either way though. I'd have loved for our club to rubber-stamp what would essentially be an anti-establishment stance. Can't say I expected it though. Corporates do corporate.
Although presumably someone somewhere with responsibility once approved a Nike campaign that celebrated our differences from the rest of the country and included the phrase "Welcome to the Republic of Liverpool."
I think the blame goes back to the Premier League though, and again, labouring the point, likely the government officials leaning on them. It was reported that the Government (Department for Digital, Culture, Media & Sport) held talks with the Premier League about this day and the arrangements around it as far back as October 2022 (and this is what they came up with!).
All clubs are not the same. All cities are not the same. All people are not the same. Who best knows the temperature of Liverpool fans? People who are Liverpool fans themselves, who work here, live here, and are at matches home and away every week or a government official or a Premier League suit pontificating from on high?
Because for all "the club" is on the receiving end of criticism right now, I can think of plenty of people involved there who could have advised how all this will unfold and will not be happy with the decision made either.
A section of Liverpool's statement on the matter said: "It is, of course, a personal choice how those at Anfield on Saturday mark this occasion and we know some supporters have strong views on the matter."
A debate has been had at least.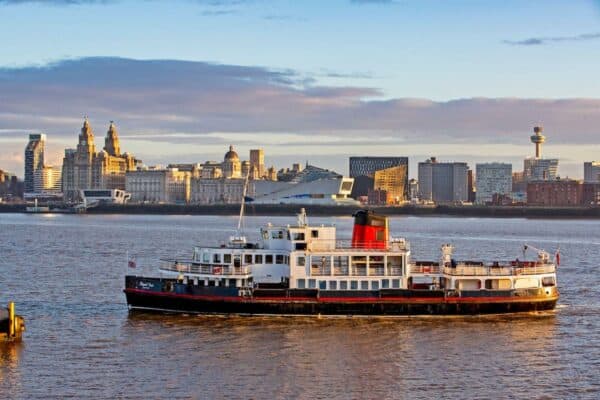 And so we have it. A shitshow based on presumption that no one wins from.
Liverpool fans, for the record, were respectful of the minute's silence for the death of the Queen. But don't expect any of that context when the waves of wails come washing our way after people express their opposition to being strong armed into singing they want someone to be "long to reign over us".
It could be worse, at least the club has acknowledged that we have freedom of speech. The Metropolitan Police proudly announced that "our tolerance for any disruption, whether through protest or otherwise will be low". They added: "We will deal robustly with anyone intent on undermining the celebration."
Celebrations, if that's what it's supposed to be, will be undermined at Anfield, you can pretty much bank on that. And all we wanted was to go to a football match…