Curtis Jones expressed his delight at netting his first league brace for the club against Leicester and discussed his development from the academy version of himself.
The 22-year-old played a starring role in the Reds' 3-0 victory at the King Power on Monday night and described himself as "buzzing" with the goals and performance.
Fellow Scouser Trent Alexander-Arnold was also on the scoresheet with a stunning second half free-kick to seal Liverpool's seventh win in a row.
Speaking after the game, Jones said that he is keeping his "feet on the ground" after impressing in his ninth successive start for Jurgen Klopp's side.
"I came in against Chelsea and I kept my shirt and I've still got the shirt now. I'm enjoying it, I'm being humble and keeping my two feet on the ground and I know what it takes, so that's what I'm doing," said the midfielder.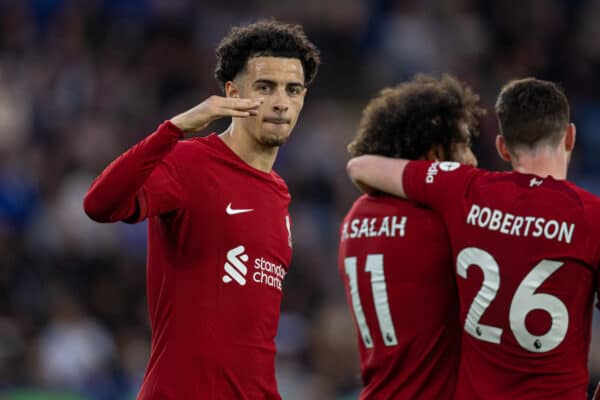 "Being a kid in the Academy days I've always scored goals and I wouldn't say I've been the star kid but I've always been the kid who has jumped up the age groups."
Jones went on to talk about the adaptations he has made as he has progressed through Liverpool's ranks and the increase in his defensive responsibilities.
"In my Academy days I have always been a lad who just wanted to have the ball, run, run, run and shoot and score and try to assist," he continued.

"I'm at a point now where the game is more of an attacking and defending player, so if I don't have the ball I have to go and press and make sure the space is closed."
Jones is enjoying his longest run of starts in Klopp's side of his career to date and is grabbing the opportunity with both hands as the campaign draws to a close.
The Reds will be looking to replenish the midfield area this summer but Liverpool's No. 17 will be keen to sustain his current form in order to keep his level of involvement within the squad during 2023/24.