Jurgen Klopp "got off lightly" with his punishment for comments on referee Paul Tierney, one ex-official claims, with the FA having "lost control."
Klopp has received a two-game ban, with one of those suspended, for his accusations against Tierney following the 4-3 win over Tottenham last month.
The Liverpool manager was also fined £75,000, but the punishment was more lenient than many expected, with the FA urged to set an example in the immediate aftermath.
While Klopp will be in the stands for the final home game of the season against Aston Villa on Saturday, ex-Premier League referee and former PGMOL chief Keith Hackett believes he "got off lightly."
In a column for the Telegraph, Hackett went as far as criticising the FA for having "lost control," with repercussions down to grassroots level.
He described Klopp's ban – of which the second game would only come into effect is he is found guilty of similar breaches before the end of next season – as a "weak sanction."
"This weak ruling fails to send out the message to grassroots football that questioning the integrity of the referee and confronting the fourth official in the manner he did is unacceptable in the game," he added.
"We are all aware that behaviour in elite football cascades down to grassroots and makes the task of officiating at that level difficult."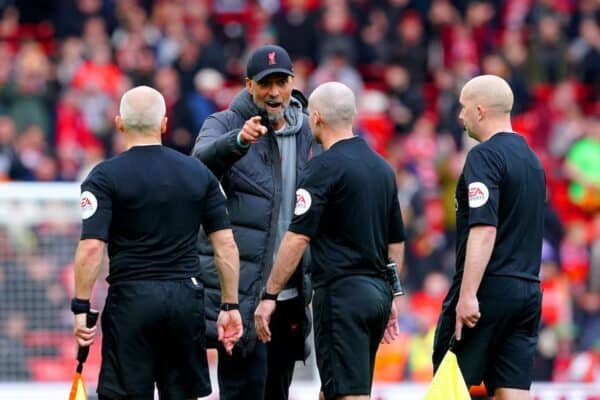 Hackett went on to argue that Klopp's sanction "nowhere meets the significance of his offence," and that "the members of the Regulatory Commission have demonstrated weakness."
"[They] have let down all English referees up and down the country by passing up on the opportunity to make an example of Klopp's continuous unacceptable behaviour," he concluded.
It is fair to say that an effective one-match ban is better than most Liverpool fans would have expected, regardless of their stance on criticism of Tierney.
However, Klopp showed contrition during an investigation into his actions, including an apology letter to those involved.
Whether he should have received a lengthier ban is up for debate, though few on Merseyside would argue given he will already be back on the touchline at Southampton on May 28.