It wasn't the easiest three points Liverpool will pick up this season, but a win and a clean sheet were enough to send fans home happy against Brentford.
Mohamed Salah's close-range finish was the difference between the two sides at Anfield, with the Reds able to keep Brentford out in the second half despite sporadic waves of pressure.
The victory takes Liverpool up to six wins in a row as they look to end an inconsistent campaign on a high.
Here, Adam Beattie (@beatts94), Ben Kelly (@bkelly776) and Joanna Durkan (@JoannaDurkan_) break down another win for Jurgen Klopp's men.
It was a slightly nervy finish but they got the three points again, what were your overall thoughts on the performance?

BEN: I think at this point it's certainly more about results than performances.
We all know what the issues are with the squad but while we're still sort of in the hunt for top four, getting the wins are all that matter.
That said, Brentford are a good side and they're good at stopping teams from playing the games they want to.
So, take the points and move on.
ADAM: Absolutely. There is plenty of work to do both in the market and in pre-season this summer but if we can get there with a bit of momentum then I've got every hope that 2023/24 can be a big one for us.
They caused us problems in that second half but coming away with a clean sheet is difficult to argue with and we probably should have had a couple more ourselves too.
Mo Salah is quietly having one of his best seasons with us and that is really saying something, I would not bet against him scoring in all of the last three now.
JOANNA: It was far from a classic, that is for sure, but with what we've seen throughout the season you will find no complaints from me!
I was wary that our system would give Brentford the space to exploit but I thought we handled them quite well throughout and I didn't ever fear letting the lead slip.
As you've both said, it's results over performances right now.
Liverpool weren't at their best but that's six wins in a row now, how confident are you from what you've seen that they can finish with all nine?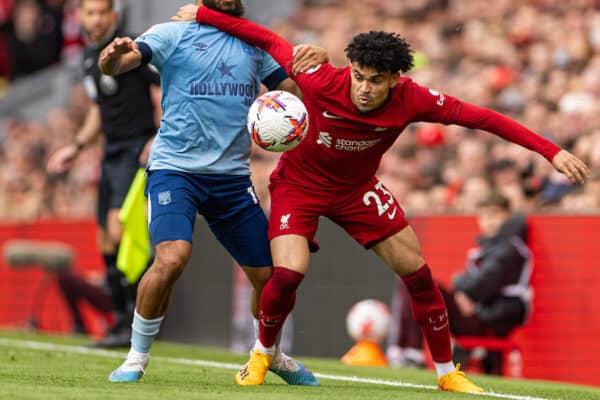 JOANNA: Of the three games left it is probably Leicester that causes me to worry the most. They're fighting relegation, it's an evening kick-off and their fans will be up for it.
Not to mention the fact we don't always fly out of the blocks after a longer break between games.
If we come through unscathed, I do think we can make it nine from nine and that will be the ideal way to bid farewell to this slog of a season. Just makes you think what could have been possible if we made the system tweaks earlier.
ADAM: After navigating West Ham and Tottenham it definitely felt like we'd broken the back of this run-in.
That game yesterday felt like one that might have gotten away from us earlier in the season but we kept our heads well and that seems to be a running theme at the moment which is really positive.
If we go on and it do it now it will be some achievement considering the place we were in.
BEN: I think at this point, anything less would feel like failure. We've got a big gap between now and next Monday, when we travel to Leicester.
That will be a tough place to go given their situation, but ultimately they haven't been a very good football team this season and we should have enough.
We can get a maximum of 71 points, we should absolutely be achieving that now.
Cody Gakpo looked comfortable playing in a somewhat more withdrawn role, do you think that is something we'll see more of next season?

ADAM: A big part of that selection could well have been because the manager felt his hand had been forced by injuries, but just having the option could be really useful for us in terms of getting as many of these forwards on the pitch as possible.
I was hoping to see a bit more from Nunez given that he has seen his opportunities increase in the last couple of games.
Unfortunately, he just looks a little bit short of confidence and sharpness at the minute and it would be good to see him get that back sooner rather than later.
JOANNA: I do, he has that versatility and he has shown he is capable of driving forward with the ball and can draw a foul when doing so, if and when it is needed.
I have been really impressed by Gakpo and we are seeing more of what he is capable of with the team as a whole now finding form. It leaves plenty to be excited over once he gets a full pre-season in him.
BEN: Very possibly, I think it's quite exciting that there seems to be a lot of choices in terms of position with Cody.
I think he's at his best when he picks up the ball deeper and drives through the middle of it, he's incredibly strong at shrugging others off while running with it.
Any position where he can do that as much as possible will benefit him and the team the most.
It wasn't a classic, but were there any players who stood out to you?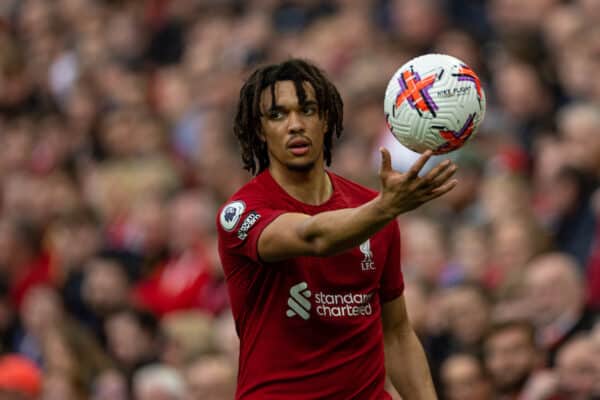 JOANNA: Curtis Jones impressed me again, he is playing with real confidence and conviction. The times he does lose the ball he is quick to press and get it back, a player with energy and we've not always had that in midfield this season.
Trent has to be the other, doesn't he? Another one who is relishing his role in the side and I just wish that ball to Nunez was converted, what a delivery that was!
BEN: I think the one that stands out has to be Trent, again. He seems like he's been reborn in that role.
If he's given time and space on the ball, he's capable of very silly and brilliant things. The pass for that Nunez chance, that should've been buried, was absolutely sublime.
I can't wait to see more of this next season.
ADAM: Full house for Trent, I can't get enough of watching him in that position.
There were a couple of lapses from him but when he's covering as much ground as he is then that is perhaps to be expected.
Jones also looks to be playing with lots of confidence as you've said Jo, which is great to see. You can just tell that he will not be phased by the prospect of new signings in midfield this summer in the slightest.
Any top four dreams still for you, or are you just happy to see us get on a winning run?

BEN: Not for me, personally. I'm with Klopp, I fully expect United (and Newcastle) to get the points they need.
However, if United were to lose tonight, things become a bit more interesting. I've got no expectations though. I think it's going to be too little, too late for the Reds.
ADAM: I agree, I have got no real interest in even looking at the league table until we get to Southampton and if we can go there with a sniff then it'll have my attention.
For now, it is just about maintaining this momentum and seeing how far it can get us.
No Champions League is ultimately a failure whichever way you frame it but I would much rather end the season with a positive feeling than see it peter out.
JOANNA: Make that three from three. It has never been in our hands and we would have to expect a serious drop off from others to get over the line, plus Brighton dropping points too.
There are too many parties in play and points on offer, I just want us to finish as strongly as possible and let's see where that takes us.
It looks to be the Europa League which will offer a different experience but there can be no glossing over losing out on the Champions League, as Adam said.