Rylee Foster's story is an inspiring one, and nearly two years after breaking her neck in a car accident, her Liverpool career has come to an end.
The Canadian was involved in a life-altering car accident while visiting friends in Finland in 2021, just days after being the penalty shootout hero for Liverpool Women.
Foster was ejected through the windscreen in the accident and left with a broken neck, two lower back fractures, a broken cheekbone, a misaligned jaw, partially torn MCL in the knee, partially torn quadricep tendon and a subdural haematoma in the back of her head.
A halo fixation device, which was screwed into her skull in four places, was required as part of her recovery, which has been long but inspiring.
There had not been a guarantee that the 24-year-old could return to the pitch, but her attempts will continue – although, it will not be with Liverpool.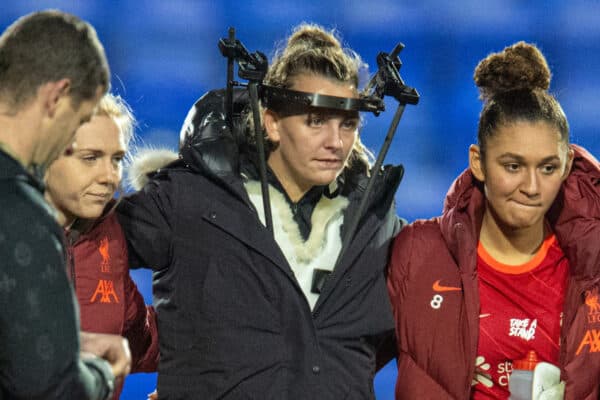 The club have confirmed Foster will depart upon the expiration of her contract in June, with the goalkeeper announcing Liverpool did not take up the option of a one-year extension.
Foster, who has a 'You'll Never Walk Alone' tattoo on her arm, penned an emotional message on social media after the news was made public, thankful for achieving a "childhood dream."
"It comes with immense pain and sadness to be leaving the club," Foster penned. "It goes without saying that if it were my choice I would stay here for my entire career.
"Sadly, that's not the case and the club has opted to not activate my one-year extension.
"Becoming a Red was a dream come true for me, it was something I prayed, dreamt and worked tirelessly for as a kid to get to this point."
Foster continued: "The next steps for me are very positive. I am ready to play again, and ready to show my worth to the next club on my journey, showing the best of me is yet to be seen.
"I won't let my injury define me."
Despite Foster's Liverpool career having come to a close, she will continue to inspire with her determination after showing a long list of injuries would neither hold her back nor define her.
All the best for the future, Rylee!