Liverpool beat Tottenham 4-3 in a bonkers Premier League clash, with the media both lauding and lambasting the Reds in equal measure.
Jurgen Klopp's side played out a Premier League thriller at Anfield, on a day that saw the hosts jump to fifth in the table.
Having led 3-0 early on, Liverpool looked like they could annihilate their opponents, but the visitors made it 3-3 by stoppage time.
Diogo Jota then won it almost immediately after, however, sending the home fans wild and causing Klopp to pull his hamstring amid the celebrations!
Here's how the media assessed the Reds' unforgettable victory.
Some tried to dissect the madness they had just witnessed…

Dominic King of the Mail dissected a crazy afternoon on Merseyside:
"Another one of those normal afternoons, then. You know: the kind where a £60 million striker ends a 22-game goal drought, thinking he has salvaged the most unlikely of points, then sees all his good work undone and the opposition manager pulls a hamstring celebrating.

"Yes, this was as chaotic as it sounds and nothing encapsulated the madness more than the 120 seconds in injury time where Richarlison scored his first Premier League goal and thought he had completed a three-goal comeback, only for Diogo Jota to strike back in the very next attack.

"Such was the bedlam at Liverpool winning a game they had almost tossed away, Jurgen Klopp went tearing off to roar at fourth official John Brooks but did so in such haste, his hamstring snapped like a piece of old chewing gum and left him hopping in agony.

[…]

"Simply, this was madness from start to finish. It was one of those crazy matches you get at the end of the campaign, when shortcomings are exposed and minds are tired.

"Whether Klopp or Ryan Mason will look back on it with any fondness is open to debate but it was fantastic drama."
On Twitter, David Lynch revelled in watching an absolute classic:
What a game of football, incredible. Liverpool's Champions League qualification hopes remain incredibly slim regardless, but this period is so important in terms of rediscovering the habit of winning and doing so in all sorts of different ways ahead of next season.

— David Lynch (@dmlynch) April 30, 2023
Chris Bascombe of the Telegraph felt this was a match that epitomised Liverpool's season:
"Not so Spursy after all? There was still time for Jota to punish a final, calamitous Spurs error to ensure Jurgen Klopp pulled a muscle in his boisterous celebrations.

"For Ryan Mason and Spurs, at least there was some pride in defeat.

"For Liverpool, it was a game to sum up the season. Exhilarating at times in attack, but still too vulnerable where it mattered.

"Occasionally there is enough there to suggest they will be back in the hunt to finish second next season, but the lingering flaws explain why Europa League qualification is the best they can hope for in their remaining games."

Richard Jolly of the Independent enjoyed the latest Premier League classic at Anfield:
"For Tottenham, the finish was as harrowing as the start, but for very different reasons. The humiliation came at the beginning, the sense this was a sorry sequel to their disastrous Sunday at Newcastle.

"The cruelty came at the last, the way the team who thought they had engineered a reverse Istanbul, coming from 3-0 down to peg Liverpool back, instead departed defeated.

"The majority at Anfield have savoured a famous 4-3 triumph or two over the years – one of the greatest of all Premier League games, against Newcastle, or the aggregate scoreline against Barcelona in a Champions League tie that took them to a final against Tottenham – and this became another.

[…]

"For the first time this season, Jurgen Klopp's team have four consecutive victories in all competitions. Yet if they have timed their charge too late to have a realistic chance of reaching the Champions League, their revival remains endangered by defensive frailties."
Jamie Carragher couldn't help but have a dig at Sky Sports colleague Gary Neville after Jota's winner:
Why is Gary not as excited right now ?????????

— Jamie Carragher (@Carra23) April 30, 2023
Luis Diaz and Curtis Jones received positive reviews…

This Is Anfield's James Nalton heaped praise on Diaz for his influence:
"This was Luis Diaz's first start for Liverpool since October. The team he rejoined at the end of this season was in a much different situation to the one he arrived at in January 2022, which was mounting a title challenge to Man City.

"It goes without saying that his return to the fold is one that is much welcome. He adds a directness, quickness and trickery that few players have, and he managed to net one of those early goals in the first 15 minutes that helped Liverpool beat Spurs – just about.

"Klopp now has a range of attacking options, and can even use different players with different strengths depending on the opponent.

"There won't be many games, though, where having Diaz in the team won't provide a useful attacking threat."
GOAL's Neil Jones loved what he saw from his namesake, as the youngster continued a good run of form:
"The renaissance of Liverpool's young Scouser continues. This was Jones' sixth successive league start for the Reds, the best run of his career, and yet again the 22-year-old delivered a performance to be proud of.

"It was he who opened the scoring, timing his arrival perfectly to steer Trent Alexander-Arnold's back post cross beyond Fraser Forster after only three minutes. The first Scouser-to-Scouser goal Liverpool have scored since Rickie Lambert set up Steven Gerrard in a 6-1 defeat at Stoke City in May 2015.

"Thereafter, Jones showcased the abilities which are keeping him in the side, keeping the ball well and pressing superbly out of possession. He didn't always get rewarded for his endeavour, but Liverpool's supporters certainly noticed it, and appreciated it.

"So too did his manager. Klopp knows midfield improvement is needed, and that means a hefty delve into the transfer market this summer, but if Jones can play like he is at the moment, then that gives the Reds boss one less headache for sure."
Liverpool's European prospects were assessed…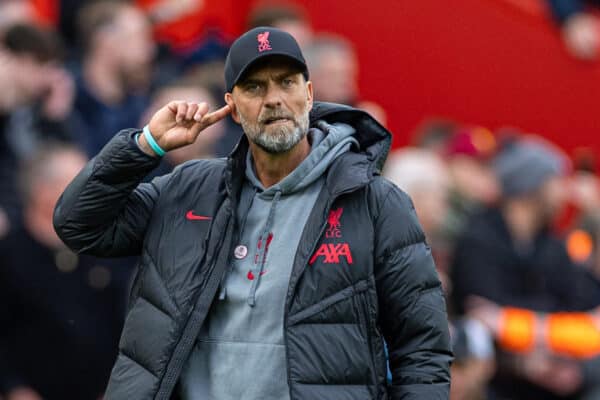 In bullish spirits, Nalton is already dreaming of Liverpool being in next season's Europa League final in Dublin:
"Liverpool, above Brighton and Villa too, in the league table. You would think they'd be down lower in midtable with Chelsea by now, but somehow they were still reasonably close to the top four until recently.

"The table is now starting to reflect their downfall along with Liverpool's latest mini-resurgence – as well as the quality shown by Brighton and Villa in recent times.

"As a result of Spurs' downfall, Liverpool are likely to qualify for the Europa League ahead of the new season.

"You wouldn't bet against them reaching the final in Dublin, a very Liverpudlian city that is just a reasonably short ferry ride away."