With their first clean sheet in six games and their first 1-0 win since January, Liverpool's victory over Fulham showed the ability to win ugly.
Three points and a clean sheet, on an unremarkable evening of football that won't remain lodged in the memory banks for too long.
Liverpool's solitary-goal victory, against a Fulham side totally at ease with itself in the Premier League for the first time in decade, was pleasantly unentertaining.
This was the type of night when lulls or disruptions in play led me to checking on Serie A and DFB-Pokal scores, in search of news of a game where spectators were having a pretty good time of it.
Over-entertained on Sunday when Tottenham rolled into Anfield, under-entertained three days later, the sensory swing in vibes was mildly disorientating, yet the six points garnered from the two games were most welcome.
A win for radio

Apparently, this one wasn't on television in the UK, but even if you couldn't find an iffy stream for it you genuinely didn't miss much.
Mohamed Salah scored from the penalty spot, and Alisson made that smart save in the second half from Carlos Vinicius.
The rest of it was largely shadowboxing, really, a game that was reassuringly without a defined sense of peril, largely thanks to the unavailability to Fulham of Aleksandar Mitrovic.
This is good though, and potentially another sign of Liverpool's gradual recovery from the travails of what has been a laborious season.
Teams that are collectively low on confidence, fragile at the back, insipid in midfield and lacking ideas up front don't generally accumulate victories like the one Jurgen Klopp and his players did on Wednesday night.

We would never have won a game like this one back in January, when we were collectively low on confidence, fragile at the back, insipid in midfield and lacking ideas up front, a month in which we had our clock convincingly cleaned by luminaries such as Wolves, Brighton and Brentford.
In a bid to go full circle from the dark days of January, the visit of Brentford on Saturday will offer us an intriguing juxtaposition of where we now find ourselves – as will where we are placed in the Premier League table when the final whistle is blown three weeks on Sunday.
That is given that we could win all four of our remaining fixtures and still finish behind Brighton, let alone above either Newcastle or Man United.
On Wednesday evening, Fulham were compact and organised, comfortable enough within their own skin to shift the ball around and utilise space in wide areas.
Out of possession, they created a dense central undergrowth, a forest of white shirts that those in all-red found difficult to penetrate.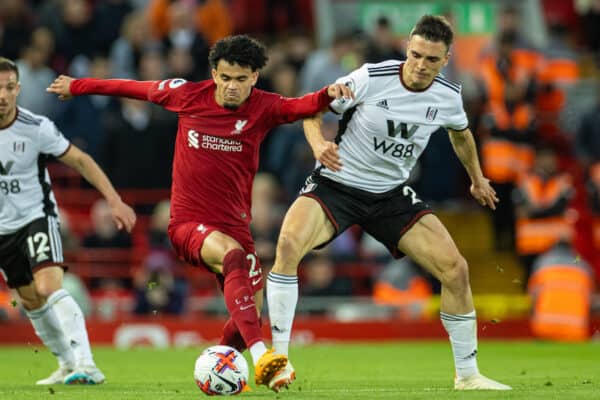 Their defence and midfield would constrict when they lost the ball, forming what appeared to be horizontal chevrons from right to left.
If Salah or Luis Diaz slipped through the first line of opposing players they ran straight into an ambush.
After the game, Klopp was free in his praise of his opposite number and the team he fielded, visibly pleased that his own had overcome the challenge of what could still be west London's top club this season.
On one hand it seems like an exaggerated reaction, yet if you can begin to pick off the ugly wins then it has a wider influence than the microcosm of that individual 90 minutes of football.
Another unhappy manager

Marco Silva has done an excellent job at Craven Cottage.
Damaged goods in managerial terms after his time in charge of Everton came to a predictably inauspicious end, he is a man who took Hull City out of the Premier League and was then driven from his job at Watford when spooked by Bill Kenwright's interest in him.
Effectively, Everton saw him into unemployment twice, but he has finally found himself a bit of an impressive niche in west London.
The outcome of this one was decided six minutes before the interval, Issa Diop's concentration momentarily dipping enough to lead him into bringing Darwin Nunez down.
Despite Silva branding the decision ludicrous, and Nunez unscrupulous, it was his own central defender that should have been the focus of his ire.
Just because the angle of the 18-yard box is a stupid place to concede a penalty – especially when the opposing attacker has a trajectory that is heading toward the direction of the corner flag – it doesn't make it any less of a spot-kick.
Life without Thiago

For Liverpool, this was a game in which the main talking point had been the pre-match news that we have seen the last of Thiago – at least in terms of this season, if not period.
The former Barcelona and Bayern Munich man has the footballing brain of an illusionist, the touch of an artist and the vision of an eagle, but his limbs seem to be made of biscuits.
Some Reds have begun to turn on Thiago, doing that sense-of-detachment thing football supporters do, throwing out noises that he has never been as good as he was meant to be.
He has been mostly excellent whenever available, but the crux has been those strikingly regular absences – baggage that we knew he had when he arrived, given he has only hit the 30-league game mark once throughout his career.
It is wild that he has now missed well over a full season's worth of football across the three years of his time at Liverpool, but his talent with a ball at his feet is matched by very few others in his position.
Without Thiago, across these final four games for Liverpool it's all about setting things straight.

Sweep the decks clear, blow away the cobwebs, spruce the place up a bit, in time to say a few goodbyes, but also some hellos in the summer.
Beyond these final four games it will be about shopping intelligently for new furniture between now and August, from where the party can resume next season.
Evolution, rather than the revolution many have suggested we require.