Liverpool's final home game of the 2022/23 season will be refereed by somebody Jurgen Klopp has 'apologised' to this season.
John Brooks will take charge of the visit of Aston Villa this weekend as the Reds look to put on a show in their last outing at Anfield of the campaign.
Brooks was the fourth official in Liverpool's dramatic 4-3 victory over Tottenham last month, with Klopp running over to celebrate Diogo Jota's late winner in his face following a series of questionable decisions.
The manager admitted after the game that he will "consider" a personal apology to the official in light of his behaviour that saw a yellow card brandished.
His passionate celebration was prompted by a number of challenges on Mohamed Salah going unpunished, something which the boss insisted remained an ongoing concern in his post-match press conference.
Klopp pulled his hamstring during the reaction and was left furious by what he had deemed to be inappropriate comments from referee Paul Tierney.
"I will not say anything about it," were the manager's words when asked to expand upon his touchline exchange with Tierney.
"I've probably already said too much, but I cannot help you more with the story you write tomorrow."
The boss later explained his dialogue with the referee, insisting that he "didn't lie" but that the issue had been blown somewhat out of proportion.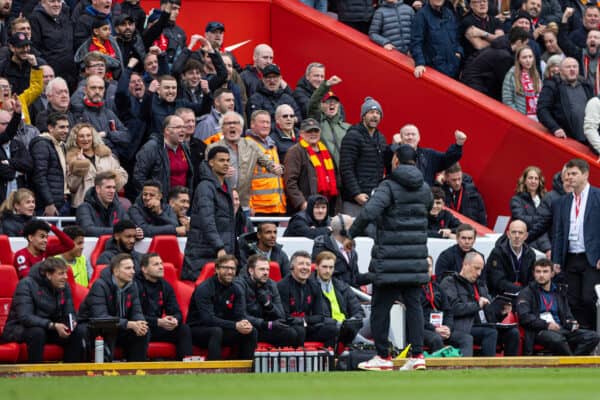 Klopp continued: "He said 'For me it is a red card, but because of him, it is yellow', and he shows me a yellow and smiles in my face, that is it."
The German confessed that the situation "should not have happened" and expressed regret for his actions towards the fourth official.
"It was not cool but I just celebrated in his direction," he explained in his pre-Fulham press conference two days after the incident.
"I just didn't think it was that bad but we all know things that don't look that bad in your own mind is sometimes different to what the outside world sees. If it looked bad, I will consider getting in touch, definitely."
Brooks will be assisted by Matthew Wilkes and James Mainwaring on the touchlines for Saturday's clash with Aston Villa, with Michael Oliver the fourth official.
Tony Harrington will be in charge of VAR from Stockley Park with the help of Nick Greenhalgh.
Liverpool vs. Aston Villa officials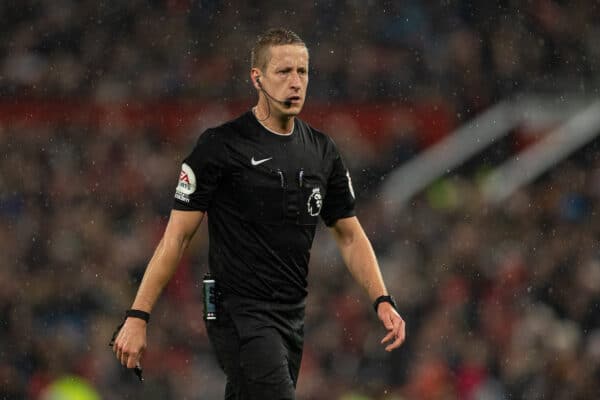 Referee: John Brooks
Assistants: Matthew Wilkes & James Mainwaring
Fourth official: Michael Oliver
VAR: Tony Harrington
Assistant VAR: Nick Greenhalgh