Liverpool had their own King to celebrate, as Mohamed Salah set yet another record as the Reds beat Brentford 1-0 to make it six wins in a row.
Liverpool 1-0 Brentford
Premier League (35), Anfield
May 6, 2023
Goals: Salah 13′
---
Booing the anthem

Well, looks like it's time for Liverpool fans to be treated like the devil again!
To no surprise to anyone, the national anthem was loudly booed and drowned out before kickoff, as those inside made their feelings known about the monarchy.
We all know what happens next, with the entire club likely to be lambasted across 'those' newspapers for having the temerity not to celebrate a rich old man being given a new hat!
If some people like that sort of thing, that's fine, but don't expect everyone to feel that way, especially if you're from a city that has forever felt cast aside by much of the country.
If only people were educated enough to read into why Liverpool supporters react this way.
Salah the record-breaker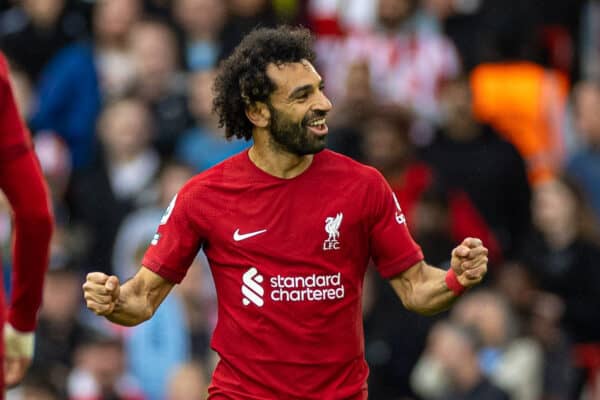 Level with Steven Gerrard – in 408 fewer appearances!
Liverpool's Egyptian King once again enjoyed a record-breaking and match-winning outing, scoring his 100th goal at Anfield.
In the eyes of some lazy outsiders, Salah has been having a 'poor' season, yet he poked home his 30th goal of the campaign to open the scoring at Anfield.
It meant he became the first Liverpool player in history to score in nine consecutive appearances at Anfield. Another record for Mo!
Salah is now just the fourth Liverpool player in history to score 30 or more goals in three consecutive seasons, and he is level with Steven Gerrard (186) at fifth in the all-time scoring charts.
Has he been at his absolute best all season? No. But we judge him on another level than almost any player in the world.
Gakpo's versatility highlighted

When Liverpool's starting lineup was released, the one addition that immediately caught the eye was Cody Gakpo in what looked like a midfield role.
While some wondered if a 4-2-3-1 system would be used, the Dutchman slotted into the right-sided No.8 berth that Jordan Henderson invariably takes up, as he showcased his versatility.
In truth, his performance was much like the team; more functional than anything else.
There was one incredible chance spurned, but he still did a job, providing work-rate and intelligence.
Such tactical understanding is impressive, and shows the faith and trust Klopp has in him.
While on the topic of Liverpool's midfield, Trent Alexander-Arnold again exuded class, producing some magnificent passes, one of which needed to be converted by the out-of-sorts Darwin Nunez.
Since his tweak in role, Trent leads the way in the whole of the Premier League in assists, chances created and touches.
What a footballer he is.
Nunez struggles again

It has been a curious first season at Liverpool for Nunez, who has taken some very unfair stick at times, but also clearly not set the world alight.
The Uruguayan's form has been patchy at best of late, and he really struggled to get going against Brentford.
Nunez missed one great headed chance, somehow not even making contact with the ball from Salah's perfect cross, before fluffing his lines when Trent found him soon after.
He never looked happy, with his pace and power arguably a greater weapon out wide, and he had the fewest touches on the pitch (18) for Liverpool.
He almost appears to be overthinking things now, rather than playing with confidence.
Nunez hasn't scored or assisted since the 6-1 win at Leeds last month – that is his only goal contribution in his last 10 appearances – and he looks completely lacking in both rhythm and confidence.
With Luis Diaz, Diogo Jota and Gakpo all strong options now, the 23-year-old has lots of work to do if he is to be a regular starter next season.
Keeping our rivals honest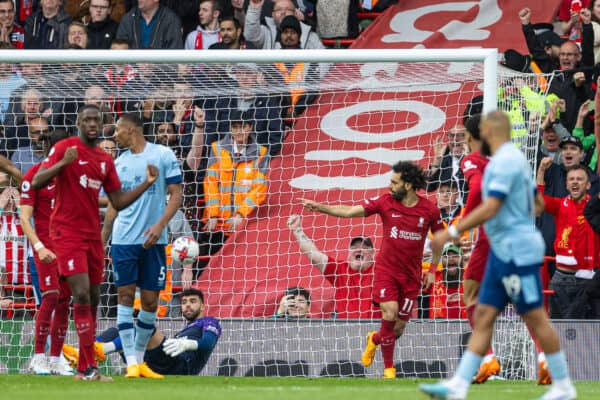 This certainly wasn't pretty, as was the case against Fulham in midweek, with Liverpool grinding their way to another three points.
Regardless, that's now six Premier League wins on the bounce and the Reds are ensuring they make Newcastle and Man United work for a top-four finish.
The odds remain stacked against Jurgen Klopp's men, considering their rivals both have two games in hand, but funnier things have happened than a collapse for either.
Liverpool fans will be donning West Ham and Arsenal shirts on Sunday, as United head to east London and Newcastle host the Gunners.
If both win, it will feel like a big nail in the Reds' coffin, but they are refusing to give up hope, which is encouraging after such an appalling run of form earlier in the campaign.
It's a case of Klopp's team winning their last three games and seeing what happens – even if they miss out on top four, things will certainly feel far more positive than they did a month or so ago.