When Steven Gerrard left Liverpool, he received tributes from the world's best players, but it was Lucas Leiva's gesture that made him tearful.
It was on a post-season trip to Dubai in which Lucas and Gerrard shared a touching moment, as the latter ended his 17 years playing for the first team.
Lucas, who moved to Merseyside in 2007, shared the pitch with Gerrard 186 times over the course of eight years for Liverpool.
Their years together culminated in an emotional embrace between the pair, in a hotel room, after the Brazilian knocked on his captain's door.
In his 2016 book, My Story, Gerrard recalled the events that took place shortly after his last match, against Stoke.
Gerrard wrote: "Lucas asked if he could come in for a moment.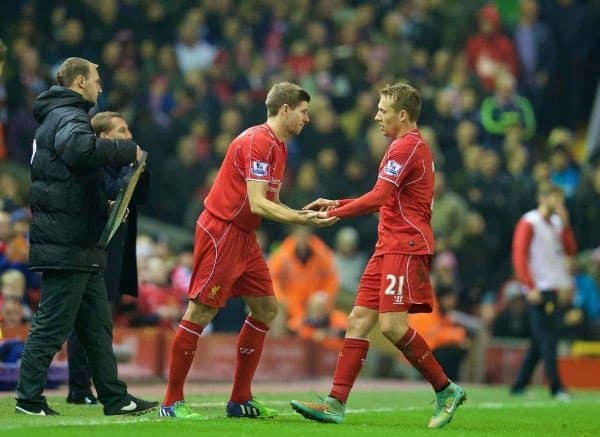 "'I've got a little something for you,' he said.
"'Of course,' I said. I was always happy to see Lucas.
"He presented me with a silver salver. It was from him to me and he had written the words inscribed on the plate.
"'I've been thinking about getting this done for a while,' Lucas said. I felt a lump in my throat as I read his message."
Inscribed on the gift were the words:
"We often hear the expression there will never be another. In your case, my friend, it is most definitely the case.

"A captain, leader and a legend in every sense of the word.

"Every moment I have spent on the pitch with you has been a privilege. The very best to you and your family with all your future endeavours – Lucas Leiva."
The legendary No. 8 remembered how he reacted to the gesture.
"I just about held it together while Lucas quietly watched me read his words," Gerrard said.
"I thanked him and he smiled happily. We hugged it out.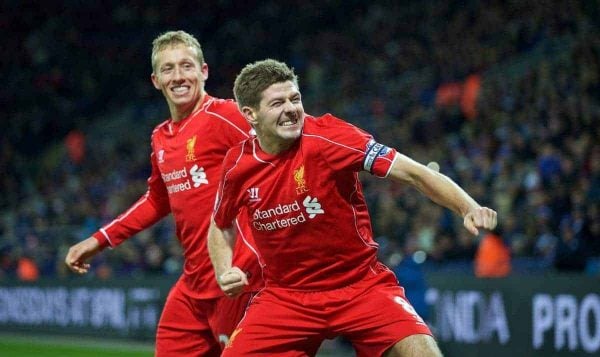 "But once he left, I was gone. There was no stopping my tears."
Nearly eight years later, Gerrard also had kind words for his former teammate, when Lucas was forced to retire due to a heart problem.
"A pleasure to share the dressing room with you, great memories. Enjoy retirement and see you at the charity games! Good luck amigo," wrote Gerrard.
We're sure there was more said out of the public eye!
It is a lovely bond to see between the two who are both loved by fans, but often for different reasons.