Liverpool FC have released more images of another milestone moment in the expansion of the Anfield Road Stand, after the club crest installation was finished on Friday.
The 550-kilogram new club crest was installed over three days this week, measuring 5 meters by 6.9 meters – if laid flat on the ground would cover the entire 18-yard box!
The other latest images from Anfield show how the old upper tier of the Anfield Road Stand has now been completely removed, right on schedule.
The schedule for removal of the old roof and upper tier was four weeks, with Saturday marking four weeks since the last home game of the season, against Aston Villa.


The project is on schedule, with solar panels now installed on the new roof, as first revealed by This Is Anfield last month.
Work has been taking place around the clock over the last month, with demolition crews and teams fitting out internals.
The pitch protection surface will now be removed, in order to make the Anfield pitch ready for the new season.



All being well, Liverpool will host Bournemouth on the weekend of August 19 in front of 61,000 fans – Anfield's highest attendance since May 1977.
Completion of this project will see owners FSG fulfil a promise to provide a 60,000-seater home for Liverpool, which they made when purchasing the club back in 2010.
SEE MORE: 10 photos of how new Anfield Road Stand will look
---
Anfield Road End Expansion – Key facts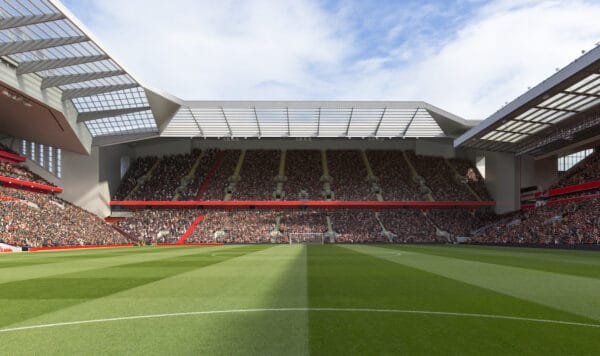 To be completed before the first home game of 2023/24
New capacity set to be be 61,015
Expanded stand will hold 15,967 supporters
The lower tier will remain, with the new stand connected