Adam Lallana has heaped praise onto Alexis Mac Allister as the midfielder gets ever closer to a move to Liverpool.
Mac Allister has been heavily linked to the Reds in recent months, with the Times' Paul Joyce reporting on Monday that the deal could be finalised as early as this week.
The 24-year-old impressed at Brighton throughout 2022/23 and became a World Cup winner with Argentina during the winter World Cup in Qatar.
With a switch to Anfield appearing imminent, former Red and Mac Allister's Brighton team-mate Adam Lallana has whet the appetite of Liverpool supporters by giving his assessment of the midfielder in a January interview which has since resurfaced.
"Alexis, what a special player and special person," Lallana told The Big Interview with Graham Hunter earlier this year.

"He's a player that is so pure with how he plays. The way he lends the football, uses others, there's no selfishness in the way he plays.
"It was so special watching him during the World Cup, not playing to begin with then getting used and proving himself. Then playing so well that there's no way he doesn't play, by the end Messi is looking for him."
Lallana himself played 178 times for the Reds and struck up a special bond with Klopp during his time on Merseyside.
With Mac Allister looking set to become Liverpool's first signing of the summer, the endorsement from the Reds' former No. 20 has given plans plenty to get excited about ahead of his arrival.
Lallana praised the "footballing intelligence" of Mac Allister and provided an insight into the character of the World Cup winner.
"His footballing intelligence, OK he's not the quickest or strongest, but so smart. Knows that the football is faster than anyone, Alexis is of that ilk," he continued.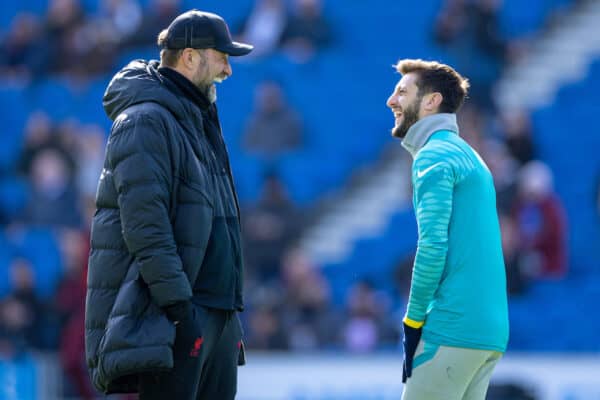 "He had to battle tough moments here at the beginning. He's a very introverted, shy guy."
Fans will be hoping to see footage of Mac Allister in a Liverpool kit in the coming days, with the manager hoping to get business done early in order to maximise pre-season.
He is expected to be the first of a number of signings this summer as the Reds look to bounce back from a lacklustre campaign and compete on all fronts once again.