In an interview conducted during his post-season holiday, Alexis Mac Allister was directly asked about reports claiming he will join Liverpool.
The midfielder was, unsurprisingly, diplomatic in his response.
Mac Allister spoke with Argentine outlet Infobae in Miami this week, with journalist Federico Roman presenting him with claims from TyC Sports that he is "one step away" from a move to Anfield.
"I am very calm, because I also have the possibility of [staying at] a club like Brighton, [who stayed with me] at all times and in which I really enjoy being," he replied.
"If I do not have to leave the club I will continue to be very happy there.
"But I am aware that there are possibilities, and if a good offer arrives for the club and for me we will evaluate it."

When later asked about his experience in the Premier League, however, Mac Allister admitted his "next club" would also be in England.
"I have no doubt that today it's the best league to play in and that is why I am aware that I would like my next club to be in the Premier League," he said.
"I really enjoy being there and the truth is that people have always treated me [well] in the country, and that is very important to me."
Liverpool are believed to be closing on a deal for Mac Allister that would be in the region of £60 million, with the player said to have agreed a five-year contract worth £100,000 a week.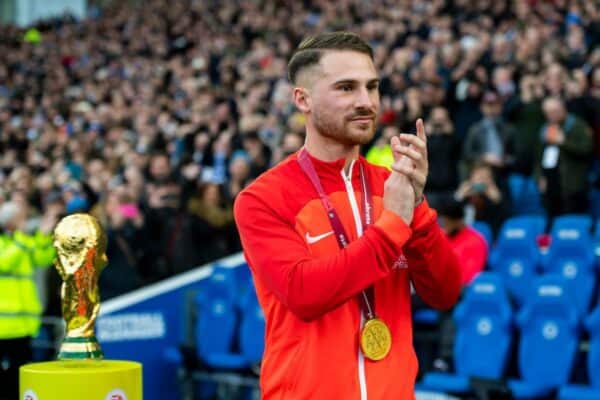 It is unclear how close the deal is to going through, particularly as the player is currently on holiday after a long season that saw him secure Europa League football for Brighton and win the World Cup with Argentina.
But negotiations are being led by the 24-year-old's father, Carlos Mac Allister, with TyC Sports journalist German Garcia Grova claiming talks over the "last details" have taken place this week.
There should be no surprise that Mac Allister is taking a careful stance when faced with questions over his future, as he clearly has a strong affection for Brighton.
However, as he said, a "good offer" would open the door for a move from the AMEX, with the south-coast club seemingly resigned to losing him.