Liverpool hold an interest in Dominik Szoboszlai and the feeling is mutual, while a deadline to active his release clause at Leipzig has been revealed.
Szoboszlai has emerged as a "concrete" target for the Reds this summer, with reports from The Athletic and Sky Germany corroborating interest.
The Athletic's David Ornstein reported on Wednesday that meetings had already been held with the player's camp, while Sky Germany's Philipp Hinze confirmed this information.
Newcastle are also in the hunt for the 22-year-old attacking midfielder, with Ornstein describing it as a "very difficult deal to get done."
Part of this is due to a release clause in Szoboszlai's contract worth €70 million (£60.5m), though Hinze is among those to report that it will soon expire.
That clause expires after June 30, leaving both Liverpool and Newcastle only three days to complete a transfer at that price.
However, it is explained that the clause is seen as "too expensive" by both clubs, and that they "want to push the price down" with "no offer" made yet.

It is clear, then, that Liverpool and Newcastle would prefer to negotiate terms with Leipzig than pay the full amount of Szoboszlai's release clause.
That could be seen as either a boost for the prospective buyers or a situation that strengthens the selling club's hand in talks.
More likely it would be the former, particularly as a release clause would typically stipulate that the full fee would be paid as a lump sum, rather than structured payments.
There is an argument to make that Newcastle hold an advantage as they will play in next season's Champions League and Liverpool will enter the Europa League.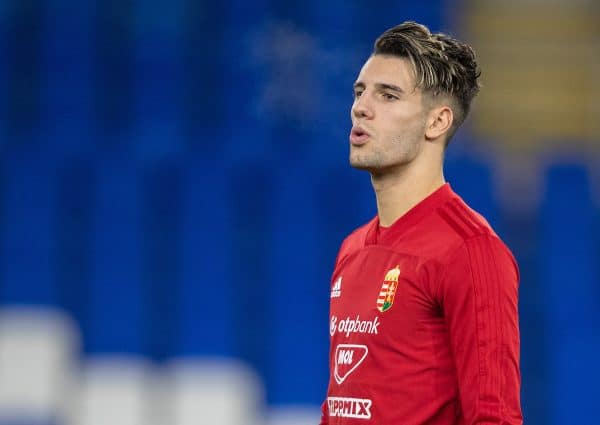 But speaking to Hungarian outlet Index in May, Szoboszlai insisted it would be a "special experience" playing under Jurgen Klopp even if it meant a season or two outside of Europe's elite.
"Believe me, I don't know that Liverpool's scouts were at our matches, and if they were who was being watched from the team," he began.
"It would certainly be a special experience to work under Klopp, as it would be under Guardiola or Jose Mourinho.
"I don't know what they would be able to get out of me. Relatively few footballers are given all this, however, only the best.
"I believe I can reach that level, and it would be great to work with any of them one day."

He added: "If there is interest, I'll consider it, not because I don't have a good time at Leipzig, but because I've always been interested in challenges.
"On one side of the scale is Leipzig, with a coach who trusts me and team-mates who accept me and also believe in me.
"No footballer can wish for more than that. This is quite a strong situation.
"At the same time, on the other side, there is the question: if I can now take a step towards Europe's top five or six clubs, should I say no to the challenge? I've never been that type!
"I am in a very good position, as I can play in a fantastic club.
"However, I don't want 15 years from now to look back on my career as if I didn't get the most out of it."