As Alexis Mac Allister becomes the first signing of Liverpool's midfield rebuild, where exactly will the Argentine fit in under Jurgen Klopp?
The Reds have moved swiftly to complete a deal with Brighton for the 24-year-old, who joins after the club activated his release clause.
Mac Allister has agreed a five-year contract with Liverpool on a reported wage of £100,000 a week, and is poised to take up a key role moving forward.
Though he is a familiar name having won the World Cup with Argentina and spearheaded Brighton's charge to the Europa League, there may still be uncertainty over his exact role.
According to Transfermarkt, in 112 games for Brighton, Mac Allister played 42 times as an attacking midfielder, 23 times in central midfield and 20 times as a defensive midfielder.

On 10 occasions he lined up on the left of midfield, while he filled in as a centre-forward six times, on the right of midfield twice and as a left winger twice.
The remaining seven appearances came in unspecified roles, but the Argentine is clearly a versatile player.
But where is he likely to slot into Klopp's setup?
In his analysis for This Is Anfield in May, Harry McMullen explained how Mac Allister is the "perfect fit for the 3-2-5 structure that has powered Liverpool's resurgence."
* Below is an excerpt from McMullen's full analysis of Mac Allister, first published on May 10, 2023.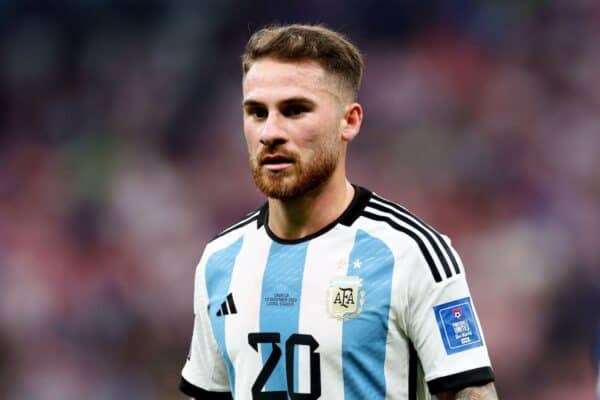 Having played as both a No. 6 and a No. 10 for Brighton, we'd likely see Mac Allister on the left of midfield.
If this were the left-sided No. 8 role in a 'classic' 4-3-3, there would be questions about his suitability – he'd be expected to cover a large amount of ground out of possession, while his creativity on the ball would be limited.
However, Mac Allister is a perfect fit for the 3-2-5 structure that has powered Liverpool's resurgence.
He naturally seeks out positions between the opposition lines, before dropping off to receive the ball and construct the attack.
This is in contrast to a player like Thiago, who prefers to play passes through the lines with the opposition in front of him.
As a No. 10 for Brighton, Mac Allister would typically start in a 4-2-3-1.

Once the ball is in play, the right-back will invert into midfield, creating a 3-2-5 shape.
Mac Allister moves into the left half-space high up the pitch, pinning back the opposition.

Once the first line of pressure is broken, Mac Allister will then drift deeper to receive the ball, while the left-back makes an overlapping run.
This simple rotation creates uncertainty for the defence, allowing Brighton to take up a 2-2-6 shape that overloads the box and creates a chance to score.

With Trent Alexander-Arnold now inverting into midfield, Mac Allister allows Liverpool to match this setup exactly.
Andy Robertson's role so far has been undefined – the Scot is too effective offensively to waste as a centre-back, but it's unclear when it's safe for him to break the structure and join the attack.
Mac Allister's mastery of his role at Brighton is the key to unlocking this at Anfield.

The fact that Liverpool have signed Mac Allister suggests that the new tactical setup is here to stay.
---
* Additional writing by Harry McMullen