The latest stop on Liverpool's midfield merry-go-round is Alexis Mac Allister. So what would the Brighton midfielder bring to Anfield?
With Jude Bellingham now firmly off the table, the 19-year-old instead bound for Real Madrid, Liverpool have turned their attention to Mac Allister.
According to journalists on Merseyside, across England and in the player's native Argentina, the club are pursuing a deal for Brighton's No. 10.
There have been claims of contact made with Mac Allister's agent, and even terms being agreed, while The Athletic's David Ornstein reports that there is a release clause – of sorts – in his contract at the Amex.
So if Mac Allister is to be one of those brought through the Shankly Gates this summer, what could supporters expect?
Note: 'percentile' relates to what percentage of players in Europe's top five leagues would be superior in a given metric.
So if a player is in the 99th percentile for 'goals scored', there is a one percent chance of a competing player being better at scoring goals.
Strengths

It's been almost 10 years since Jurgen Klopp said "no playmaker in the world is as good as a good counter-pressing situation."
But Mac Allister is of a new breed, able to evade the press and play their exquisite game, whilst pressing the opposition themselves.
An elite technical talent, Brighton's No. 10 has a low centre of gravity and superb close control, thriving in tight spaces.
He frequently dribbles away from danger and finds space to either recycle possession or play dangerous progressive passes.

According to FBRef, he completes 1.9 progressive carries per 90 (putting him in the 77th percentile) and draws 1.77 fouls per 90 (80th percentile), which speaks to his press resistance.
When we previewed Mac Allister using Smarterscout earlier this season, he scored highly for 'attacking output' and 'shot volume'.
This is supported by his numbers per FBRef: Mac Allister's 3.47 SCA (shot-creating actions) per 90 puts him in the 87th percentile.
For context, Trent Alexander-Arnold has an SCA of 3.71 per 90 this season.

When he does create room to play, he is a master of the dying art of the through ball, completing 0.43 per 90 – putting him in the 94th percentile.
And he has an eye for goal himself – he's currently the top scorer for his club this season, with 10 league goals, and has scored some absolute worldies in blue and white.
His healthy 0.3 goals per 90 puts him in the 97th percentile this season – and excitingly, he's actually slightly underperforming his xG of 0.38 per 90.
He may yet become even more prolific.
He's also on set-piece duty for Brighton, delivering dangerous corners as well as finding the net from free-kicks and penalties – including his dramatic late winner from the spot vs. Man United.
Weaknesses

I may have been hasty in referring to Mac Allister as "an upgrade on Jude Bellingham," specifically in his work off the ball.
While he does score highly for defensive intensity and impact, Mac Allister is not exceptionally athletic (relative to the standards of elite sport).
A closer look at his game reveals average ability in duels (losing 1.1 challenges per 90 leaves him in the 50th percentile) as well as scoring low for passes blocked (28th percentile) and interceptions (26th percentile).
He relies more on intelligence and timing to contribute out of possession, as seen by his 7.14 ball recoveries per 90 (74th percentile.)
It's clearly effective within Brighton's system, but how that translates to Klopp's engine room remains to be seen.
Who is he similar to?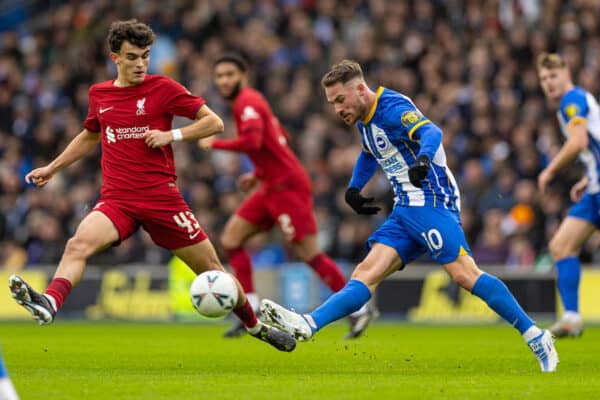 Mac Allister is a high-volume passer who often drops deep to show for the ball (receiving 49.6 passes per 90), before looking up to find a team-mate.
In his deeper role this season he compares statistically to Ilkay Gundogan, Luka Modric and Tanguy Ndombele – modern midfield playmakers.
A wider view of his raw attributes shows a player who is most comfortable between the lines and eager to attack.
Similar profiles would include Bernardo Silva, Pedri and, currently, Liverpool's own Curtis Jones.
Where would he fit?

Having played as both a No. 6 and a No. 10 for Brighton, we'd likely see Mac Allister on the left of midfield.
If this were the left-sided No. 8 role in a 'classic' 4-3-3, there would be questions about his suitability – he'd be expected to cover a large amount of ground out of possession, while his creativity on the ball would be limited.
However, Mac Allister is a perfect fit for the 3-2-5 structure that has powered Liverpool's resurgence.
He naturally seeks out positions between the opposition lines, before dropping off to receive the ball and construct the attack.
This is in contrast to a player like Thiago, who prefers to play passes through the lines with the opposition in front of him.
As a No. 10 for Brighton, Mac Allister will typically start in a 4-2-3-1.

Once the ball is in play, the right-back will invert into midfield, creating a 3-2-5 shape.
Mac Allister moves into the left half-space high up the pitch, pinning back the opposition.

Once the first line of pressure is broken, Mac Allister will then drift deeper to receive the ball, while the left-back makes an overlapping run.
This simple rotation creates uncertainty for the defence, allowing Brighton to take up a 2-2-6 shape that overloads the box and creates a chance to score.

With Trent Alexander-Arnold now inverting into midfield, Mac Allister allows Liverpool to match this setup exactly.
Andy Robertson's role so far has been undefined – the Scot is too effective offensively to waste as a centre-back, but it's unclear when it's safe for him to break the structure and join the attack.
Mac Allister's mastery of his role at Brighton is the key to unlocking this at Anfield.

The fact that Liverpool are targeting Mac Allister suggests that the new tactical setup is here to stay.
Why Liverpool want Mac Allister

In summary, Mac Allister is a modern playmaker, brilliant at both evading opposition pressure and creating magic on the ball.
He's capable of filling multiple roles, but his best position is as a No. 10 in a setup exactly like Liverpool's.
A summer move would see an elite player form part of an elite system, that can see Liverpool return to elite status once more.