Harvey Elliott's form has almost juxtaposed that of the rest of the Liverpool team, leaving him somewhat in no man's land within the squad.
If this piece was written a month earlier, Elliott would most likely have been lauded as a lone youthful spark in a Liverpool garage of rusting parts.
As it is, things have moved on up and the 20-year-old was left on the sidelines in the final weeks of the season.
Harvey Elliott, 2022/23

Started: 25
On as a substitute: 21
Unused sub: 5
Goals: 5
Assists: 2
Overall Season Rating: 7
A "rollercoaster" campaign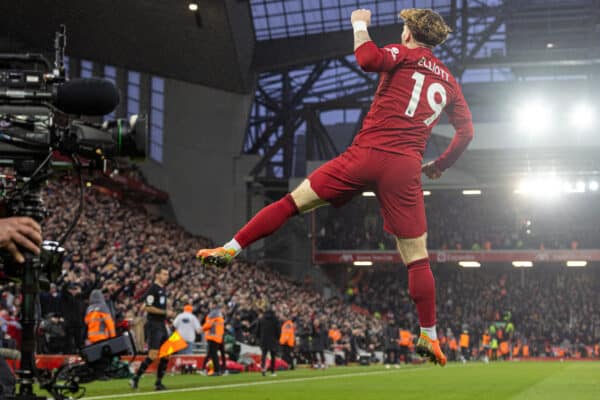 On reflection, the youngster will be pleased with his season.
He played 46 times, including the Community Shield, and his manager's trust in him was clear for supporters to see.
However, despite playing a part in every single match until April, Elliott may have ended the season slightly disappointed on a personal level – though he won't admit that in public.
While the England youth international impressed in the early part of the campaign, his fortunes decreased at the same time as his team-mates' grew, and he admitted the season was a "rollercoaster."
In fact, Elliott's first absence of the season, against Chelsea on April 4, coincided with the start of Liverpool's unbeaten run, and he only played 113 minutes across the Reds' last 11 matches.
A blessing in disguise

Liverpool's late surge up the table wasn't enough to see them break into the top four and achieve Champions League qualification.
As a result, the Reds will play in the Europa League for the first time since 2016, when they came runners-up to Sevilla – who once again won the competition this year.
The failure to reach fourth could be a blessing in disguise for some of the squad, however.
With Liverpool likely able to progress through the earlier rounds without their strongest team, the competition could provide an opportunity for players like Elliott, Joe Gomez and Darwin Nunez to play regular football.
You only have to look at Arsenal's squad to see how some of their players benefitted from playing consistently in the competition early in the season.
Elliott and Co. will hope they can work their way into Klopp's first XI, proving they can perform under pressure in the latter stages of a European season.
Positives and negatives for next season

Elliott's longstanding availability must be seen as a big positive by Klopp, who has offloaded two injury-prone midfielders this summer.
With rotation essential, especially with Liverpool hoping to fight until the end on four fronts again, there will be game time for the youngster.
He will want, though, to be in Klopp's first XI – and it will be a difficult task.
The re-emergence of Curtis Jones could act as inspiration and discouragement in equal measure.
The Scouser's reintroduction does exhibit that Klopp isn't one to bite the bullet early on in a player's career, but his fellow Red is now taking up a starting spot in midfield that Elliott is after.
Although the left-footed youngster usually plays on the right of the midfield, as opposed to Jones who features on the left, it leaves little room for Elliott to become a fixture.
That is particularly the case given the predicted influx of midfielders in this summer's transfer window.
Where does he fit in?

Taking all this into account, the question remains of where Elliott's main position will be for Liverpool in the long term.
He played the majority of the season in midfield, but Klopp has shown in the past that he usually prefers a more mobile player to get up and down.
This may be even more important on the right of midfield, with Trent Alexander-Arnold's move infield leaving the right-sided No. 8 to provide width.
Another option for Elliott would be to play on the right wing.
For now, it is obvious that he can't displace Mo Salah, but even in the future, the England youth international may not fit on the wing for Klopp.
The manager prefers to have explosive players out wide, as evidenced by Salah, Sadio Mane and Luis Diaz being Klopp's most effective wide attackers during his time on Merseyside.
All this leaves Elliott unsure of his position going forward.
The overview

This might all sound a bit negative for a review of one of the country's best young stars, who played in over 45 games throughout the season.
But in the past, talent has often gone missing when a direction of travel hasn't been clear.
We needn't worry yet, though.
Elliott has plenty of time on his side and has shown desire to improve each facet of his game: physical, mental and technical.
A strong performance at the U21 Euros this summer would remind us just how talented he is in comparison to the rest of his age group.
---
Best moment: A first Premier League goal in the 9-0 vs. Bournemouth.
Worst moment: Losing his place as Liverpool went 12 games unbeaten.
Role next season: Useful squad member who can aim for more.