With a German publication sending out an SOS to Jurgen Klopp for the Euros, it should be a relief to Liverpool that he has already rejected them.
It has been a nightmare of a 12 months for the German national team.
After eight wins and a draw in their first nine games under Hansi Flick, they went on to win just once in their six group games in the UEFA Nations League.
Then at the World Cup, they were only able to beat Costa Rica as defeat to Japan and a draw with Spain saw them exit at the group stage.
Since then, they have won once in their last five, with Germany currently on a four-game winless run which saw them lose to Belgium in March and then, after a 3-3 draw with Ukraine, further losses to Poland and Colombia this month.
Flick finds himself under immense pressure, then, and in an editorial for BILD, journalist Matthias Brugelmann called for the manager to be replaced "immediately."
His suggestion – or at least the "premium option" to do so – is Klopp.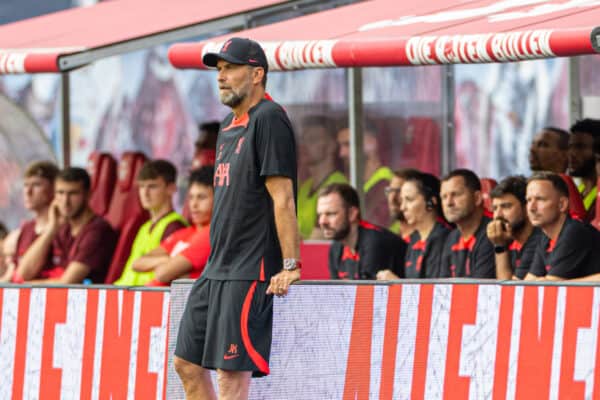 "The DFB has to fight for him with all its might," Brugelmann wrote. "Klopp would put Germany in euphoria from now on."
But while Klopp may be the dream candidate to lead Germany into next summer's Euros, there is no chance at this stage of him leaving Liverpool.
In fact, the 56-year-old has already rejected overtures from the national team on a number of occasions.
New comments from his agent, Marc Kosicke, insist: "This is not a topic for us at all."
Speaking in 2021, prior to Flick's appointment, Klopp explained that he would "not be available" at that time or in the near future.
"I have three years left at LFC don't I?" he explained.
"It's simple. You sign a contract and you stick to that contract. I stuck to contracts at Mainz and Dortmund."

Klopp has since extended his contract further, with the manager committing to Liverpool until at least 2026 when he put pen to paper in April of last year.
Two months ago, during his side's miserable run of form, he pledged himself "fully in" for the future, describing it as "the elephant in the room" that he hadn't been sacked.
There may be a desire to manage Germany in the future, but there is zero chance of Klopp deserting Liverpool as long as he is welcome at Anfield.
So while Germany may need Klopp to drag them from the mire ahead of Euro 2024, they will need to wait until at least two years after that.