Roberto Firmino could become the latest player to swap Europe for Saudi Arabia following his exit from Liverpool, with talks ongoing over a move.
Saturday will see Firmino officially become a free agent, upon the expiry of his contract at Anfield, allowing him to join another club.
The Brazilian opted to turn down an extended stay with Liverpool in recognition of the next generation of attackers coming through, but he was widely expected to remain in Europe.
Instead, it has now been reported that Saudi Pro League club Al-Ahli are in talks over a deal for the 31-year-old, with a medical already planned for this week.
Journalist Fabrizio Romano was among those to report the news, with talks said to be "ongoing" as the club are "waiting for player's final decision."
Al-Ahli, who are one of the four clubs now owned by the Saudi royal family's Public Investment Fund, have offered a three-year contract.
Saudi journalist Khaled Al-Rasheed has even claimed the two parties have "reached a final agreement."
A medical is already planned for between Wednesday and Friday this week if Firmino gives the go-ahead, which could see him follow a host of high-profile players to Saudi Arabia.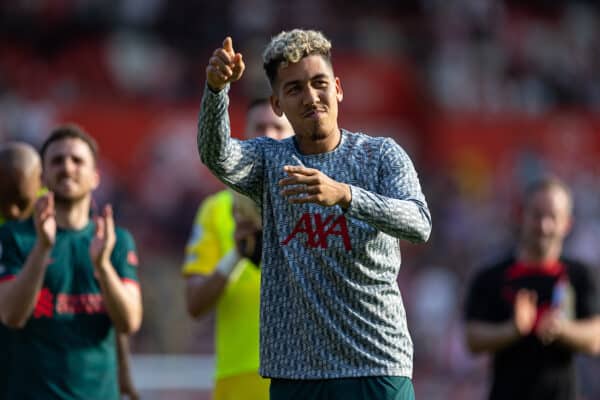 Cristiano Ronaldo made the switch in January, and has since been followed by Karim Benzema, N'Golo Kante, Ruben Neves and Kalidou Koulibaly.
It is part of a major shakeup that has seen the PIF take ownership of Al-Ahli, Al-Nassr, Al-Ittihad and Al-Hilal, while four other clubs – Qadsia SC, Al-Diriyah Club, Al-Ula and Al-Suqoor FC – are controlled by state-owned companies.
The Saudi Pro League has been expanded to 18 teams, with each of those now able to field a maximum of eight foreign players.
Rather than the particular clubs signing these players, it has been explained that the PIF are negotiating deals before new arrivals are effectively divided between sides.
This is not the first time Firmino has been linked with a move to Saudi Arabia, with reports stretching back to the start of the year.

• OPINION: Saudi Arabia's grip on football set to stay – so how will fans adapt?
Earlier this month, too, AFP reported that the No. 9 was on a list of coveted players along with the aforementioned Benzema and Kante, as well as Hugo Lloris, Luka Modric, Jordi Alba and Sergio Busquets.
Busquets has since decided to join Inter Miami instead, reuniting with Lionel Messi in MLS, the Argentine himself turning down a lucrative switch to the Middle East.
The Mail have also reported Saudi interest in Alex Oxlade-Chamberlain, though he has previously hinted at his desire to remain in the Premier League.