For the first time in his Liverpool career, the once untouchable Virgil van Dijk has come in for his first bout of criticism.
The Dutchman has been rightly lauded as the best centre-back on the planet for several years, producing levels of consistency that make you question whether he has been forged in a lab.
Alongside his goalkeeping counterpart, Van Dijk was heralded as one of the transformational signings that helped Liverpool on their way to becoming, at one stage, the best team in the world.
Now, he has been placed under a microscope he is unfamiliar with. Have age and injuries caught up with him? Or is he simply the victim of his own success?
While by no means a disastrous campaign for the Netherlands captain, a dense cloud has appeared in space filled with four years of clear blue skies.
Virgil van Dijk, 2022/23

Started: 41 (All competitions)
On as a substitute: 0
Unused sub: 1
Clean sheets: 14
Goals: 3
Assists: 1
Overall Season Rating: 5
The weight of expectation

Van Dijk's impeccable standards have seen him recognised individually on both domestic and global stages.
The defender picked up both the PFA Player of the Year and UEFA Men's Player of the Year awards following Liverpool's Champions League triumph in 2019.
Defenders aren't often recognised as such, but we might well look back on him as one of the greatest to ever pull on a red shirt.
A devastating injury at the hands of Jordan Pickford in October 2020 was the first roadblock in an otherwise flawless Anfield career to that point.
It could have easily hampered him and taken away his superpowers, but Van Dijk came back better than ever to become an integral part of the Reds' quadruple chase as fans returned to stadiums following the pandemic.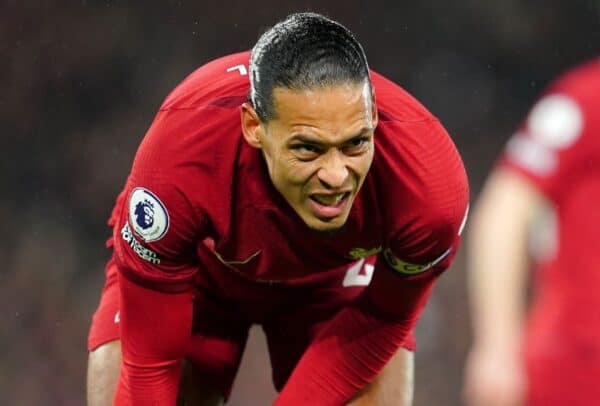 He was 30 and had suffered a career-threatening setback, but the centre-back started the 2022/23 campaign at the top of the tree he has occupied since his arrival.
But for the first time since his Anfield arrival, uncharacteristic mistakes and lapses in concentration showed he is human after all.
And he was not afraid to admit his shortcomings at a time when the spotlight burned brightly as he played his part in a tumultuous season for Liverpool.
"When the criticism is there and you know it is right, the only thing you can do is keep your head down and focus on improving," Van Dijk conceded.
"I know my performance has been going like the team has been going — up and down."
Unavoidable burnout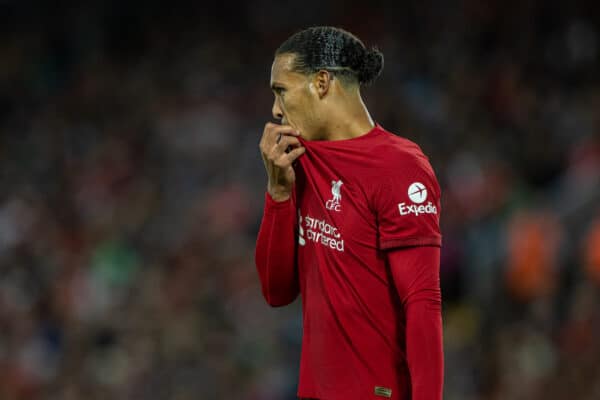 In March this year, Van Dijk admitted for the first time that he had played "too many games" across the last two seasons, offering potential reasons for any perceived form and fitness issues.
The defender played every minute of Premier League action before the World Cup in Qatar, but a hamstring injury shortly afterwards stopped him in his tracks and highlighted just how much weight was being placed on his extremely broad shoulders.
In the end, he played the fourth-most minutes of any Red (3,645), and missed only 11 of Liverpool's 52 games – six of which were enforced by injury.
It was taken for granted that Van Dijk would start any Liverpool fixture of significance and that the only moving part up for debate was his centre-back partner.

Joe Gomez, Ibrahima Konate and Joel Matip have all faced fitness problems of their own throughout their Liverpool careers, but Van Dijk's relentless availability had previously masked it to a point.
"We are not robots" were the Dutchman's words following Real Madrid's crushing turnaround at Anfield in February, but that is precisely what we have come to view him as.
To us, he is fit for every game and scarcely puts a foot wrong. Only when this stops being the case does it become noteworthy.
It was by no means his best season in a red shirt, but it would still take a fair amount of thought to recall a significant Van Dijk mistake from the campaign.
A look to the future

Is any of this a concern? A rational train of thought would dictate not, particularly given the manner in which Van Dijk emphatically bounced back from such a severe injury while at the peak of his powers.
He may now be 31 years of age, but Liverpool's No. 4 remains the best and most important defender at the club by some distance and there is no better mentor for the likes of Konate to learn from.
The departure of James Milner will mean that Van Dijk's leadership responsibilities will be taken up another notch and with that comes its own pressures, but pressure isn't a word that appears to be in his vocabulary.
Van Dijk still has a monumental role to play in this side, but Liverpool simply cannot afford to rely on him as heavily as they did in his 20s.

Jurgen Klopp needs to find a way to give his Dutch centre-back some much-needed rest where possible, without compromising the team's overall chances of success.
Whether that means bringing in fresh legs, asking the current understudies to step up or a combination of the two, protecting Van Dijk from himself will be key to maximising the twilight years of his career.
He may not be a robot, but he is perhaps the closest thing we have seen to one in Liverpool red and that is something we must continue to cherish.
---
Best moment: Three points, a clean sheet and a place on the scoresheet during a 9-0 thumping of Bournemouth.
Worst moment: A missed clearance allowing Leandro Trossard to complete a hat-trick in the 3-3 draw with Brighton at Anfield.
Role next season: A promotion to vice-captain, occasional rests but continuing to be the most important defender.