In many ways, this season review for Thiago could have been written back in August: a phenomenal player with a phenomenally poor injury record for Liverpool.
One of the most gifted players of his generation from both a tactical and technical perspective, Thiago has nonetheless been hampered by a series of injuries, both well before and during his Anfield stay.
That wasn't any different this past season, though in terms of his output when he was available, there's a big argument for the No. 6 being up there as one of the top outfield performers.
The issue is, that was so long ago it's hard to recall – especially considering it was during a period few Reds fans would want to purposely relive.
On a more forward-looking basis, while recent reports suggest Thiago won't be offered an extended stay and his contract expires a year from now, questions might be asked over what his more immediate future is?

Where, in the new setup, is his best role? Will he have a starting spot, or is he best-utilised as a squad option given his quality-to-brittleness ratio?
Or should he be allowed to leave this summer if he feels up to a new challenge, with at least two midfielders certain to arrive?
Thiago has such incredible quality that letting him leave feels absurd – but trying to build a new team around someone who didn't hit 40 percent of starts in Premier League or Champions League matches, again, is an equally poor idea.
Thiago, 2022/23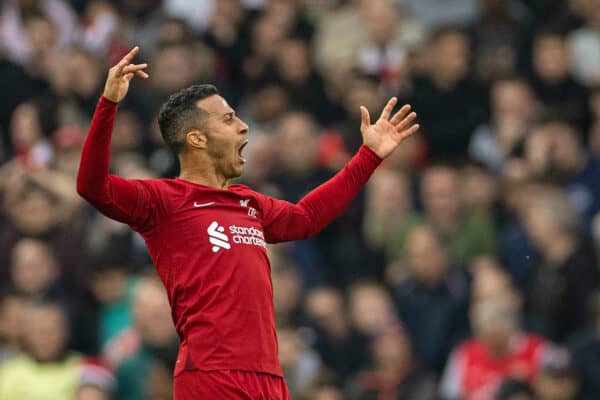 Started: 22 (All competitions)
On as a substitute: 6
Unused sub: 0
Goals: 0
Assists: 1
Overall Season Rating: 5.25
One of the best, without question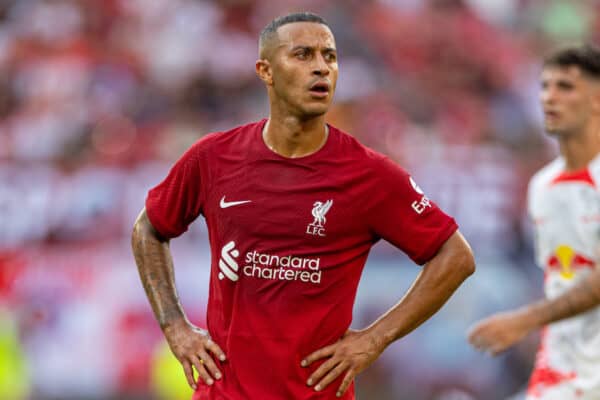 Rewind, then, to the start of the season.
Not the very start, that would be too much – after all, Thiago got injured on the opening day against Fulham.
But after that, from his return off the bench in the battering at Napoli, he immediately looked far better than everyone else – mostly because he is, of course.
From the first swivel of the hips and pass forward in that game, he was sharper, more incisive, more aggressive than any other midfielder in the Liverpool squad, at a time when the middle of the park was being shredded repeatedly.
This isn't to say he stopped it happening, but matters would have been far worse without him there, and it's easy to look back at that terrible period and overlook it.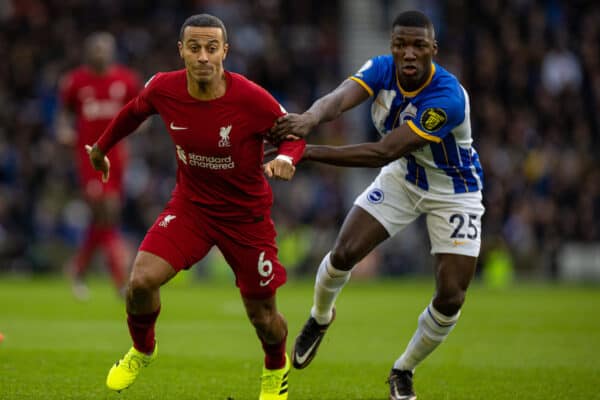 For a period he sat in beside Fabinho in a double-pivot; for a period he looked like a grizzled ball-winner instead of one of Europe's most gifted, creative passers.
Through a run of a dozen or so league games either side of the World Cup, Thiago was essentially the only performer in the Reds' soft centre as Jurgen Klopp chopped and changed formations and combinations, mostly to no avail at all.
Even not being used in his most usual, beneficial roles of play-progressor, our Spaniard had the look of someone giving it everything and being pretty good at it all – except when play was behind him, where he was usually as found-out as Jordan Henderson or Fabinho with a lack of recovery ability.
Then we were hammered by Wolves, then Thiago hurt his hip, then it was over.
One of the most predictable, without question

From February 4 through to the end of the Premier League season, Thiago played 96 minutes of a possible 1,620.
Four appearances off the bench, sandwiched between two injury absences, was the sum total of his second half of the campaign.
He was unavailable, injured, for precisely half the top-flight matches, plus missing one more seemingly due to rotations and rest.
Add in his unavailability for either Champions League leg against Real Madrid and the fact we've seen it before, and it doesn't paint a great picture of what Thiago is: inherently unreliable if you're thinking of him as a first-choice player.

None of this is his fault, his issue. His injuries are neither new nor a secret, but started way back when he was still at Barcelona.
Building a side around him was always going to be problematic, and quite aside from the question of new signings, there's the fact Curtis Jones made himself very much at home and a deserved member of the team in the position which Thiago would, nominally, now fill in this system.
While Jones doesn't have the pedigree, mentality or anything else of Thiago at this stage, he put together the first real run of form in the new shape of any midfielder in the squad, a run which says: I can play this role in this team.
Through injury, absence or inability, nobody else did sufficiently. And that very much includes Thiago.
What's next?

That's the £5-or-6 million question, isn't it: what to do next?
Keep him and pay out around that amount in wages, for whatever he is able to offer the team for another year, or seek to recoup roughly that sum and allow him to depart?
Thiago might not want to, of course, and nobody should be disappointed if that's the case – he's still a player who could start and dominate against the very best teams.
It's just that we can't guarantee he'll be available for those fixtures, and if someone else is a first-choice, shouldn't they play those biggest of games anyway?

The safe money is on another year of exactly the same, because Liverpool have been so obnoxiously inert when it comes to changing the squad.
So there it probably is: half a year of injuries, half a year of being in and out of the team and going from making fans wonder what might have been to making them slightly shrug, as his time on Merseyside draws towards an end.
---
Best moment: Perhaps his performance in the 1-0 home win over Man City.
Worst moment: Destroyed in midfield against Wolves and then picked up what was effectively a season-ending injury into the bargain.
Role next season: Squad player, which remains a ridiculous thing to say.