While there are wild claims that Anfield's atmosphere is a myth, Arsenal defender Rob Holding is the latest to name it as his toughest ground.
Despite the many, many testimonies from elite-level players and managers, there remain doubters over the power of Anfield.
Among supporters, that is – with it clearly unanimous among rivals on the pitch that it is one of the most difficult places to visit.
Holding – who has played at Anfield six times with Arsenal and only come out on the winning side once, that being a penalty shootout in the Carabao Cup – has joined that list.
Speaking on the Jaxxon Podcast, the 27-year-old defender was asked to name the 'craziest' stadium he had played at.
"Definitely, in the Premier League, Anfield, Liverpool," he replied.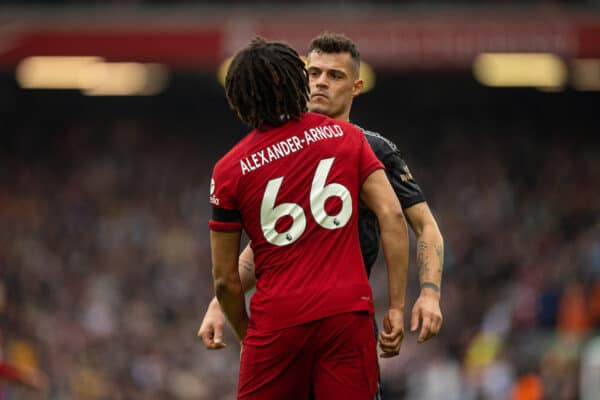 Holding's most recent trip to Liverpool was the 2-2 draw in April, which saw Arsenal take a two-goal lead only to slip up following an altercation between Granit Xhaka and Trent Alexander-Arnold.
Alexander-Arnold's clash with the midfielder riled the supporters up and Liverpool turned the tide with ease, coming away deserving three points.
"We were 2-0 up and suddenly there was an action and their crowd lifted and got aggressive," Holding explained.
"You could see it boost their players. Their players then look a bit taller, run a bit faster.
"So it is a tough, tough place to go and take all three points.
"We should have [won], to be fair, just the Kop just sucks the ball into the net.
"It's energy, it's like pressure, pressure, then it breaks through. So yeah, definitely Liverpool."

This comes weeks after Patrick Vieira described Anfield as having "the best atmosphere that I've ever experienced in my life."
The former Arsenal midfielder joined the likes of Arsene Wenger, Alex Ferguson, Jose Mourinho, Pep Guardiola, Thierry Henry, Johan Cruyff and countless others in conceding its influence.
That 2-2 draw served as the perfect example of this in action, with Liverpool struggling until the touch-paper was lit by Xhaka.
Of course, you'll still have people telling you the Anfield atmosphere is a myth.