In the latest in our 'My Liverpool Life' series, our Editorial Assistant, Adam Beattie, talks about his lifelong journey following the Reds.
Adam started supporting Liverpool during Gerard Houllier's treble-winning season in 2001 and has never looked back, watching the Reds capture every conceivable trophy in the process.
He began writing for This Is Anfield back in December 2021 and became Editorial Assistant in March 2023, putting his passion for Liverpool to good use during what was, unfortunately, a rare poor season under Jurgen Klopp.
I started following Liverpool because…

Regrettably, the short answer is Michael Owen.
I can barely stand the sight of him now, but my first football memory was hearing my dad and his mate celebrating what I think was Owen's famous solo goal against Argentina at France 98.
I was only about four years old at the time, but I got out of bed to go and see what all the noise was about and the two of them let me watch the rest of the game, from there I was hooked.
My dad's two brothers were and are still both Liverpool season ticket holders, but my dad's main passion at the time was golf so we both started our regular matchgoing days at the same time.
My first game was…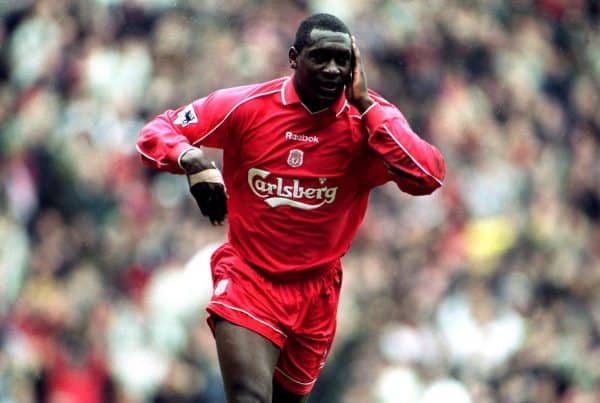 A 3-0 win over Rotherham in the FA Cup third round, en route to the treble in 2001.
I still remember the goalscorers (Heskey twice and Didi Hamann), but some of the details are a little bit hazy for me now.
I was in the upper Anfield Road, where I spent a lot of my younger days watching Liverpool, and I had no real idea of the journey the team were about to go on that season.
My favourite memory supporting the Reds is…

An easy one, Istanbul in 2005.
By that age, I was just about old enough to fully appreciate the magnitude of what was all going on and experience every single emotion the human body is capable of within the space of two hours.
Champions League finals have a habit of being relatively dull affairs that don't quite live up to the build-up, but I don't think any game of football will ever top that one for drama. It had everything.
It is still to this day the greatest night of my life. Until I get married and have children I think I'm still allowed to say that!
My favourite season supporting the Reds was…

There are some incredible seasons to choose from, along with the odd terrible one, but for me 2021/22 just about shades it.
Going to Anfield was the thing I missed most during the pandemic and I promised myself I'd never take it for granted again, if anything I appreciate it more now than I ever did.
On top of that, we reached every single final and very nearly won the lot! It's a crying shame we weren't able to pick up one of the big two at the end, but football is all about the journey and seeing the Reds keep the possibility of immortality alive for as long as they did was an absolute privilege.
My best story involving the Reds is…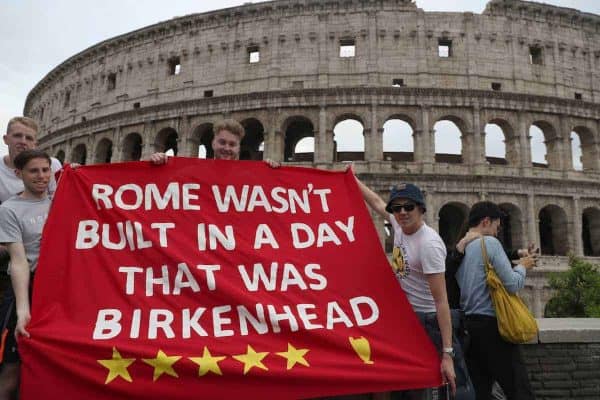 Prior to the Champions League semi-final in 2018, I designed a banner (with more than a fair share of the creative credit going to my younger sister for the assistance) which me and two mates took with us to Rome.
As you'd expect in the days leading up to the game, we took a couple of pictures outside the city's famous landmarks before unexpectedly getting some social media attention on the Tuesday night.
Jamie Carragher was one of the first to share a picture of us and the banner on his Twitter, and before we knew it we were hearing that a photo had made it onto BBC Breakfast and various other TV channels!
Still to this day, we see occasional mentions of the banner in various publications and it is always a nice reminder of what was probably my favourite European away of all time.
I once met…

Since becoming involved with This Is Anfield, I've been lucky enough to interview a number of legends from the club's past, including the likes of Ian Rush, John Barnes, Phil Neal, Ian Callaghan & Jan Molby.
My favourite one, though, came at Manchester Airport security when myself and a mate bumped into Kenny Dalglish.
We patiently waited for the King to collect his belongings before nervously asking him for a quick photograph, to which he thankfully obliged.
"Don't forget your suitcase" were the great man's words of advice as we almost walked away from our bags once we had secured the photograph we wanted.
If I could have dinner with 3 people from Liverpool's past or present I would choose…

Jurgen Klopp goes straight in at No. 1.
Taking the team from where it was to every single major trophy is one thing but to come from a foreign country and embrace everything about the club and city in the manner he has makes him a Godlike figure in my eyes.
He's a very special man.
Bill Shankly is another non-negotiable for something like this, if you aren't choosing him as one of your three then it feels as though you are wasting a selection.
I'd love to pick his brains about the differences between then and now and get his honest opinion on the state of modern football.
I'm not sure you need a third after that, in fact, I'm not even sure I'd speak! It would be a fascinating conversation between those two alone, but my third choice would be Andy Robertson, purely because I want to be mates with him.
---
More 'My Liverpool Life'