Diogo Jota bagged two goals in stoppage time to give Liverpool a winning start to pre-season, and post-match he was buzzing to be playing alongside one of the Reds' new midfielders.
The second of Jota's goals was assisted by one of the two new signings, as Alexis Mac Allister threaded the ball through for the Portuguese to run onto.
And while the use of two different XIs for the opening friendly meant Jota only played alongside Mac Allister and not Dominik Szoboszlai in the match itself, the forward is clearly buzzing with their arrivals.
"I really like these kinds of players, I have to tell you," he said about the link up with Mac Allister, but also hinting at a similar relationship with Szoboszlai in training.
"They just see these passes. It's almost like, you just need to make the run and they will see it and that's amazing.
"I start to see I can link up very well with him [Mac Allister] and hopefully we can take this into the season."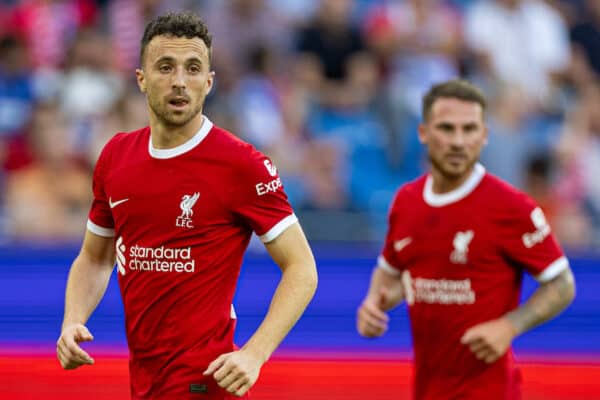 Last season, Liverpool's entire midfield provided just 11 assists between 10 players used, compared to Mac Allister and Szoboszlai who provided 16 assists combined for their respective former clubs.
The perceived lack of creativity in the middle of the team, and so-called attacking output, has been a talking point among supporters for years, with Jurgen Klopp preferring workmanlike midfields over creative ones – and reaping success in doing so.
However, the additions of Mac Allister and Szoboszlai clearly point at a new direction with the dual No.8s in a 'box midfield' when in possession.
Liverpool's use of the inverted full back in both halves against Karlsruher gave a clear indication that the hybrid 4-3-3/3-4-3 system is set to remain this season, meaning Mac Allister and Szoboszlai will get plenty of the ball in the 'half spaces' to create from.

Mac Allister was used on the right of the midfield in the second half, with Szoboszlai on the left in the first half, hinting that that will be their roles going forward.
The issue Klopp does have is over the holding midfielder, with Jordan Henderson and Fabinho's departures imminent.
With Thiago and Stefan Bajcetic not fully fit, it meant that Klopp had none of his midfielders from last season available for Wednesday's opening friendly in Germany.