A player for the big stage, a class act and with a belter of a song to match, Luis Garcia left a lasting impression at Anfield, one even the ghosts can tell you all about.
When it comes to carving out a career to remember at Anfield, it is not necessarily determined by longevity, but by the memories and moments one leaves behind.
And as significant contributions go, Garcia had his hand in more than one and it led to one of the greatest nights in Liverpool Football Club history.
The Spaniard wore the Liverpool shirt with pride, he still does as a legend, and represented the club with distinction.
He may not have been a consistent force to be reckoned with, but Garcia will always be fondly remembered at Anfield.
Built for the big moments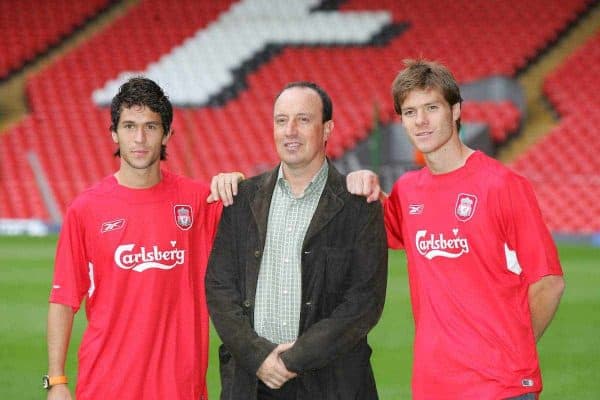 The summer of 2004 was a transformative one for Liverpool, with Rafa Benitez replacing Gerard Houllier and Steven Gerrard kept out of the clutches of Chelsea.
Michael Owen left for Real Madrid to leave a hole to fill up top after seven successive seasons as the club's top goalscorer, but Garcia was only too happy to help make up for the departure.
Signed from Barcelona for £6 million, Garcia was reunited with Benitez three years after they first worked together at Tenerife when the winger spent the 2000/01 season on loan.
He became an instant hit at Anfield, and it is no wonder having scored five crucial goals in the knockout stages of the Champions League.
Bayer Leverkusen, Juventus and Chelsea were all left with a bitter taste after what Garcia put them through, the latter still debate the validity of his goal.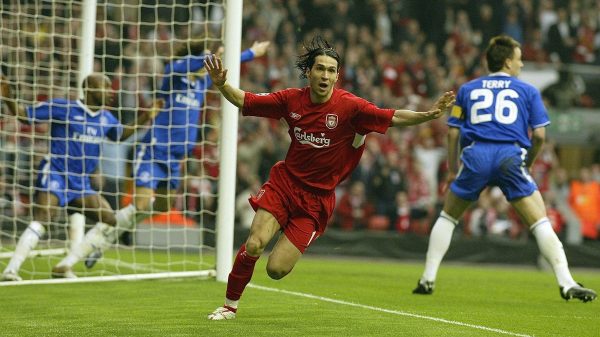 The Spaniard, of course, takes great pride in stirring the pot – he has dressed up as a ghost on more than one occasion. But irrespective of whether it went over the line or not, the scoreboard read 1-0 to Liverpool.
It remained that way on a nervy, tense night but the let-off at the final whistle can still be felt to this day, without Garcia's goals the miracle of Istanbul would not have been possible – not to take anything away from Steven Gerrard.
Those five European goals helped create history and forever carved out a place for Garcia at Liverpool, but he had been scared of what lay ahead when presented with the challenge by Benitez.
"I admit at first I was scared to come to England. I was afraid of learning a new language, getting to know new players of so many nationalities," Garcia said back in 2005.
"In an early game away at Man United, Rio Ferdinand kicked me with all of his power. I flew one metre high and when I landed he muttered: 'Welcome to the Premiership'. In midfield, it is like a wrestling match. Football is very different here to Spain."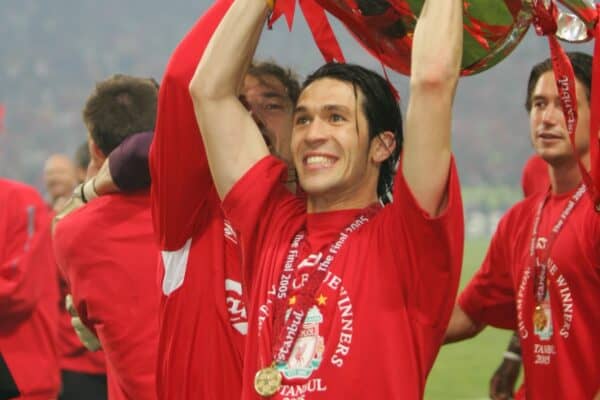 In his first season, Garcia made 44 appearances and started 40 of them – but none more significant than the 120 minutes in the Champions League final.
It was a crowning moment for his debut season, which saw him end the campaign as the joint-top goalscorer alongside Gerrard and Milan Baros with 13.
With one trophy collected, the Super Cup would follow in his second season – which proved inconsistent across his 50 appearances, with the winger excelling one game only to be wasteful the next.
His underrated art of being the man for the big moment reared its head once more, though, with Chelsea again suffering at his hands.

Garcia's 11th and final goal of the 2005/06 season came in the FA Cup semi-final victory over Chelsea, a moment to relish for all and this time there was no doubt about the ball crossing the line.
The European Cup winner did not give himself the chance to be selected for that famous final after his first and only career red card led to a three-game suspension. He had only been on the field for two minutes at West Ham!
It said everything about his character that that was his first serious disciplinary action – in 121 club appearances he collected just 14 yellow cards.
Sadly, in the end, an anterior cruciate ligament injury forced him to miss the second half of his third and final campaign at the club, meaning 'our Luis was taken away'.
Liverpool at heart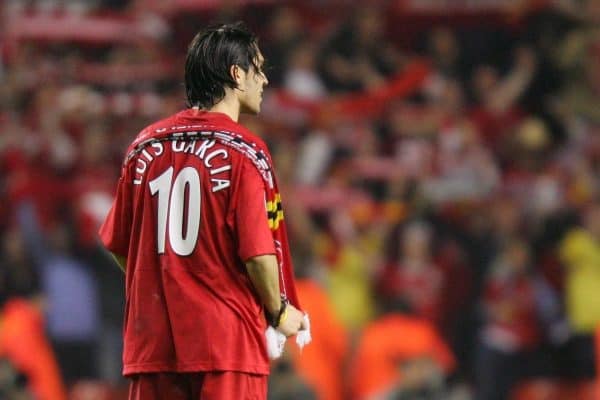 When he arrived at the age of 26, Garcia was capable of making an instant impact but few would have anticipated the lasting impression he left on Liverpool supporters.
His performances went beyond the numbers on a stats sheet, he was committed to the shirt and showed a willingness to give his all – Reds are no strangers to knowing that hard work beats talent until talent decides to work hard.
He was a player for the big moments, but more than that he was a man who knew what it meant to play and represent Liverpool and so a strong bond was formed between the player and the club.
The Reds can point to more talented players throughout their history, but Garcia holds a special place and will continue to do so – the reception he receives every time he returns to Anfield is a case and point.

When bidding farewell to the club in 2007, Garcia was full of gratitude and accurately surmised what makes this club so special.
He said: "A football club isn't just made up of players, coaches and directors. More than anything else it's the supporters who make a club, and that perhaps is the ingredient which best distinguishes Liverpool Football Club from every other team. The supporters."
A player made for special moments, and he certainly delivered them!
'Luis Garcia,
He drinks sangria,
He came from Barca to Liverpool
He's five foot seven,
He's football heaven,
So please don't take our Luis away..'