Trent Alexander-Arnold arrived back for pre-season training on Tuesday with a new but old look: "Fresh start, new season, new me," he declared.
Trent's short hairstyle had fans – and Virgil van Dijk – recalling 'Trent of five years ago'.
And, after a summer spent training in Los Angeles and a week at a camp at Under Armour's Human Performance Centre in Portland, the 24-year-old appears raring to go for the new season.
Trent: "Fresh start, new season, new me" ?? pic.twitter.com/Rd5pjCUxue

— This Is Anfield (@thisisanfield) July 11, 2023
The big question is where he will be playing in 2023/24. Will Jurgen Klopp continue with him as the hybrid right-back-midfielder in the new 3-4-3 shape?
It looks likely, but even Trent isn't fully sure at this stage.
"It's not my decision," said Alexander-Arnold, speaking to Sky Sports.
"I only play where I'm told to play so you know all I can say is I enjoy playing football, I enjoy playing right-back, I enjoy playing in the middle of the pitch a lot.
"It's somewhere where I find joy and I'm enjoying the challenge of the two so you know I would enjoy playing there in the next season but it's not my decision where I play."
The opening pre-season games, the first of which arrives next Wednesday, should give us an indication of Klopp's intended formation and therefore Trent's role.
If Klopp does opt to continue with the new shape, it will be similar to how Man City operated last season, with John Stones stepping into midfield.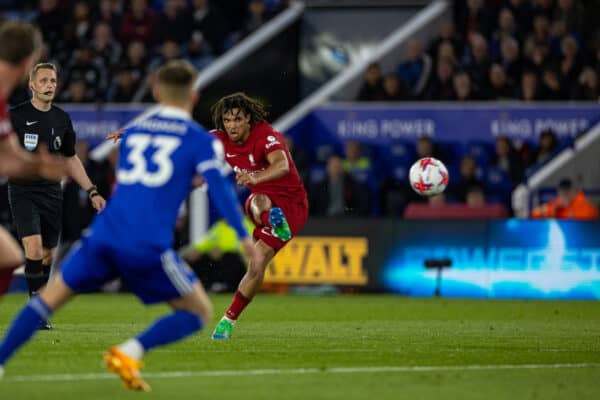 Trent knows that last season wasn't good enough, and that you need to be "near perfect" to match or beat City.
"We want to be winning the league," he says. "We want to be challenging and being in title races and in Champions League football so to not be in that next season is disappointing.
"We know how to win the league, we know how to challenge City and go toe to toe with them and you need to be near perfect throughout the season so for us that's where our heads are at."
A major part of being "near perfect" would require a significant improvement in consistency and particularly away from home – where they lost as many away games as Everton last season.
"Throughout the season we had good results against the big teams but we dropped points and sloppy points away from home especially," acknowledges Trent.
"These are the things that we've all naturally thought about that we need to correct."