Dominik Szoboszlai arrives at Liverpool with a strong reputation, with three former managers having heaped praise on the attacking midfielder.
Having finalised his move from RB Leipzig, Szoboszlai becomes the second signing of the summer at Anfield, following Alexis Mac Allister into the club.
His arrival has been met with surprise and delight among supporters, with a £60.1 million deal for the 22-year-old coming out of the blue.
Like Mac Allister, he seems poised to take up an immediate key role in Jurgen Klopp's midfield, having proved himself a standout talent in the Bundesliga.
Words from his former managers show what level of talent Liverpool have secured.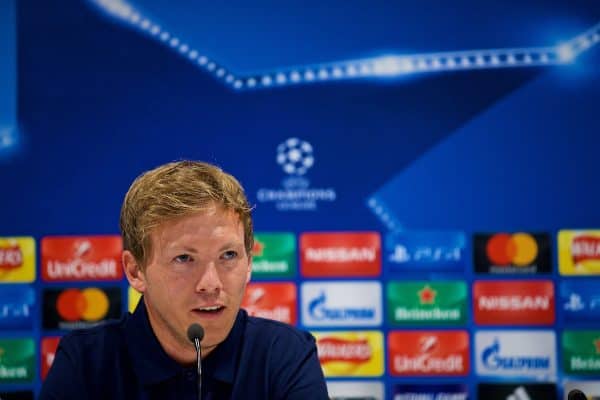 Speaking soon after his signing by Leipzig in 2020, as relayed by Get German Football News, Julian Nagelsmann hailed his "physicality" and "exceptional right foot":
"We spoke shortly after his arrival.

"Dominik is a very nice young man and makes a good impression, especially in terms of his physicality.

"He can play at different positions in attacking midfield. The intense nature of his position requires a lot from players, which is why he will definitely help us in that area.

"He's got an exceptional right foot and has a knack for set-pieces as well. He's definitely a candidate to set up plenty of goals and to score several himself as well.

"I'm convinced that his self-confidence will be high when he joins us and that he will be of great help to the team."

Jesse Marsch succeeded Nagelsmann at Leipzig, arriving from Salzburg at the same time as Szoboszlai, so his words to the Bundesliga's official website carry weight:
"As talent goes, there aren't many better players that can play his position.

"Some are strong, some are technical, some are good tactically, and some can defend well or run a lot.

"However, Dominik is special because he has all of these skills combined.

"Dominik is just as talented as Erling Haaland."
Meanwhile, Gerhard Struber, who worked with the Hungarian in his breakout season at FC Liefering in 2017/18, summed up his work ethic in an interview with The Redmen TV:
"We saw the potential in him at this time and also what I see and I never forget is that sometimes the team would have an off day and he was always on the field.

"He would train on days off. I was in my office, I can see him outside and he would make some special corner kicks, free-kicks with the balls on the field.

"I think next to a top talent, which he is, I can see also a high ambition. And in this direction, two things come together – very high work ethic plus a super talent."
The words of Nagelsmann, Marsch and Struber give us an idea of not only the player Liverpool are signing, but also the person.
Szoboszlai is clearly not only an elite-level midfielder, but also pairs that with the attitude needed to slot into Klopp's high-intensity system.