Jurgen Klopp is keen to add a left footed player to the backline, for tactical reasons we've already explored. But with a few initial targets not working out, what is the exact profile Liverpool need?
The ideal recruit is a tall, strong, quick, left footed centre back who can also play as a left full back.
Expert and experienced in building out from the back, they will allow Liverpool to play through opposition pressure, as well as holding a high defensive line.
While they should have experience at the top level, they are ideally young enough to play alongside Virgil Van Dijk in a back three before succeeding him as the long term partner to Ibrahima Konate in a back four.
And if they don't break the bank too, that would be lovely.
So who else fits the bill?
The ideal target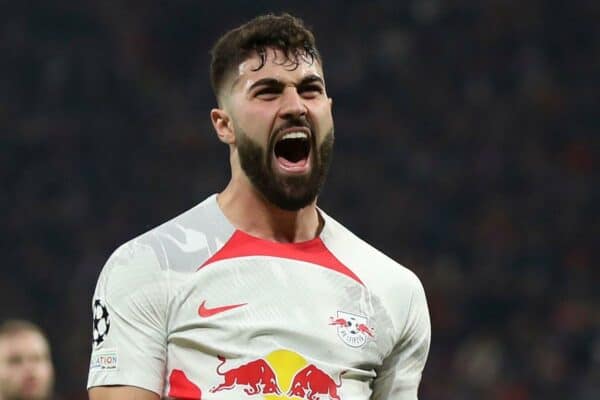 The ideal target is Josko Gvardiol. The self-declared Liverpool fan is still only 21, yet has already made his name both at RB Leipzig and for Croatia, reaching the semi-finals of both the Champions League and the recent World Cup.
A robust defender at 6′ 1″, Gvardiol has played as a centre back and a left back for club and country.
But his most eye-catching numbers are further forward: his 0.09 xG per 90 puts him in the 90th percentile for central defenders, and his 1.04 shot-creating actions per 90 puts him ahead of Liverpool's current starting centre backs. And he's a standout ball carrier, with 1.0 progressive carries per 90.
Unfortunately, he's also probably going to move to Man City for €100m this summer. But he's a good baseline for us to use.
The prospect

Elsewhere in the Bundesliga is Bayer Leverkusen's Piero Hincapie. The 21-year-old has benefited massively from the coaching of Xabi Alonso, who uses a 3-4-3 with a box midfield similar to Liverpool's, albeit with width coming from wing backs.
Able to play both as an outside centre back or a left wing back, Hincapie tends to get forward and attack opponents.
And his 1.85 progressive carries and 0.44 successful take-ons per 90 are backed by solid defensive numbers, making 2.32 tackles and 1.38 blocks per 90.
He is closer in profile to Robertson than Gvardiol, and like the Scot he would be looking to get forward out of the back three whenever possible.
And like Robertson, he isn't the tallest, standing just under 6ft. A great player, but given his similarity to Liverpool's current options, not necessarily a great fit.
The Premier League proven

One option Liverpool have already explored is West Ham's Nayef Aguerd.
Another beaten semi-finalist in Qatar, the Moroccan bounced back from injury in his debut Premier League season to help the Hammers beat the drop and win the UEFA Conference League.
His 0.12 xG per 90 demonstrates the aerial threat he carries, scoring twice in the league this season.
Having started his career as a number 10, Aguerd showed his proficiency at playing out from the back at previous club Rennes, where he profiled similarly to Virgil Van Dijk – though his game became more conservative as West Ham were dragged into a relegation battle.
But this simply showcased his excellent defending abilities, making 1.47 blocks per 90 and 4.46 clearances per 90.
Liverpool's box defending was suspect in 2022/23, as the centre backs continued to defend passively despite receiving less protection from midfield than usual. Aguerd would solve this problem, but he is already 27 and has never played at full back.
Liverpool could do far worse, but perhaps a little better.
The proper Liverpool signing

Given that Liverpool usually sign a player with no prior links who turns out to be brilliant, one to watch is Feyenoord's David Hancko.
The Slovak was a key figure in Feyenoord's underdog Eredivisie title win last year, playing a thrilling, high pressing style under Arne Slot.
Close observers of the Eredivisie named Hancko the best defender in the league last season, over new Arsenal signing Jurrien Timber, to whom the 24 year old profiles similarly.
His 2.13 shot creating actions, 7.44 progressive passes and 2.16 touches in the opponent's box per 90 all place him in the 99th percentile for centre backs worldwide, with his 0.1xG per 90 in the 93rd percentile and 2.07 progressive carries per 90 in the 98th percentile.
Hancko is an outstanding progressive passer and carrier, a genuine goal threat from set pieces and open play. His long range passing resembles that of Van Dijk's, and his crossing technique is similar to Robertson's, yet he's also a big unit who can defend his box – especially making clean slide tackles in his own penalty area, a high risk high reward strategy that he's seemingly mastered.
He's often doing this having tracked back to defend a counter, with teams looking to target Feyenoord's high defensive line.
Hancko is also adept at defending the wide spaces, as Feyenoord play with an inverted full back on the right and an attacking full back on the left, often leaving Hancko to cover out wide, similar to Ibrahima Konate's role behind Trent Alexander-Arnold.
For those who like to pair the hard cheddar of statistics with the sweet grape of the eye test, this reel demonstrates all of the above:
After a low-key €6m move from Sparta Prague, Hancko made himself indispensable to a title winning side.
Prizing him from Eredivisie would not be cheap, but if it happens, Liverpool have an outstanding left sided defender and an excellent candidate to one day succeed Van Dijk.
The Liverpool way

Or Liverpool could sign… nobody.
If it were my chequebook, I'd be challenging City for Gvardiol this summer. But should Liverpool choose to keep their powder dry, there are some intriguing tactical possibilities.
We earlier recommended an excellent Tifo video on how Liverpool could benefit from returning to the 4-3-3, maximising Andy Robertson's full back play. But Liverpool could also tweak their back three setup in a number of ways. There's the 3-4-3, dropping a defensive midfielder into the backline and generating width from wing backs…

…or a 3-5-2 which packs the midfield whilst unleashing Darwin Nunez…

…or even a lopsided 4-2-3-1, with Trent permanently based in midfield and a defensive right back covering behind him, allowing Robertson to fly forwards with a back three behind him.

Such is the nature of football, even when you stand still, the game around you is always moving. The question is whether Liverpool move now, or wait for a more opportune moment to strike.
MORE: Explaining why Liverpool want a left-sided centre-back