Liverpool's first home match of the 2023/24 season ended with three points and three goals, but it was far from perfect after the Reds came from behind.
Liverpool 3-1 Bournemouth
Premier League, Anfield
Saturday 19 August, 2023
Goals: Diaz 27′, Salah 36′, Jota 61′; Semenyo 3
Red card: Mac Allister 58′
---
Attack cancels out defence, on this occasion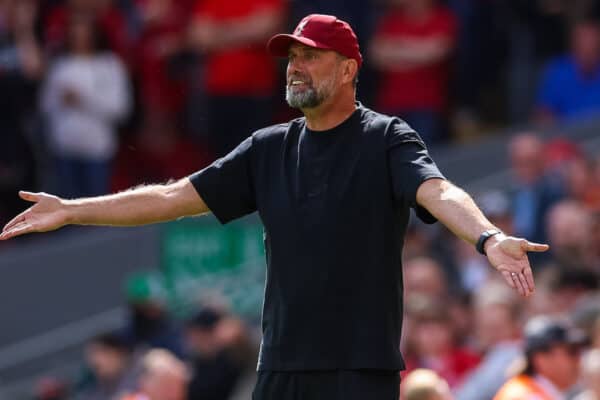 We've been here before and we don't like it, but Liverpool have still got a long way to go to sort out the defensive issues, both in the team and in the system.
One factor that should be reasonable to expect improvement in is concentration and intent from kick-off; last season saw us going behind with far too great frequency and especially early in matches.
The Reds had a warning just a few seconds in, didn't heed it and still went behind. Individual errors, a lack of focus and the usual muddle of who does what contributed to going 1-0 down within minutes.
Trent Alexander-Arnold can be looked at for poor control on both the disallowed goal and the one which counted, but so too must we look at Virgil van Dijk's choice of pass, Andy Robertson's ineffective tackle and Alisson who, soon after, almost cost another goal and got himself booked after losing possession.
The poor defensive work didn't entirely disappear thereafter, but thankfully our attacking superiority certainly overtook any issues at the other end. It won't always be that way, it needs to be fixed.
---
Early season fliers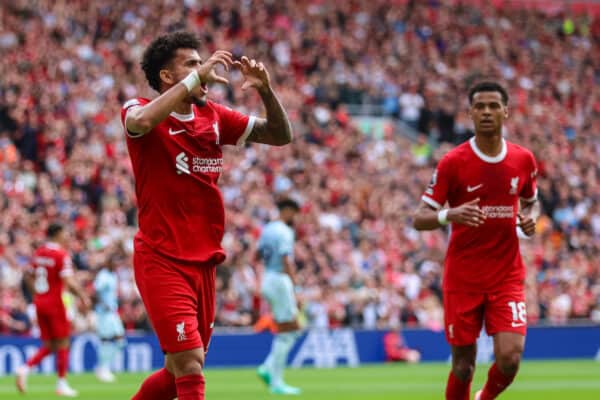 Only two games in so we don't need to go overboard, but there are clearly players who are high in confidence and flying in their early-season form.
First and foremost is Luis Diaz. He was hugely involved all game long in the Reds' attack and scored our equaliser to make it two in two.
And what an equaliser. A wayward pass deflected his way and both instinct and technique were perfect – a flick, a volley over his own shoulder and it was in before Neto could react.
Dribbles, balls into the box and always providing an out-ball for danger made him arguably the biggest threat in the front line all game. Hopefully, the late groin injury is nothing major.
Further downfield, Dominik Szoboszlai has been nothing short of excellent in two games so far, destroying Bournemouth both in midfield and down the channels with his ball-carrying and defence-splitting passing ability.
He should probably be on the scoresheet already this term; if Mo Salah continues to add multiple penalty misses last season to another one beyond today's, perhaps the new No8 will be on them before long.
A nod too for Ibrahima Konate who, among a swamp of bilge, has been a consistent performer at the back so far.
---
Endo debut and Alexis' early exit
Plenty thought he might be thrown in at the deep end and handed a start if he got a work permit on time, but new signing Wataru Endo had to settle for a watching brief to begin with.
Less than an hour into the game, though, it became clear he'd be required. Not exactly a defensive midfield set-up to begin with, the Reds went down to 10 men after Alexis Mac Allister was shown a soft red.
But, it was a fairly poor tackle all the same so not too many complaints can be had.
The hope now will have to be that it isn't issued in the match report for violent conduct, as that will entail a three-game suspension.
As for Wataru Endo, the No. 3 understandably looked off the pace in terms of defensive work and positional play, but he'll have to get up to speed fast – he'll surely be a starter next week against Newcastle.
---
Anfield, atmosphere and applause

The first home game of the season was notable for a few reasons.
Anfield's latest rebuid has been halted due to the contractor going into administration, so it remains to be seen how long the full opening for the increased attendance takes.
All the same, a capacity crowd on the opening match certainly made themselves heard with some frustrations, early on especially.
But they were mixed in with the much more satisfied backing of the team once we found our groove and started to play some excellent football, somewhere around the red card and third goal stage of the game.
More can be hoped for in terms of intensity and 90-minutes-long volume, of course, in bigger games to come.
Finally, it's also worth noting the respect shown for Everton supporter Michael Jones, who died this week while working on Everton's new stadium.
A flag of his club was walked around Anfield as the home fans applauded in solidarity with his family.
---
Endo the only addition?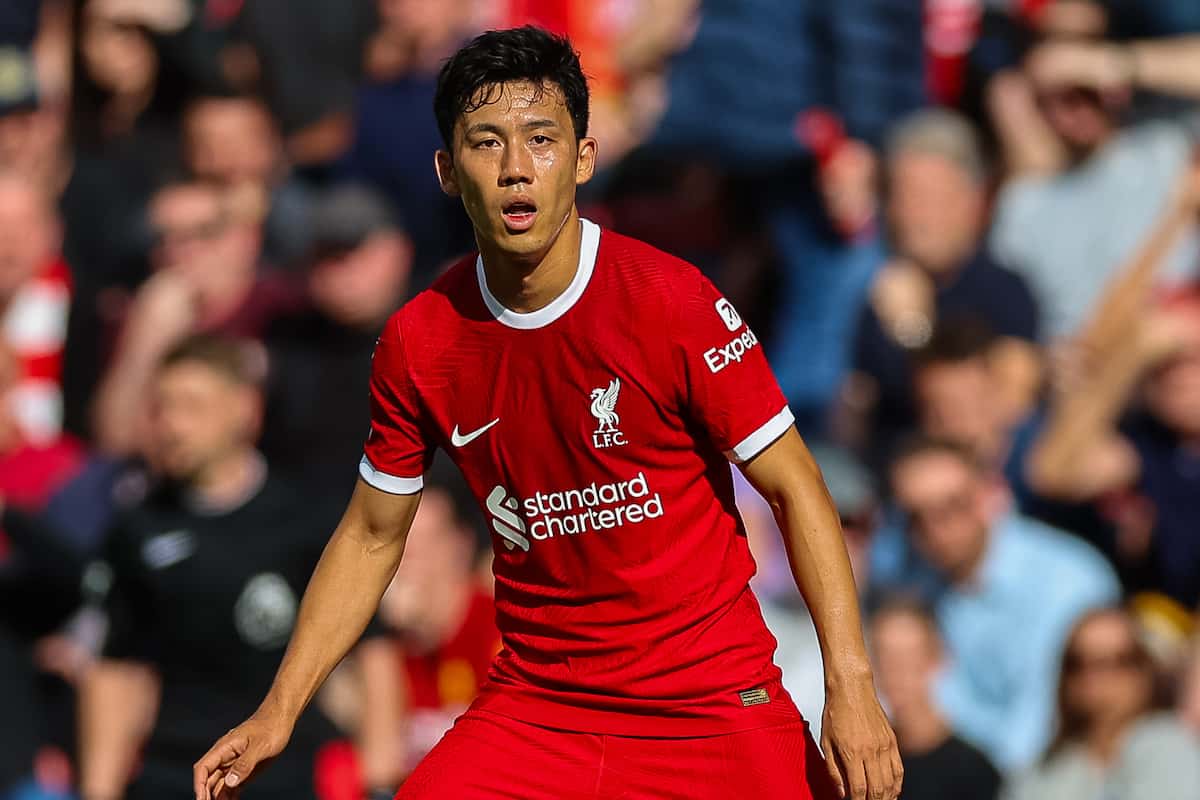 The start to the campaign has been anything other than routine, with the Reds showing already the best and very worst of them inside the first 180 minutes of 2023/24.
There are questions to answer as a result, both on and off the field: does Jurgen Klopp genuinely still believe this system and set-up – and group of players which make it – is the best way forward?
Not just for entertainment, but for control and ability to dominate against the best.
What too for the rest of the transfer window? Surely Endo won't be the only addition in the deep midfield zone, given we wanted two younger players for huge sums and have only spent a fraction of that on the older Japanese skipper.
And perhaps less-pressing, but more over-arching: what is the longer-term plan for this team with regards to strategy and direction in the recruitment sector?
There's a lot to sort out and there's limited time for some of it, but it doesn't appear that Liverpool fans will be short on rollercoaster emotions once again this term.