After Liverpool's stunning comeback against Newcastle, Trent Alexander-Arnold described it as "one of the best performances" since Jurgen Klopp arrived.
Stood next to Alisson and Darwin Nunez, Alexander-Arnold gave credit to the team and described it as "one of the best performances" under Klopp.
The vice-captain said: "It was unbelievable, something very special. You come here with a game-plan, dictate the play and kill the atmosphere as that's an advantage for them.
"But, we had to do it the hard way, a very hard way. We dug deep and pulled together. A performance for the ages, one of our best performances. There was some outstanding performances."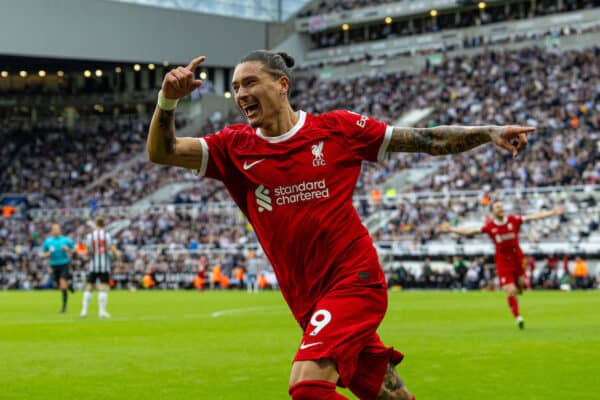 The man who will take the headlines is Nunez and, if you needed reminding about Nunez's ability to provide pure theatre, here it was.
The No. 9 finished twice in the latter stages to complete Liverpool's comeback.
With Alisson acting as translator after the victory vs. Newcastle, Nunez told Sky Sports: 'I'm very happy, the team did a really good job with one less player on the pitch.
'We worked really hard for these kind of moments, I'm very happy to come in and help the team with two goals. It was a great performance from the team and I'm very happy.'

In a funny moment, after being handed the man of the match award, he finished in English and thanked the fans for their support.
Alisson himself had his say too and reacted with surprise to learn that it was the most saves he had every made in one Premier League match.
The goalkeeper said: "You can't underestimate Liverpool even in a game like that. When you play as a unit you can do so many things, make the pitch smaller and play with our quality.
"We said at half-time we would have chances and capable of doing something. We did it. This was one a kind."