Jurgen Klopp was explicit in his demands for his song not to be sung over the weekend, and there's a general consensus that the manager has overthought its significance.
"Can you stop singing that shit? Can you stop!?" the manager was overheard saying while fans sung his song when the team were 3-1 up against Bournemouth on Saturday.
Klopp gestured to the crowd to cut it out as 'I'm so glad, that Jurgen is a Red' begun to be sung from the Kop and his reaction was not entirely appreciated by all fans.
The manager has previously explained that he feels like the song signals that a game is over, a message he doesn't want to hear while the match is ongoing.
While there is no desire to create a mountain out of a mole hill, it was a point of discussion on our new 'Live at 5' show with Gareth Roberts and Paul Cope from The Late Challenge podcast.
"A massive overthink from Jurgen," Roberts assessed. "I'm on the Kop and what tends to happen when you're singing songs is everyone naturally moves through a bit of a repertoire.
"If someone does something brilliant on the pitch, then you might sing for him.
"But having a song as part of the repertoire that recognises that Jurgen Klopp won us the league isn't us in the crowd going, 'think this is done now, you know, Jurgen'.
"Equally, the players, who are absolutely focused on the task at hand, they're not there looking up at us thinking, 'they're singing the Jurgen song, it's done'."
Klopp's actions and words clearly sparked quite the debate, and 62 percent of fans in a recent This Is Anfield poll feel that the manager 'needs to chill'.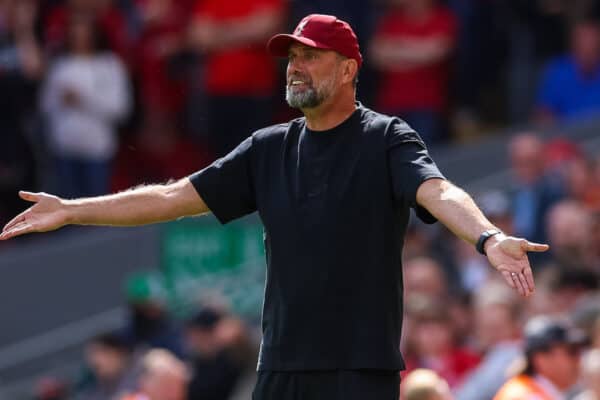 Cope echoed the thoughts of Roberts, adding, "I think he's got it wrong and I've said this in the past, he has done and said certain things over the years that if Roy Hodgson had said them we'd be on his back.
"He's got away with it because he's Jurgen Klopp, and that's fine.
"This one, to me, when you stop and think about it, is a bit egotistical," Cope explained. "He thinks his song is a victory celebration, it's not, mate."
The song is part of the repertoire, just like the ones for former and current players, and there's a sense that Klopp needs to put his hands up and say "I've got that one wrong."
"It's a huge overthink from Jurgen," Roberts said. "OK, he probably doesn't know he's going to get caught on a microphone, doesn't know it's going to blow up in the media, but it has done and it's caused a debate.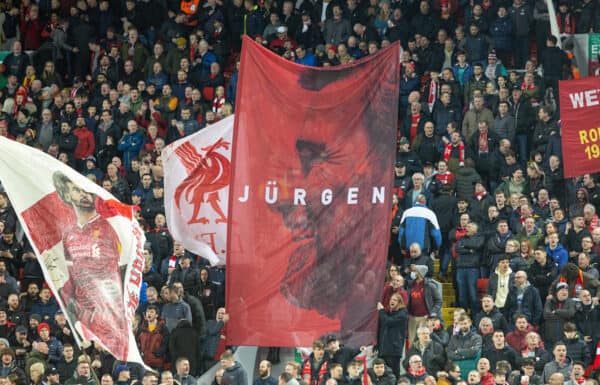 "I kind of wonder could you not just say Jurgen, 'I've got that one wrong and I was just in the passion of the game and, of course, I want the supporters to get behind the club, and do it any way'."
While Liverpool are back on the road this weekend you sense the manager will not escape questions about his reaction, and it will be interesting to hear what he says on the matter as he's made it apparent he finds it rather superstitious.
Do you think it was "a huge overthink" from the manager? Let us know in the comments below.
---
'Live At 5' is a new show from This Is Anfield The Late Challenge Podcast, with Gareth Roberts and Paul Cope.
The live show will air each Monday at 5pm (UK) on This Is Anfield YouTube, with another show each Wednesday at 11am (UK).
You can also listen as an audio show, here.