Where would Liverpool be without Alisson? It's a question you dread to think about as he is that priceless. And the stats more than back it up.
"This is actually for '100 lifesaving saves this season'. Ali said, 'it might have been more'. Maybe he is right," Jurgen Klopp said with a laugh.
Those were the manager's words after he presented Alisson with a special shirt to commemorate his 100th clean sheet for the club back in May, and the words from the No. 1 may have been an understatement!
Too often Liverpool needed their Brazilian to save them from precarious positions and he stood up to a challenge that would have others faltering, and it is no wonder he topped the Premier League charts.
Goalkeeping analyst John Harrison has Alisson ranked as the Premier League goalkeeper worth the most goals to his side over 2022/23, with an overall goalkeeper value (OGV) ranking of +15.5.
It was great to see GK xG data on @SkySportsNews today & as requested here is the full #PremierLeague OGV table!

? Last year #LFC's #Alisson took the crown being worth ~16 goals!

?? Interestingly all the GKs of relegated teams struggled!

For more info:https://t.co/PI19EBLByV pic.twitter.com/fqlKZP3KSG

— John Harrison (@Jhdharrison1) August 4, 2023
The analysis pits each Premier League goalkeeper against one another with the total value of all actions vs. the average league goalkeeper using a GK xG model.
It evaluates every shot, cross and through ball faced plus distribution attempts and calculates the probability of a goal occurring for and against a goalkeeper's team.
It allows a comparison for different goalkeeping styles and measures the value of each goalkeeper to their team compared to if they had an average league 'keeper.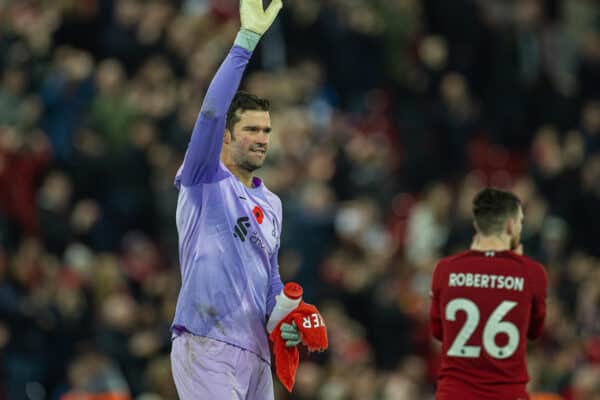 Alisson, as we all would have expected, is ranked at No. 1 with a ridiculous OGV of +15.5, followed by Aston Villa's Emiliano Martinez (+15.2), Fulham's Bernd Leno (+14.6) and David Raya of Brentford (+11.2).
Southampton's Gavin Bazunu (-10.1) had the most negative contribution to his side, while David de Gea (+1.9) and Ederson (+1.5) were both considered as the Premier League average.
There is nothing average about Alisson, though, far from it.
But let's just hope he does not need to be called into make as many "lifesaving saves" this season!