Jurgen Klopp was blunt in his delivery of Moises Caicedo 'news' and discussed Mohamed Salah's reaction to being substituted after the 1-1 draw at Chelsea.
Here are four key points from the manager after a draw on the opening day…
No problem with Salah reaction
Salah was not particularly happy when he was taken off and he did not hide it, but the manager understands and sees no problem. A quick line drawn through it.
"I don't think you've ever seen Mo leaving the pitch happy, I can't remember it," Klopp said.
"It's ok. Today, I didn't think about the record [seven consecutive openers with a goal], I understand the disappointment but I am the manager of the whole team."
Any Caicedo update, boss?
This one was short and to the point.
"Where's the camera?" he asked. "No."
But when it was put to him that Mauricio Pochettino was after more signings, he added, humorously, "Obviously, that's what every Chelsea manager wants and usually they get it."

Taking the positives
No draw should be a good draw but with this the first game of the season and away from home, Klopp was looking at the result in a "rather positive" light.
"I saw a lot of things I liked, of course, things I didn't like particularly. But our first game, tough place. I tend to see it rather positive," he said. "We have a point and we keep working."
But that isn't to say improvements are needed, he added on the loss of control: "We tried to close the gaps by dropping instead of by stepping in, like we did in the beginning. We should've solved it better."
Versatility is key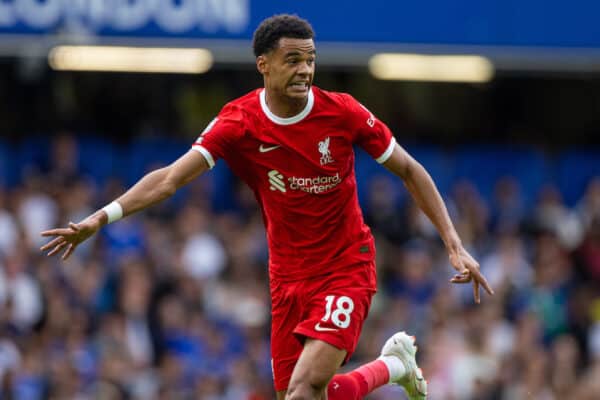 With no proven No. 6 currently in the squad, flexibility is needed and Klopp continues to preach that players are not fixed to one position, as we've seen with Cody Gakpo and Alexis Mac Allister.
"When we decided that everybody can get their own number on their back, then a [No.] two was not a two anymore and a [No. 6] wasn't a six anymore," he said to explain his point.
"I think modern football is like that, that players can play different positions."