Liverpool's goalie is a man of many talents, with Alisson Becker showcasing his brilliant character alongside his skills on the guitar at a special event for Reds' fans on Thursday night.
The Reds' No.1 surprised supporters at a special BOSS Night at the Olympia in Liverpool, entering the stage alongside new signing Dominik Szoboszlai and women's player Missy Bo Kearns to perform a rendition of Allez Allez Allez alongside Kieo.
The event was part of what was a pretty impressive and unique kit launch for the new purple third kit.
It was a special night for so many of the kids in the crowd, with signed shirts being handed out to fans.
"It was amazing, Missy Bo looked right at me and threw me a shirt," said supporter Phoebe Reynolds who was at the event with her dad, Lee, a Kop season ticket holder.
"I knew some players were supposed to be coming, and when we got inside and I saw the flag up for Alisson I guessed it might be him!"
Indeed, there was a big clue for those in attendance, with an Alisson banner one side of the stage and new signing Szoboszlai's the other.

It was quite the introduction for the new No.8 from Hungary, arriving into Liverpool with a buzzing crowd cheering an iconic song that he will now be playing to the tune of at Anfield.
Earlier in the night, DJ Katy Alex had got the crowd going, while John Barnes also performed a brilliant version of 'Rappers Delight' by The Sugar Hill Gang.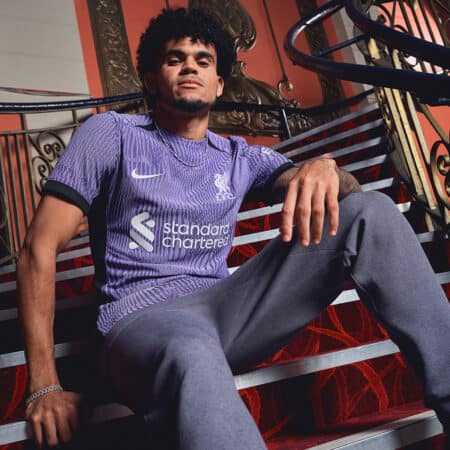 The kit is available to pre-order now on LFC's official online store and the LFC Store App for delivery from the official launch day on August 17.
As far as kit launches go, this will take some beating!