Arthur's loan move to Liverpool ended in failure, but the Brazilian midfielder is now thriving at Fiorentina, with lessons learned from Anfield.
With only 13 minutes on the pitch and a serious injury that required surgery, Arthur's stint on Merseyside can only be considered a disappointment.
But the 27-year-old has regained his form after swapping Juventus for Fiorentina in another loan this season, featuring in all six games so far and starting five.
He has already played 32 times more minutes for the Italian side than he did at Liverpool, though he believes his experiences with the club have helped him.
"Better than ever," Arthur told AS, when asked how he sees himself now.

"I feel more mature. Physically better. I started working on the mental part, which I didn't work on before, and I've gotten better."
That, he believes, is partly due to the mental challenges faced while sidelined, having been "really looking forward" to representing the Reds.
"I was really looking forward to playing in a different league. Everything was going very well in a great team, but in training I had an injury," he recalled.
"It was hard, mentally very hard, but you also learn. Now I look back and get something productive out of the injury.
"I started to work on the mental part, nutrition, rest and sleep. It was bad luck, but it belongs to the past now."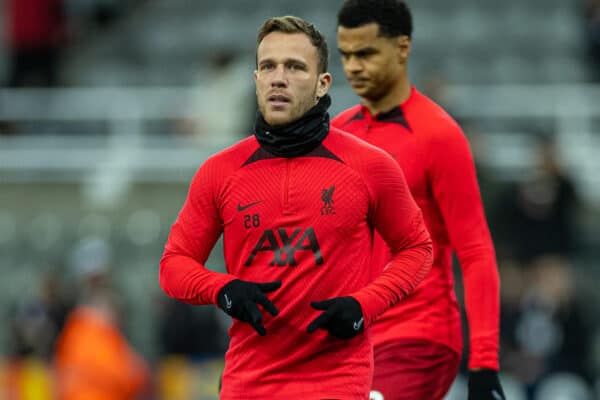 The timing of Arthur's injury made him a punchline in a difficult season for Liverpool, but behind the scenes it was undoubtedly rough for the player.
He revealed that he consulted a psychologist during his time out, which has clearly helped him as he moves on with Fiorentina.
"I was very lucky to have my family, my partner, who helped me because it was difficult, since you think: 'My goodness, when am I going to come back…I now play in the operating room'," he said.
"It never crossed my mind to throw in the towel, because I know I made a lot of sacrifices to get here.
"I know I'm still young and I still have a lot of football to play.
"It was not easy. I did psychological work not only for football, but for life in general. Everyone should do it as it has helped me a lot."
There is no ill feeling despite his failure, either, as Arthur explained: "Liverpool surprised me a lot.
"The fans are incredible, but within the club everything has Klopp's face. It is a family."