Cody Gakpo is embracing Jurgen Klopp's need to use his positional versatility, embracing the change as a chance to become a "more complete player."
Throughout pre-season, Gakpo was deployed in midfield with Liverpool short on numbers, as was the case for the first two games of the season.
Klopp stressed that modern football means that "players can play different positions," but Gakpo has been hit and miss in the No. 8 – which is not a surprise considering the need to adapt.
However, while the Reds may have now loaded up on midfielders capable of being deployed in their familiar No. 8 role, Gakpo has and will continue to embrace any midfield minutes.
"In the beginning it always takes some getting used to when you are in a different position, but then it is important to pick it up quickly and show that I am versatile as a player," Gakpo recently explained to Voetbal International.
"You just want to play and be of value, it doesn't matter where.
"The manager sees me as an attacker, but I can also bring those attacking impulses from midfield. That's the reason I also make minutes there.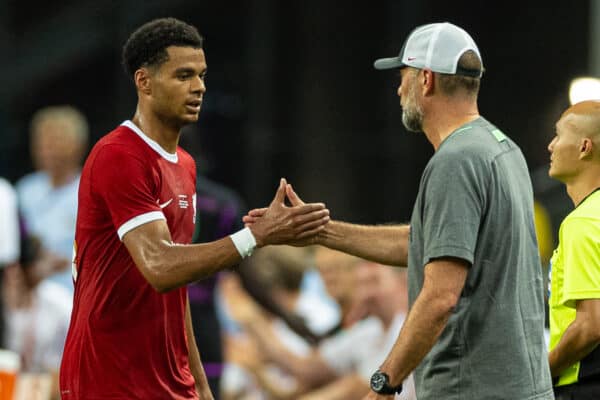 "We also play very dynamically so that we have the space to change positions. This often happens naturally.
"Developing myself in several areas also suits me as a person. That's how I am, and that also applies to my development on the field.
"That also reflects on how I am as a player, that it is important for me to become a more complete player."
It is easy to forget that Gakpo only arrived at Anfield in January and has since played 30 games, and in that time, he has shown plenty of exciting potential.
At 24, Gakpo has been a standout among Liverpool's new look forward contingent, and it offers plenty of excitement over what he can offer as he continues to develop under Klopp's tutelage.
"My feeling is good," Gakpo added. "I can look back on a good preparation and start of the season, in which I played in different position.
"Of course things can always be better, that's how I am wired, but I felt good, and I'm enjoying myself in Liverpool. I came halfway through the season and there's a lot to think about.
"Everyone at the club helped me a lot, including Virgil van Dijk, who showed me the ropes, and I am very grateful to him for that."