Curtis Jones is one of the understated profiles in Liverpool's midfield, but in the win over West Ham, he showcased what he offers to the team – and it didn't go unnoticed.
In his third start of the season, Jones lined up alongside Alexis Mac Allister and Dominik Szoboszlai – a midfield unit that hardly put a foot wrong throughout the Anfield clash.
Jones never stopped running, from the first whistle to the last and was a constant menace for the West Ham defenders and goalkeeper, placing pressure on seemingly every kick.
The 22-year-old was withdrawn after 77 relentless minutes, ending his day with a passing accuracy of 96.1 percent, four tackles and one pressure act after another.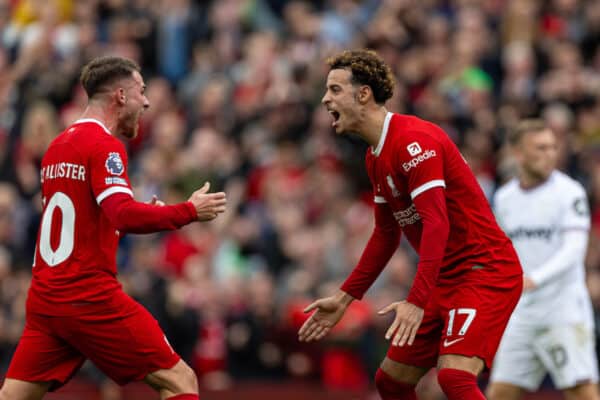 Jones' role in the side can often be under-appreciated, but the Anfield crowd's standing ovation on Sunday was resounding, a response that said everything about the midfielder's performance.
And praise came from far and wide for the academy graduate, whose development will continue to head in only one direction in what is the next evolution of Jurgen Klopp's side:
I love that Curtis Jones has reached a level now since the end of last season and it's not dropped. Tireless and impressive again today.

Love that we always have a Scouser in the team. ?? pic.twitter.com/m2m5UJtzJo

— Mick Moran (@Mick_Moran_) September 24, 2023
The lad who won't get anywhere near the credit he deserves for this game, just like Wijnaldum never did when he played a very similar role for us, is Curtis Jones. He was excellent today.

— Adam Rowe (@adamrowecomedy) September 24, 2023
The ground covered / sprints / pressures whatever you wanna call it, by Curtis Jones today was unbelievable. Proper scouse performance

— Ryan Torrible (@ryantorrible) September 24, 2023
Just two misplaced passes from Curtis Jones today. Only Szoboszlai completed more final third passes while he was on the pitch. pic.twitter.com/TXMF4sX0XJ

— Andrew Beasley (@BassTunedToRed) September 24, 2023
How there's still people questioning whether Curtis Jones is good enough is fucking ridiculous btw

— Josh ? (@josha1995_) September 24, 2023
The way Curtis Jones receives the ball and leaves a couple of inches between him and the ball to shield it and ride the incoming tackle is ?

— Paul Collins (@proper_tees) September 24, 2023
Hard to understand how people do not see all that Curtis Jones does. Truly turning himself into a player. Versatile. Fearless. Makes so many selfless runs and creates so much space for the forwards. Huge cog in this midfield.

— JM (@ThisMerv) September 24, 2023
Curtis Jones is very good! Nice to have a player come from youth system after Trent and make a good impact and hold his own in the squad of talented players

— Akki (@Akki_GymGuy) September 24, 2023
Curtis Jones has to be one of the most underrated cogs of this Liverpool machine.
His footballing IQ is under-appreciated. Excellent counter-pressing, technical ability, sense to understand different game states.

We just look more dominant and in control when he's playing. pic.twitter.com/hOK6mzeSbE

— Chalkboard Tactics (@tactical_novice) September 24, 2023
A Curtis Jones appreciation thread is coming from me in the near future!

In a midfield of Mac Allister and Szoboszlai, he has proven he has what it takes to play in a Klopp midfield.

Barely spoken about, yet played 3 really good games with 3 consecutive league starts.

— FPL Baldie (Hieu) (@FPL_Baldie) September 25, 2023
---
Jones has played a total of 101 games for his boyhood club, and he has always been held to high standards, but his growth is obvious.
His decision-making and timing on and off the ball has improved and the hope will be that his days of picking up unusual injuries are over – though he has already missed two matches.
It is always easy to pick out points to criticise but equally, the opposite has to be recognised and against West Ham, Jones' performance was worthy of adulation – he left everything on the pitch.