After the disappointment of losing the 2022 Champions League final, Jurgen Klopp acknowledged that his side needed to become more "unpredictable."
The following season saw multiple formation changes, but this ultimately exposed that Liverpool's midfield personnel needed to be overhauled.
But while six midfielders departed and four came in, Liverpool ended the summer window with just one specialist No. 6 in Wataru Endo.
With the rest of the department now comprised of No. 8s, some are concerned about Liverpool's depth in the position.
But are Liverpool playing a different game?
What is the position?
Broadly speaking, a No. 6 is a midfielder who sits deeper within the centre of the pitch. Typically they screen in front of the defensive line, and sweep up behind their fellow midfielders.
In Liverpool's 'predictable' 4-3-3, Fabinho would play as a No. 6 behind two No. 8s.
Occasionally Liverpool would use a 4-2-3-1 with a 'double six', with players like Thiago or Jordan Henderson operating in a similar zone, and just one player higher upfield.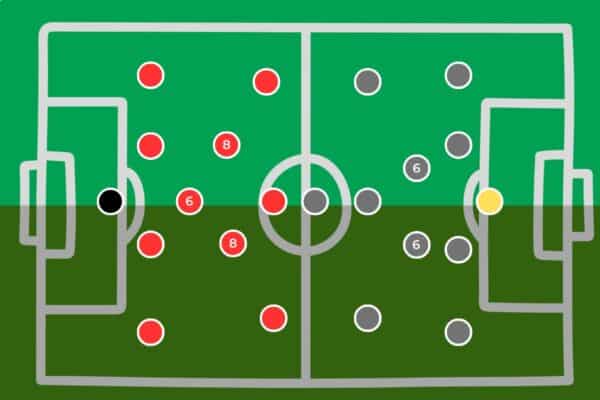 But while every team has to delegate this role, not every team plays with a No. 6.
What is the role?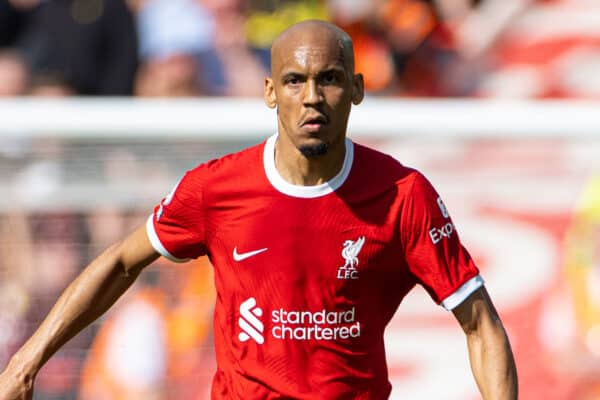 One of Fabinho's nicknames at Liverpool was The Dyson, as he would hoover up loose balls in midfield. Defensively his job was to win headers, intercept the ball and commit tactical fouls to stop counter-attacks.
But the No. 6 plays a vital role in possession too.
Fabinho's other nickname, The Lighthouse, referred to his ability to see through the chaos of midfield – he would often receive the ball in the centre of the pitch and play either sideways or forwards to a team-mate in space.
This is why the No. 6 is typically referred to as the pivot – the player through whom the ball is progressed.
That's true whether playing against a press (receiving the ball under pressure and finding a team-mate)…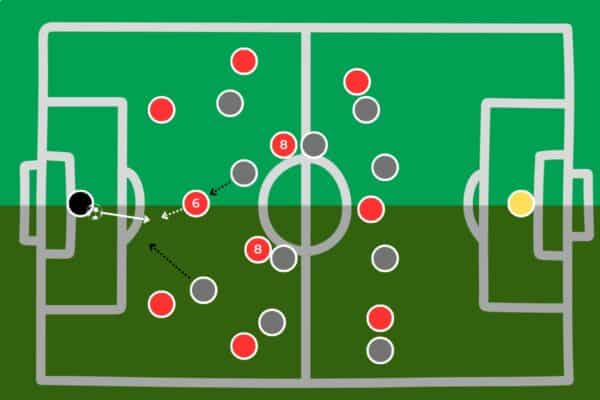 …or playing against a settled defensive block (receiving inside the block, attracting pressure and creating space for team-mates).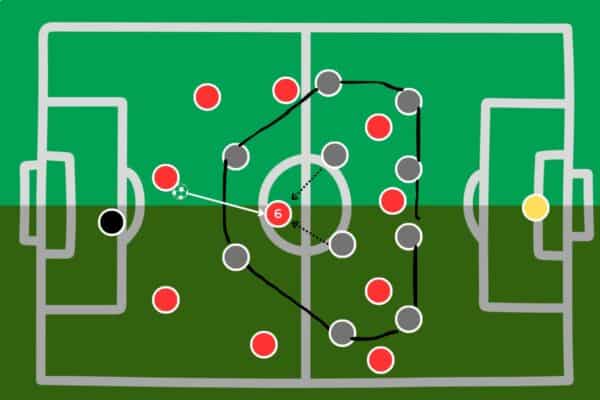 Don't you need to be a specialist?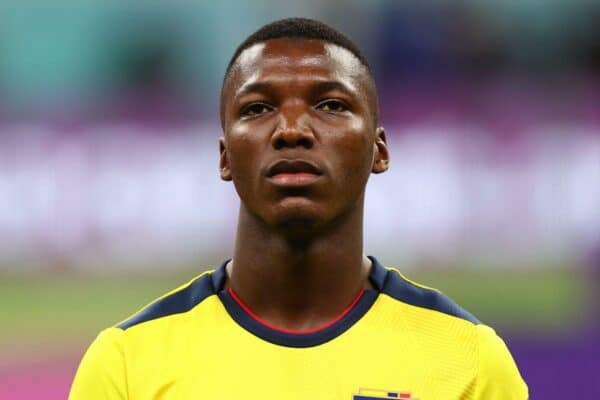 The term "specialist No. 6" was subsequently thrown around a lot during the transfer window just gone.
But with the position encompassing many different responsibilities, what does it mean to be a 'specialist'?
A strong tackler? An expert press-resister? An elite pivot player?
Finding a single player who can do all of this alone is so difficult – that's partly why the market for 'specialists' exploded this summer.
But even those who went for big fees have at least one weakness.
Declan Rice, for example, is struggling to play inside the block for Arsenal, typically dropping out and forcing the play wide. Moises Caicedo is not used to playing as a single pivot, which currently limits the formations available to Chelsea.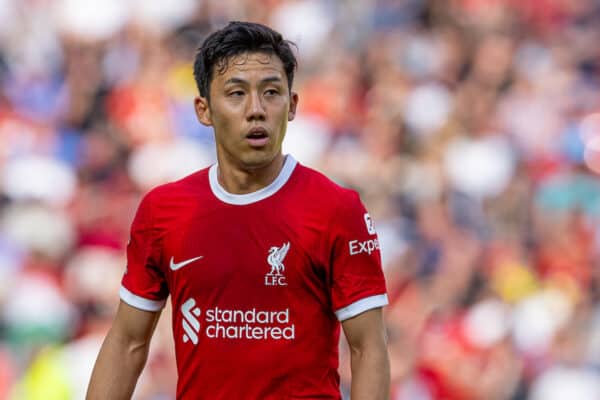 I used the term earlier to describe Endo, as he takes responsibility for both the defensive aspect of the role – snapping into challenges, tracking back to cover his central defenders – as well as showing for the ball during buildup.
But Endo has his own deficiencies, such as his unremarkable aerial ability.
Playing a system with a lone No. 6 places huge responsibility on one player, and finding someone who can do it all is only getting tougher.
Systemic change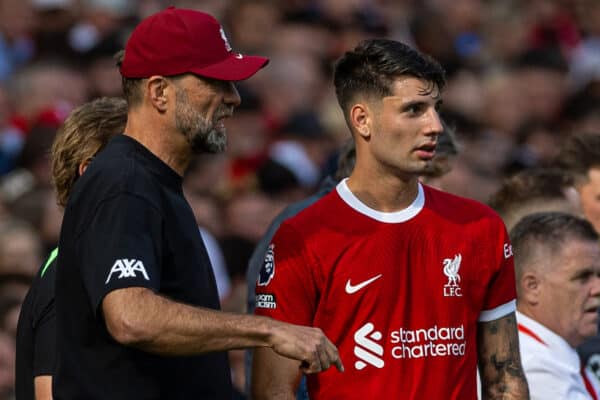 That's why Liverpool have gradually shifted their whole system – and recruited accordingly.
When looking to refresh the midfield, Liverpool had a choice to make: recruit better technical players to continue evolving their possession game, or bring in physical monsters to restore their pressing.
The answer appears to be both.
In Alexis Mac Allister, Dominik Szoboszlai and Ryan Gravenberch, Liverpool now have midfielders who are technically superior to those who left in the summer, whilst also being more capable of physically competing.
This means that rather than separating the midfield into rigid roles, Liverpool can get all of the outputs they need – such as winning duels, stopping counters and progressing the ball – in a variety of ways.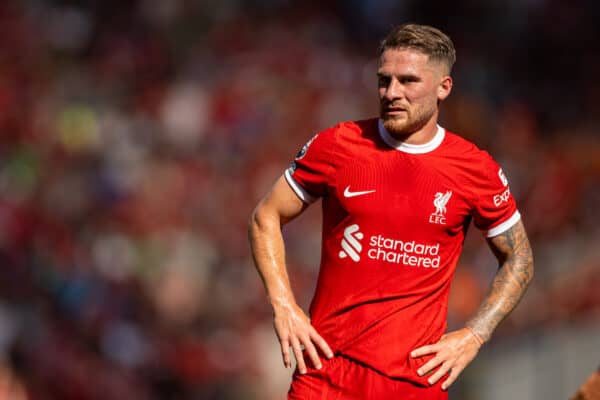 A great example of this was the recent win over Aston Villa. Based on the teamsheet, all three of their midfielders might have been the No. 6.
Both Mac Allister and the returning Curtis Jones were trialled there in pre-season, while Szoboszlai has also been used there for Hungary. Trent Alexander-Arnold could also continue inverting from right-back to be a double six.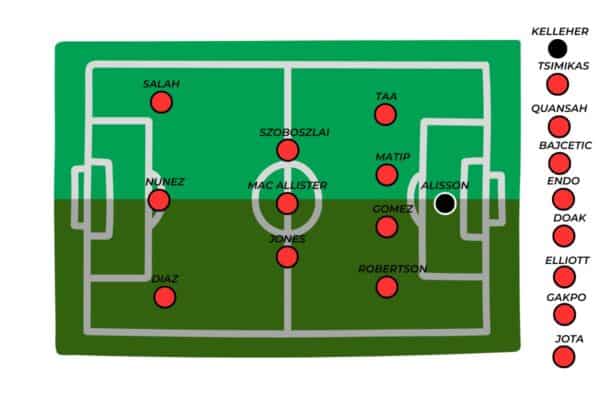 What we actually saw was Liverpool transitioning into a 4-4-2 or 4-2-4 shape.
Jones was nominally on the left of a midfield three, but typically pulled wide. This allowed Luis Diaz to continue his recent efforts to get into central spaces.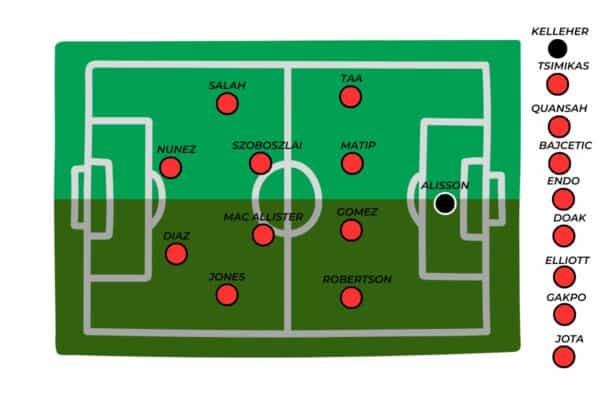 Alexander-Arnold, Mac Allister and Szoboszlai rotated pivot duties – one or two of the three would drop inside Aston Villa's block to receive the ball and beat Villa's press.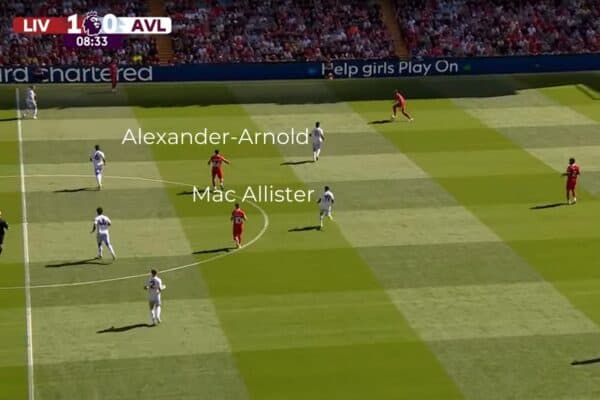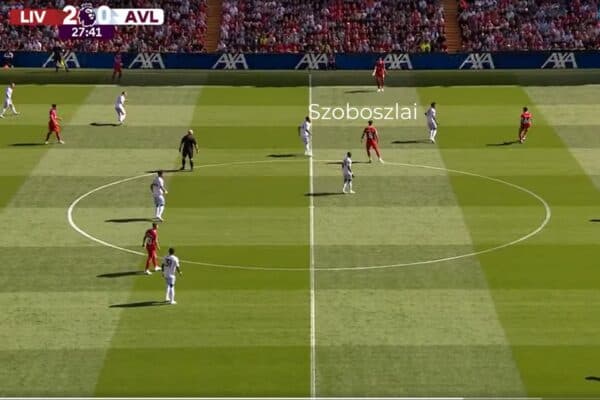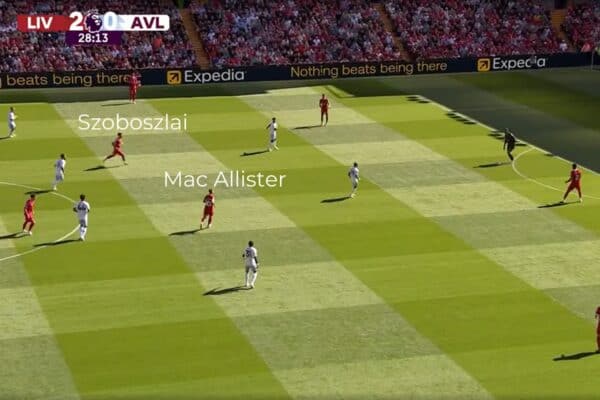 Against the ball, Liverpool made seven high regains in the first half of this game – winning the ball in Villa's defensive third.
Since 2018/19, Liverpool have only done better than this in four halves of football – it truly was an exceptional high-pressing performance.
As a result, even playing without a No. 6 for much of the game – and without their first-choice central defenders – Liverpool restricted Villa to zero big chances created across the 90 minutes.
Options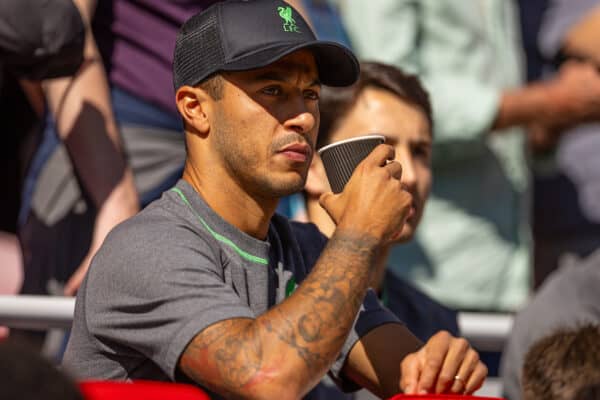 Endo and Harvey Elliott also featured off the bench against Villa, while Stefan Bajcetic was in the squad. Thiago is still to return from injury.
The options at Klopp's disposal mean that, against certain opponents, Liverpool are capable of filling the role of a No. 6 without placing all of the responsibility on one player.
That could be in a 4-4-2, a 3-box-3 shape like we saw last season, or another, as-yet-unexplored formation.
"If we defend with all the other midfielders, plus the three up front, plus the last line, really well, probably at times I could play the No. 6, because then there's not much to do anymore," Klopp explained during pre-season.
"Too often we leave too much work for the No. 6, that was in other moments a little bit of the problem. That's why it's just a general task for us to work on."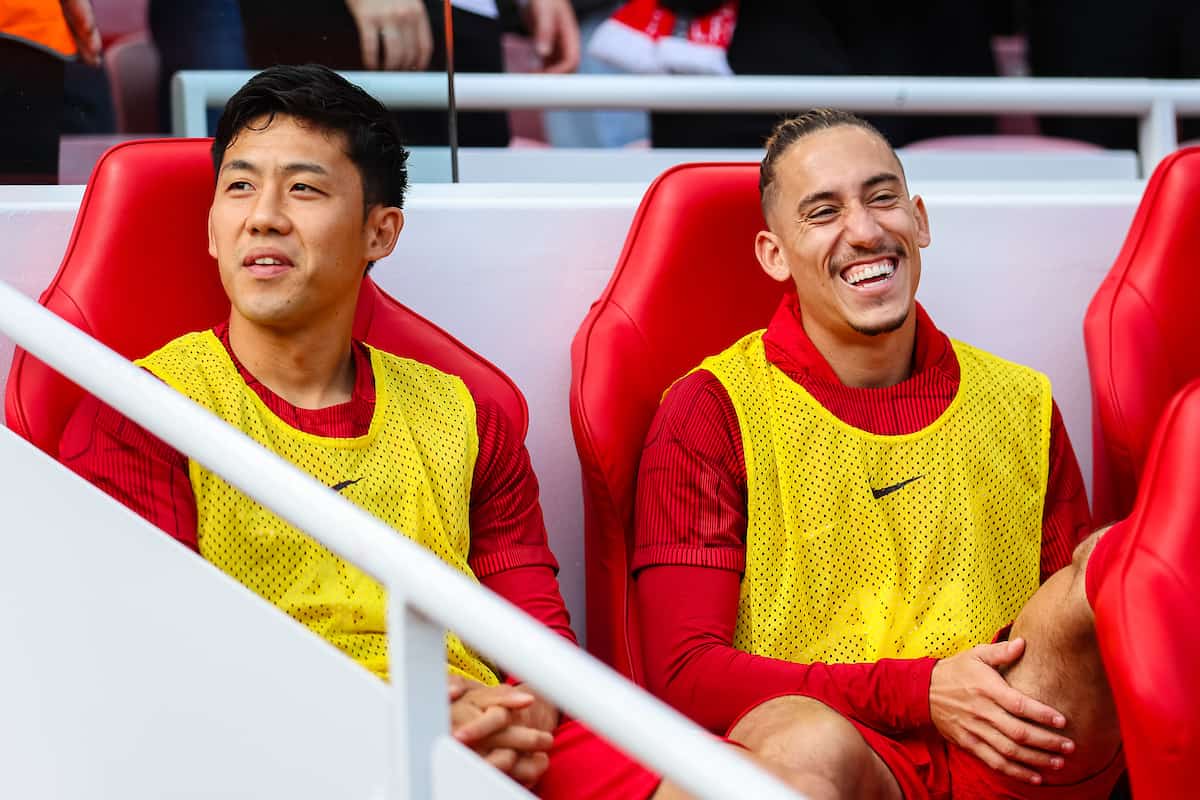 For certain games, using a No. 6 would be preferable.
Endo is ready and able to step in, but crucially, most of Liverpool's other options – Jones, Mac Allister, Gravenberch, Thiago, Bajcetic – can all offer at least some of the necessary outputs as well.
This multifunctional group can now fit together in multiple different ways.
How they do so game by game isn't easy to predict. That's exactly how Klopp wants it to be.