Jurgen Klopp admits he was "not happy" with his description of Wataru Endo as "polite," in explaining the midfielder's slow start to life at Liverpool.
Unlike Dominik Szoboszlai and Alexis Mac Allister, Endo has taken more time to adapt to his new club, with Klopp suggesting his "very calm and very polite" nature "cost him the first two weeks."
That drew criticism from Germany, where Endo played for four years with Stuttgart, with SPORT1 describing Klopp's claim as "bizarre."
The 30-year-old was far from polite in the second half of Wednesday's 3-1 victory over Leicester, though, with his all-action performance considered a breakthrough.
Asked on Friday about Endo's display in the League Cup, after a difficult start at Anfield, Klopp brought it back to his words from last week.
"I was not surprised, because that's how he is training. I said that before, he is already there in training," the manager said.
"I was not too happy with the way I described the situation with this 'polite' [term].
"But when you're not native that makes life sometimes really difficult, even when you think I'm eight years in, should maybe speak better English.
"Some people have a personality of getting into something and taking everything, and you have the others who come in, look left and right and think 'OK, let's have a look first'.
"That says nothing about the person, that's just your character. But both can succeed. Just different timescales.
"Now we have two new players in Dom and Macca who just step in and 'hello, here we are', with later Ryan obviously, who is doing pretty well as well.
"Then you have the fourth one, and you say 'I'm not really sure'.
"If we don't give people time anymore, what kind of world is that?"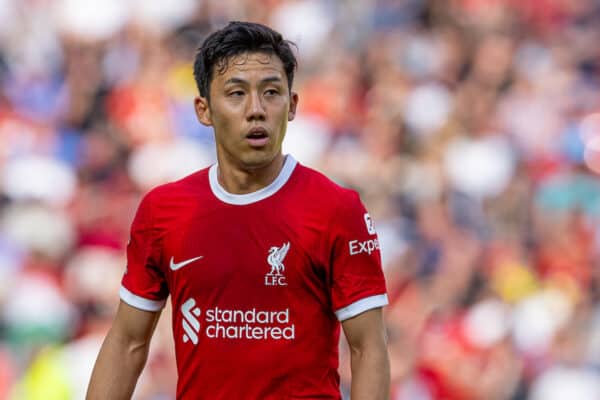 In truth, Klopp's earlier comments on Endo were widely understood in England as nothing close to criticism – simply that, as he has now explained, it has taken longer for the No. 3 to settle.
Following the victory over Leicester, the Japan captain explained how his family, including four children, had only recently joined him on Merseyside.
That can have a major impact on a player's performance, with Klopp effusive in his praise of Endo, in particular his assist for Szoboszlai.
"I was not surprised [with his performance vs. Leicester], that's how he trains," he continued.
"It looks really good, super promising and it's exactly what we wanted.
"He's a top, top guy, and so I'm really happy for him that he could show the outside world a first glimpse of his quality. It's really nice.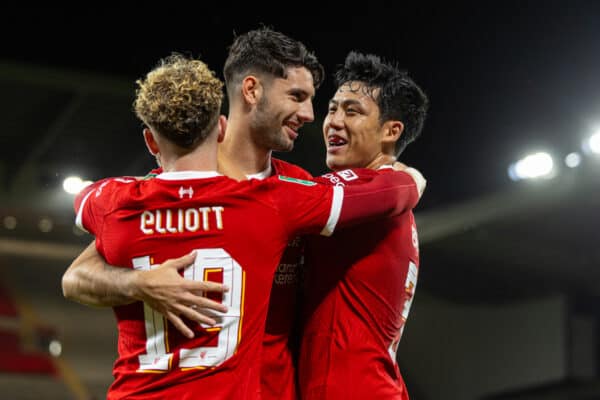 "With all the understandable attention on Dominik's goal, the pass was as good. I didn't see any space between the two players.
"Dom told me later, 'I hoped he'd see me'. Yeah, he saw you, but then he still has to think there is enough space for the ball between the other players.
"So that was a top, top pass – passes we missed in the past, that's the truth as well. You get these balls through.
"He played so many forward balls, that was really good.
"So, he's in a good way, and I was really happy for him to show this sign in the second half."