Jurgen Klopp can feel "something growing" within his Liverpool side but it is all about how his squad can harness it, and he will hope to see evidence of it against LASK.
Here are the four key points from the manager as he looked ahead to the match at LASK.
"You can see the spirit"
This new evolution of Klopp's side has been coined 'Liverpool 2.0', and the manager is excited about what he is seeing, especially when it comes to the spirit that is growing within the group.
"It's never what you've got, it's what you make of it. Virg is right, he didn't play twice now, and you can see the spirit, something is growing," Klopp said.
"We will see, they are really good with each other.
"We were late today and we were stood around quite a lot at the airport, and you see they enjoy spending time together. Now we have to use that outside and then channel it and use it on the pitch."
Sorry, no team news
Klopp was keeping rather tight-lipped about who we could expect in the XI, but he did make it clear that he is not handing out opportunities.
"Absolutely no information about that," he said on team news. "You have to wait until tomorrow, have a look at the lineup and enjoy it or don't. Accept it, and then we go.
"We are here to compete, not to give opportunities," he insisted. "For nobody. Not for us and not for them. It's not about that. We want to fight."
Perhaps we won't see Ben Doak in from the start, then!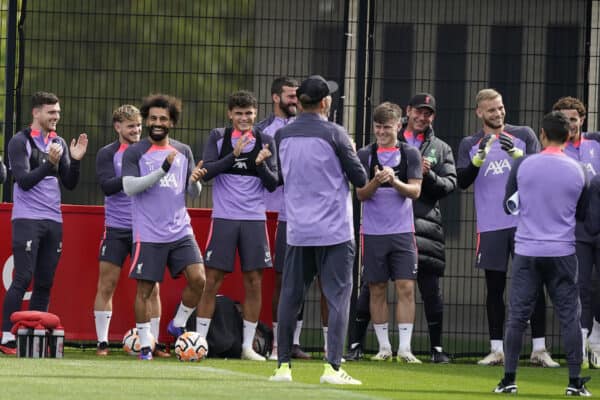 "We are not arrogant"
The question many have started with a reference to Gary Lineker, but it ended with the boss making it clear that he is taking the Austrian side very seriously.
"We are really here to play football, we take this seriously," he said. "We are not arrogant, we want to compete and win here.
"I think LASK are stable and have a clear idea of football, use wings well and if we let them play they will use it."
A different time to 2015/16
The last time the Reds were in this competition was in Klopp's debut season, a lot has changed since then and the team are better prepared for the challenges ahead – and hopefully that doesn't include a frozen pitch!
"Thought the European league was too much for us, long travel trips, trying to become a team. The results helped, but Sion I am sure we played on a frozen pitch. I hope it will not be like that, to be honest!
"I wouldn't compare it. It's a different time, a different team. We are better prepared, doesn't mean we will go to the final, but we are prepared. We enjoy it more."