UEFA have been accused of giving "completely untrue" evidence to the inquiry on the 2022 Champions League final, to protect senior figures.
After the near-fatal chaos of the 2022 Champions League final in Paris, UEFA set up an independent inquiry into the events at the Stade de France.
In a report by David Conn of the Guardian, UEFA have now been accused of presenting "completely untrue" evidence to the inquiry by their then operations director, Sharon Burkhalter-Lau.
The panel deemed the dangerous problems the fault of the events division, but Burkhalter-Lau thinks the blame lies elsewhere.
The events management specialist said she could not accept that her events division held primary responsibility for the chaos, instead blaming the French police.
She also rejected the accusations against her team, in memos sent to UEFA officials including Theodore Theodoridis.
"The claim that Uefa Events … senior management marginalised the Uefa security unit is based on statements provided by Uefa that were untrue and concerted," Burkhalter-Lau wrote.
In January, she also wrote: "Following the Paris final, we discussed that we must protect the security unit from the fallout."
She added that UEFA's evidence that head of security Zeljko Pavlica's unit had been sidelined was "untrue.
"I understand now that there has been an agreed strategy to protect the security unit by stating that all safety and security matters would be communicated via project management, which places the blame for any perceived errors or omissions on Tiziano's team," she wrote in her memo.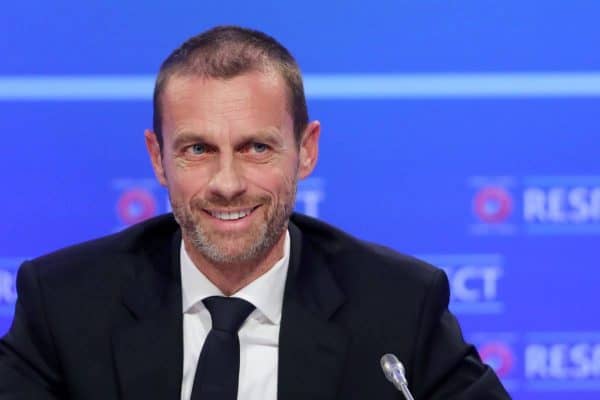 This was was referencing Tiziano Gaier, a UEFA official in Burkhalter-Lau's division responsible for the final operations.
This shielding of Pavlica, who spent the evening in the VIP area and missed vital planning meetings, again calls into question the integrity of the organisation and its president, Aleksander Ceferin.
This is especially the case given Ceferin was Pavlica's best man at his wedding and the security official was appointed to his position with no recruitment process to go through.
High-ranking figures at UEFA say they have changed and learnt from their failings. However, these accusations indicate there is still a culture of cronyism and a push to shift blame onto others.
Responding to the Guardian, UEFA said: "The group, and Uefa more broadly, had numerous discussions about the events in Paris, some of which reflected the different views internally on the events and actions of that night.
"Some of those differences were also reflected in the evidence given by various Uefa directors to the panel, evidence that was given in good faith and to the best of the individuals' knowledge and recollection."
---
You can read the full report from David Conn, in the Guardian, here.