The first pause of the new season reached and Liverpool can be happy with their lot, if still a little twitchy about Saudi Arabian interest in our Egyptian King.
Whether Mohamed Salah opts to stick or twist in the days ahead with regard to overtures from Al-Ittihad and the much-feared Saudi Pro League, Sunday afternoon proved that his head can never be turned from the inflated size five orb when one is rolled to his feet.
Absolutely nothing about the visit of Aston Villa to Anfield had the aura it was to be the last time that we would be seeing Salah in a Liverpool shirt.
Our legendary No. 11 instead struck the image of a man without a care in the world, a player at one with the here and now, for whom tomorrow will look after itself.
Same old Mo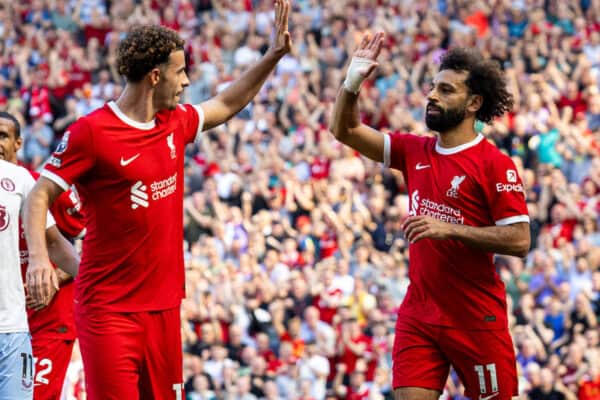 While Dominik Szoboszlai quite rightly won most of the plaudits for his overall magnificence, Trent Alexander-Arnold gained nods of approval for his quarterback-style performance and pinpoint passing.
Alisson won more backslaps for his continuing outstanding goalkeeping when called upon, Salah just spent his time doing Salah things.
A goal here, a dip of the shoulder and a penetrating run there, an incisive ball at the drop of a hat.
That bounce on the spot he does when something audacious just narrowly fails to come off, the smile that could light up an entire coastline shrouded in darkness.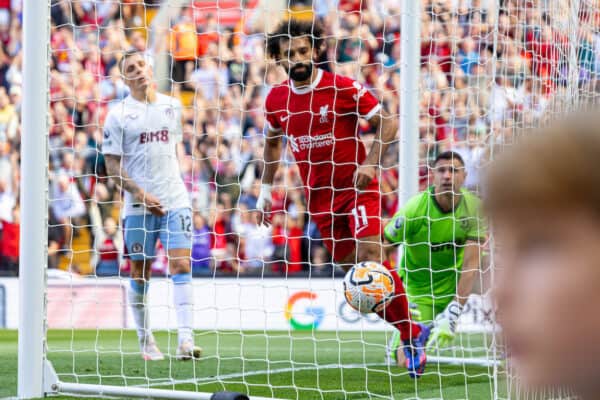 On Sunday he could have had a second goal to his name, plus a couple of assists, had Darwin Nunez been on target with the chances Salah laid on to him.
When it comes to Salah, it's always about the priceless ingredients he adds to the recipe for the best vintages of Jurgen Klopp's Liverpool.
£150m? £200m? He's 31 and we'd be mad to refuse such an offer, or so goes the theory on one side of the argument.
He's Mo Salah though, and at any price, we'd be nuts to accept such an offer. You can't put a price on the irreplaceable.
Besides, we're all too often inept at spending big money. We'd only waste it.
A priceless icon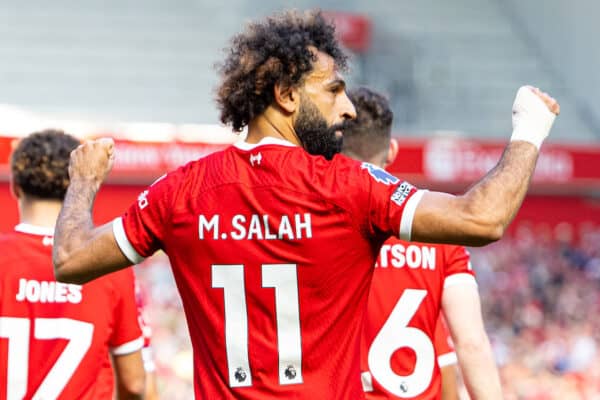 In four and a half decades of watching this great team of ours, despite the litany of wonderful players that have come and gone, I can probably count on one hand the number of individuals I'd class as having been impossible to replace.
When truly at the top of their game, Liverpool have historically been wily enough to have had a plan up their sleeve for the loss of an omnipresent figure.
We waved goodbye to Kevin Keegan and said hello to Kenny Dalglish, the answer to the endgame of Emlyn Hughes was the arrival of Alan Hansen.
Ian Rush's departure and the ageing of Dalglish himself were countered with the accumulation of the attacking triumvirate of John Barnes, Peter Beardsley, and John Aldridge.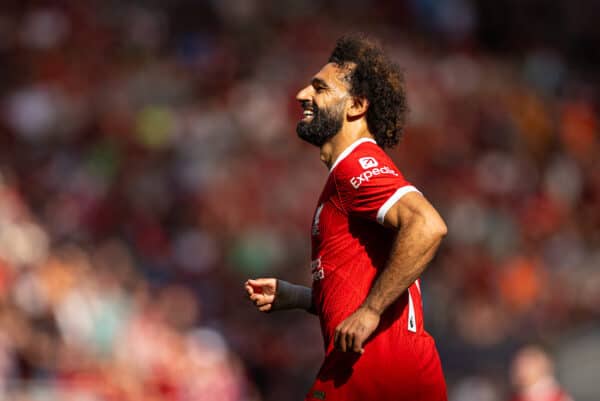 In more contemporary terms, the losses of Sadio Mane and Bobby Firmino have been addressed by Luis Diaz and Cody Gakpo.
Whenever Salah takes his leave of the Anfield stage, whether that is to be in the next few days, January, next summer, three years from now, or even beyond 2025, we won't have a simple answer to the conundrum it will deal us.
A week on from our stunning ramraiding of St James' Park, another three points that owed so much to the interjection of Salah, Villa were swept aside with an ease of playing with 11 men that has been noticeably missing.
With 15 goals in Aston Villa's last four fixtures, since an opening-day capitulation against Newcastle, outside the ground prior to the game, there seemed to be a few nervous dispositions.
None of those were soothed when I suggested we'd be absolutely sound once we were down to 10 men.
Silencing the doubters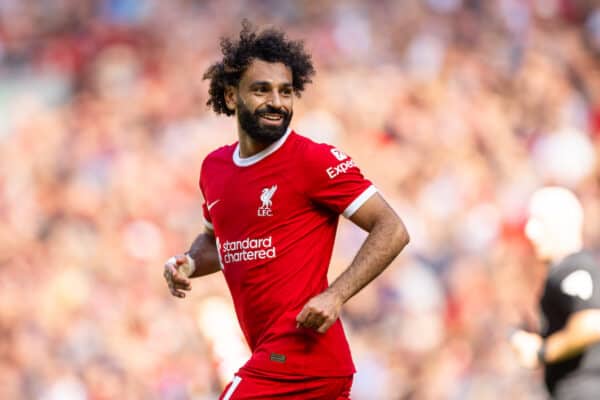 As much as we had produced reasons to be cheerful of our own across the first few weeks of the season, it was an undeniable aberration that our best football had been displayed after red cards had been flashed to us.
The trick going into Sunday was to show we could turn it on without feeling we had been wronged, to prove we could play fluidly and forcefully via our own self-propulsion.
What could we do with the blank canvas of 90 minutes of sunshine?
Szoboszlai sweeping the ball home within three minutes set a tone that Unai Emery and his players couldn't live with.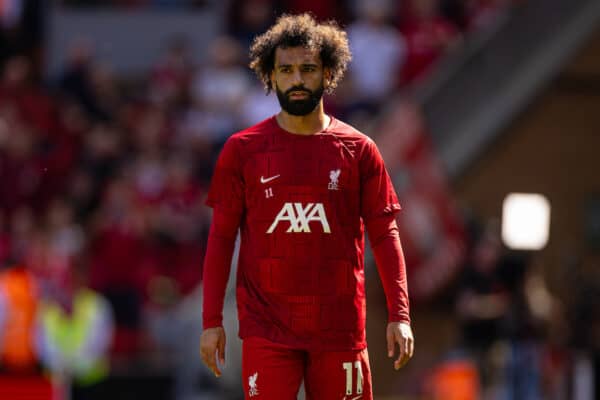 By the time Matty Cash claimed himself an own goal, provoked by the threat of Nunez, it was realistically game over as a contest.
With Trent picking out teammates in channels of generous space, every venture forward felt like it would bring another goal, on a day when we wouldn't have been flattered to have doubled the scoreline.
We can walk away from this win, and the summer transfer window, satisfied with our lot despite lingering grumbles from those who live their lives nursing a half-empty glass about the lack of recruitment.
Up the Reds.