Liverpool fans have a keen eye for the hallmarks of quality forwards, so why is the jury still out on Darwin Nunez?
The Uruguayan arrived at Anfield last summer with all of the fanfare you'd expect for a centre-forward who could go on to break the club's transfer record.
It was seen, rightly or wrongly, as a stray from the way in which Jurgen Klopp typically sets up his forward line.
A tall, powerful and pacey focal point is a far cry from the role Roberto Firmino carried out at Liverpool and it marked the beginning of a 12-month transition in that area of the pitch.
The signing of Cody Gakpo came six months later and ensured there would be healthy competition for places even after Firmino had waved goodbye.
Despite this, Nunez notched 15 goals in all competitions in a campaign that got off to the worst possible start with a red card in his home debut.
Why is it, then, that his debut season is viewed in such a negative light by so many?
Eventful beginnings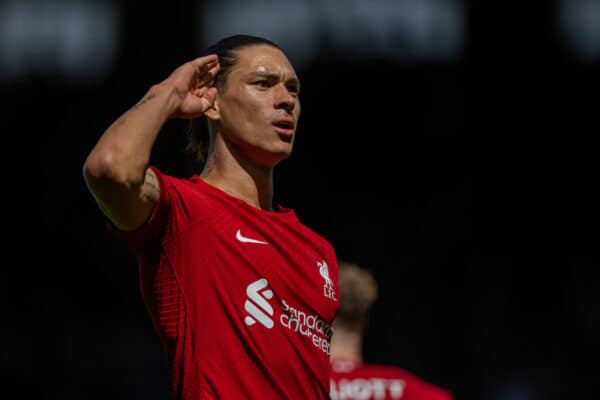 Nunez came off the bench on the opening day of 2022/23 to net a timely equaliser at Craven Cottage and announce himself to the travelling support.
An intelligent flick that we have since seen again against Real Madrid, the goal was a classic example of how deadly Liverpool's new No. 9 can be when he calls upon his instinct.
His dismissal for a headbutting Joachim Andersen nine days later at Anfield was an illustration of the other side to him, demonstrating the edge on which he plays that can, at times, make him so devastating.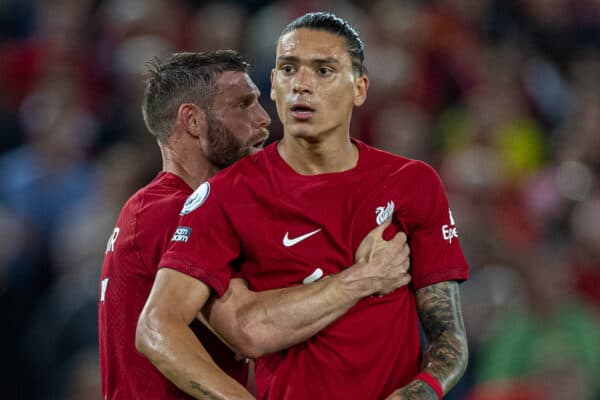 Any early momentum from his Premier League debut goal was promptly wiped away by a three-game ban, but Nunez wasn't kept away from the action for long.
He was on target four times in five appearances across October, with two of those goals coming from the bench.
But while he was quietly going about his business, a lab-grown striker was stealing all of the headlines on the other side of the M62.
Arriving in England at the same time as Erling Haaland was always going to present its own challenges but in reality, he ought to have been none of our business.
Great expectations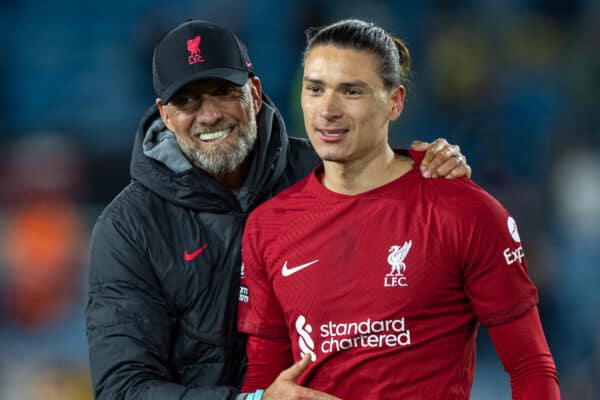 A rate of 158 minutes per goal is a perfectly adequate return given the staggered nature of his season, but becoming potentially the club's record signing naturally brings its own pressures.
When Liverpool go big they tend to get it right, and the sustained brilliance of Alisson and Van Dijk attests to that.
At 22 and in a time when the Reds boasted a wealth of attacking options, he didn't need to be the forward version of Alisson or Van Dijk, but he did need to give the manager something to work with.
There has been no shortage of strikers who have gone on to have stellar Anfield careers despite relatively modest starts.

Luis Suarez, still considered by some to be the greatest player in the club's modern history, netted 17 times in his first full season at the club – and that was with a running start having joined in January.
Sadio Mane managed just 13 goals in his first Reds campaign and his strike partner Roberto Firmino netted 11 a year earlier.
When Nunez signed, Klopp stressed that the club were purchasing a "work in progress" in a bid to manage expectations from day one.
Big fees do not always necessarily have to translate into explosive early impacts, and in handing the Uruguayan a six-year deal Liverpool were getting themselves a forward for the future as much as the present.
No more time for talking

It goes without saying that he must deliver if given the opportunity in 2023/24 and another 15-goal tally will not be enough to keep him immune from scrutiny.
His late brace at Newcastle, however, was a timely example that he is capable of delivering exactly what is required and that he is not simply the "chaotic" option off the bench that he is so often made out to be.
The word "raw" is a similar adjective that is thrown around when discussing Nunez's attributes, but Klopp's "work in progress" quote is a sign that the intention was never to sign a striker that would rival Haaland's output from the get-go.
The 22-year-old himself said in February: "Something similar happened to me already at Benfica. The first year went very badly for me and in the second, I exploded.

"Here, I think the same thing is happening. I hope next season will be like that. I'll put my best forward and hopefully, I'll get a bit of luck."
If that is his mindset, then who are we to doubt him?
If he believes a 15-goal season went "very badly" then we are going to have a lot of fun finding out what he is capable of once he has "exploded."
Nunez will need the "luck" he referenced, as all forwards do, and he will need to be given a regular run in the side which will be no foregone conclusion when Gakpo and Diogo Jota continue to exist.
As well as describing him as a "work in progress" Klopp also said Nunez is someone who can "threaten space from central and wide areas" and minutes were made available to him on the left flank last season.
His role in pre-season and in the early stages of 2023/24, as well as the simple fact he was awarded the No. 9 shirt in the summer, imply that this isn't going to be the case moving forward.
Liverpool will one day have to plan for life without Mohamed Salah and they will need someone they can rely on to be the main man up top.
Darwin Nunez possesses all of the tools to become that player. He is not "just a sh*t Andy Carroll."