Mohamed Salah is lauded by Liverpool supporters all over the world, but is he actually underrated and why is that?
This was the topic of discussion this week on This Is Anfield's podcast with The Late Challenge.
Gareth Roberts and Paul Cope debated the Egyptian's legacy and asked why some football supporters, may still undervalue Salah's ability.
After using NME's 'Godlike Genius' award to describe Salah, Roberts said: "Someone I know sent me a comment they'd seen online from a Red, who said: 'You can't be putting him in the same category as someone like Ian Rush'.
"Why not?"
Cope had a similar viewpoint, adding: "They say things like: 'His touch isn't as good as it could be; his finishing isn't as good as it could be; he hasn't scored as many goals as Ian Rush; he's scoring less than he used to; he's godlike but he's not as godlike as a bigger god we used to have'.
"These are all nonsense points!"
With a better games per goal ratio than Ian Rush (1.64 matches to 1.91) the Reds' No. 11 is the fifth highest goalscorer in the history of the club.
In fact, Cope thinks Salah is still improving and said: "He still scores goals every season and now he's evolving his game.
"He's getting better, he's evolved his game. Now, he's setting up loads of goals, I think he might be our most creative player."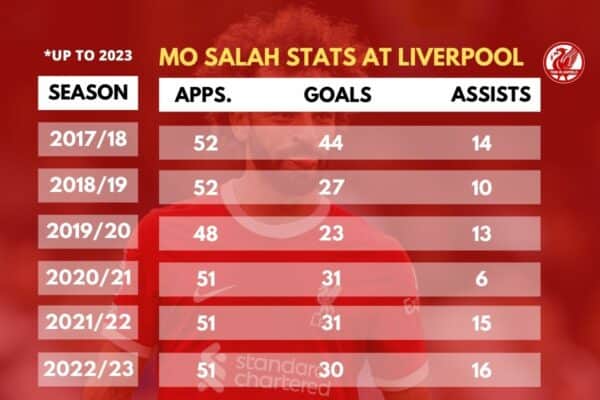 Cope added: "It's like we've just been spoiled so much [with great forwards] that I think people just go now: 'Yeah, there'll just be another one. Just go and find another him'.
"And you're like: 'Wow'."
Roberts then chimed in, saying: "Maybe you should think back to [Mario] Balotelli, [Ricky] Lambert, these type of lads that we had coming in."
The match-going Red added another reason to hold Salah to in such high esteem.
"One of the things about Billy Liddell was that [Bill] Shankly said: 'He was made out of granite'," explained Roberts.
"He never missed games, was hard in games as well."
"The least Salah has played in a single campaign for Liverpool is 48 times and, in five of the his six full seasons, he's played more than 50 matches. That's despite the heavy-handed defending; despite him being a marked man; despite defenders, coaches, managers, everyone knowing what a threat he is."
Roberts summarised by saying: "For me, he is an absolute legend. For me, he's one of the best players who has played for the club, certainly in the modern era."
---
Paul Cope and Gareth Roberts were speaking on a new show from This Is Anfield and The Late Challenge Podcast.
There is a live show that airs each Monday at 5pm (UK) on This Is Anfield's YouTube, with our second show each Wednesday (UK).
You can also listen as an audio show, here.