At 41, Pepe Reina is not only still playing football, but he is playing at the top level, saving a last-minute penalty for Villarreal in the Europa League.
It is now over 10 years since Reina played for Liverpool – having spent almost a decade on Merseyside – but he has remained at the top after moving.
The legendary Spanish goalkeeper represented Napoli, Bayern Munich, AC Milan, Aston Villa and Lazio after departing Anfield, before returning to Villarreal in 2022.
After a campaign as first choice, he has lost his starting spot in LaLiga to academy product Filip Jorgensen – a player 20 years his junior – but remains in place as Europa League goalkeeper.
That meant a second consecutive start in the competition on Thursday night as Villarreal hosted Rennes, keeping his first clean sheet of the campaign.
Reina's shutout came in dramatic circumstances, with the veteran saving a penalty in stoppage time to secure a 1-0 victory.
41 year old Pepe Reina saved a 90th minute penalty to help Villarreal beat Rennes!#UEL pic.twitter.com/UdasoP4vHx

— Football on TNT Sports (@footballontnt) October 5, 2023
It came with the bizarre decision to hand Martin Terrier spot-kick duties, nine minutes into his first appearance after nine months out with an ACL injury.
Terrier stepped up, with a lengthy VAR check delaying his kick, before Reina dived the right way to keep it out.
The Rennes winger was then unsuccessful with a diving header on the rebound, ensuring the win for Villarreal who sit second in Group F.
According to Transfermarkt, it was the 15th penalty save of Reina's career, not including shootouts – with four of those coming at Liverpool.
In tears at full-time, the World Cup winner reflected on his situation as backup goalkeeper, admitting there is "very little left" in his career and that "it's time to enjoy it."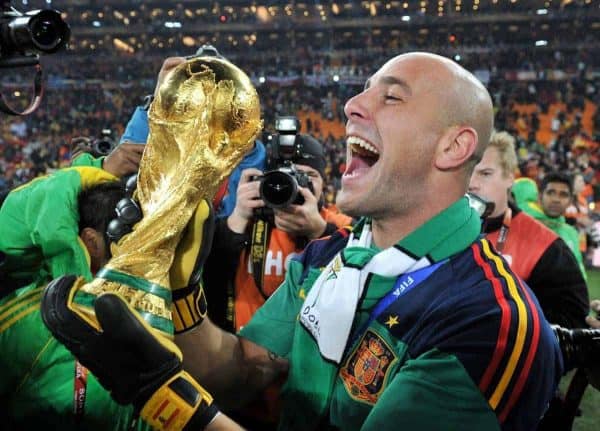 "There are times when work rewards you, and it is a different year, when it is time to contribute and help. Filip is growing a lot," he told Spanish broadcaster Movistar.
"This victory puts us in the fight to be there and allows us to change the dynamic.
"The nicest thing is when your team-mates tell you that you deserve it.
"In this job there are many unpleasant days and today it's time to enjoy it. The joy is enormous.
"I dedicate this moment to all those who accompany me on this journey. My wife and my children are above everything."