Jurgen Klopp has confirmed Andy Robertson does require surgery on his shoulder injury, which is expected to rule him out for the remainder of 2023.
The Scot sustained the injury while leading his country against Spain last week, with the weight of goalkeeper Unai Simon landing on Robertson's shoulder after a challenge.
With no immediate updates on the severity, optimism for a quick return swiftly started to wane among supporters.
And it has now been confirmed that Robertson will undergo surgery on his dislocated right shoulder.
Providing an update on Robertson's injury on Friday, Klopp told reporters: "The decision we go towards is surgery.
"There was a little chance we could try without, but after talking to pretty much all the experts it looks like surgery will be the best for the long term.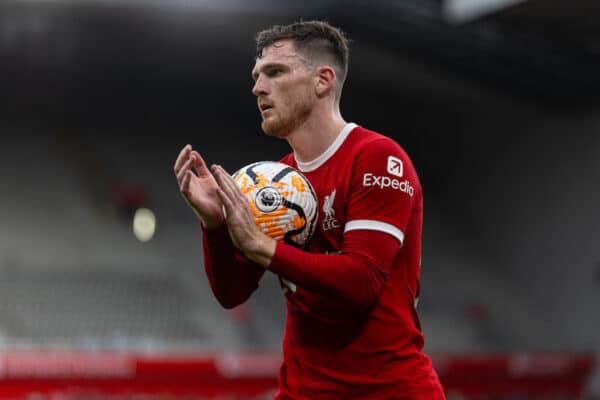 "That means he will be out for a while. Don't know exactly how long, but a shoulder surgery is not an easy one.
"From my experience, you can train pretty quickly again but not football-specific because you have to be careful with challenges and things.
"[He] will be out for a while."
It means we can safely say he will be sidelined for the rest of 2023, that would result in the left-back missing up to 18 of Liverpool's upcoming matches across all competitions.
It is a major blow for Klopp's side after a positive start to the campaign.
Kostas Tsimikas will now play a prominent role for the Reds, and for the first time in his Liverpool career will be expected to start in more than three Premier League games in a row – he's previously only managed two league starts in succession.
Klopp also named Joe Gomez and Luke Chambers as options as left-back, as Tsimikas "cannot play all the games."
---
Remaining 2023 games Robertson will miss