Mohamed Salah has scored a brace twice in a row. This could be the start of a streak that brings back memories, writes Timothy Ellis.
It's been six years since Salah's mesmeric debut season when he scored 44 goals in 49 appearances, 32 of those coming in the Premier League to set a new competition record.
Everything he touched flew in from all angles. He was garlanded. There were dinks, shots that veered into the high corner of the goals, defenders left flat on their backs, and just bursting, searing pace that tallied beautifully with his other red arrows, Bobby Firmino and Sadio Mane.
This was heavy metal football with goals, tricks, touches and synchronicity that Anfield hadn't seen since the Sturridge, Sterling and Suarez crack shots of 2013/2014.
The flat ending – a defeat in the Champions League final in Kyiv and Salah going off injured burst the bubble a little. This man keeps coming, though. He is relentless.
Greedy? Think again

Unlike the best of the 'SSS' – which was a perfect but brief moment in time – Salah has been a striker who keeps on giving.
His goal Premier League returns in the subsequent five seasons for the Reds have been 22, 19, 22, 23 and 19 respectively.
Erling Haaland may have come from another interplanetary solar system to score for Man City with ease and not worry about the rest, but the Egyptian is bringing his whole bag of tricks now as he matures.
Salah is one of those players that was perhaps taken for granted after that sensational beginning. Gary Neville was long taken with the idea that the No. 11 would take off somewhere else eventually.
"Salah is cold-blooded but that's not a negative," he said back in 2020. "That makes Liverpool vicious as a team because he's the type to do it again and again, he will not stop. That's probably why the likes of Real Madrid, Barcelona, Paris Saint-Germain are probably in his ear."

The 31-year-old ended up signing a new three-year contract in the summer of 2022, but Neville was right about one thing when he said Salah was an "absolute killer."
Yet, it almost does a disservice to the man, adding to the narrative that the Egyptian was always the greedy one, the less likeable one of the triumvirate.
If anything, as his goalscoring has flatlined around the 20 mark in most league campaigns (hardly a cause for concern), the amount of assists Liverpool's number-one forward produces is on the rise.
Mora than just the goals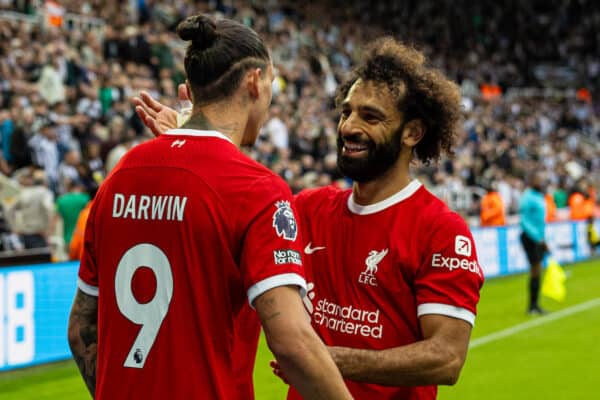 Since the beginning of the 2021/22 season, Salah has laid on 35 assists – including four already this campaign. In his first four full campaigns in all competitions, there were 43 assists to his name.
During the 2021/22 season, where the Reds were two games short of that cruel quadruple denouement, Jurgen Klopp said of the Egyptian: "He was never criticised for being too selfish by us because he never was too selfish."
The perception has always been there – more from the outside – that here was a man stuck on lone patrol with only one target. He was going to shoot, no matter what the circumstances to the left or right.
Wow. Occasionally, strikers do only see the net. That's their job. And he has also produced when there was all kinds of changes around the club. The break-up of the supersonic trio was never going to be easy.
Salah's delicious set-up for Darwin Nunez's winner against Newcastle was just another quality sample of his ability to lay on goals for his team-mates. He doesn't get extra lashings of praise, though.
Likewise, within minutes of the opening of the season at Stamford Bridge, the forward had rattled the bar, struck an absolute beauty of a pass for Luis Diaz to score and then had a goal ruled out for a marginal offside. It was all in a day's work.
Though, he made more headlines for being substituted.
Salah had not started that fast in the goals department in 2023/24. Then, there was a brace against Brighton before the international break and another one against the local rivals on Saturday afternoon, including an absolute peach of a penalty.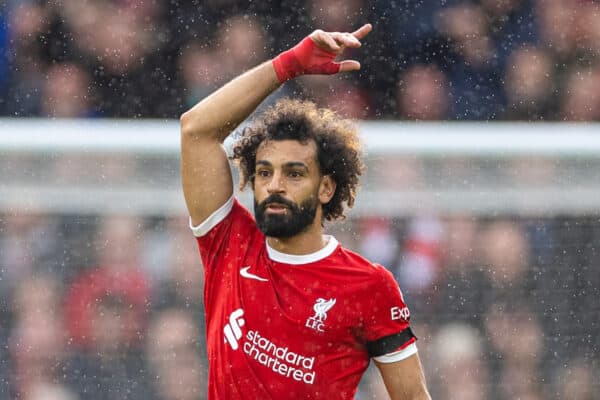 There are signs that he could pick up the pace again for the Golden Boot this season, he is currently just two behind leader Haaland (nine).
"I know my job well, I talk to the coach, I'm often the first to come to training and the last to leave, I know what I'm doing, I focus only with the team. Most importantly, I focus on winning trophies and giving the team everything I can," the forward said last year before penning his new contract.
There has never been any doubt about his commitment. Salah might be six years older than when he first arrived, but he is still a machine with power assists to add.
His consistent brilliance may be too boring or under appreciated for some to elaborate on, but L4 knows his value goes far beyond the postcode.
Young exciting strikers might be making the headlines; Firmino is in distant lands, and Mane's European adventures didn't work out. But Liverpool reloaded means that the final red arrow left standing could be ready to unleash like it's 2017.
---
* This is a guest article for This Is Anfield by Tim Ellis. Follow Tim on Twitter, @Timotei365.