The subject of Anfield's atmosphere often causes debate among supporters and has recently emerged again as a discussion point, but is it really getting worse?
Gareth Roberts and Paul Cope tackled the subject on This Is Anfield's latest podcast with The Late Challenge, with both posing theories as to why it often sparks such conversation.
Anfield remains one of the most famous stadiums on the planet and has played host to historic nights such as the comeback against Barcelona in 2019 and the 1-0 win over Chelsea in 2005, both in Champions League semi-finals.
A post from @Kop205Row37 on Twitter about the "terrible atmosphere" he has sensed in the ground in recent times prompted the debate and Roberts opened by pointing out that this is by no means a new topic between fans.
"This is a debate that has gone on forever," Roberts insisted when talking about the latest spike in atmosphere discourse.
I think we need some sort of fan committee at Anfield to sort this fucking terrible atmosphere out. @spiritofshankly @SpionKop1906 is there anything either of you can do?

— Chris. (@Kop205Row37) September 24, 2023
"I think loads of things have happened over the years to aid the atmosphere. People are always quick to have a go at the club as an example, but the club have got safe standing into Anfield.
"I do think there's bits that could maybe be done, I don't know what the logistics are, but if I was sitting with someone from the club right now I would say 'Could you maybe do more to get groups of mates together?'"
The tweet upon which the show was largely based called for action to be taken by supporter groups in order to facilitate improved levels of noise and support around Anfield.
It has proved throughout the years to be a difficult task, but Cope cited internal "judgement" as a potential deterrent for people choosing not to be more vocal on the terraces.
"I think part of the problem – and this is a scouse thing as well – is there's a high level of judgement," Cope added.
"Part of the reason Anfield is great is that there are certain rules you live by. We don't have s**t banners, we don't sing s**t songs, we don't sing 'who are ya' and things like that."
It is a subject that will continue to rumble on, with many believing that it is becoming gradually more difficult than it used to be to generate the fervent atmosphere Anfield has become known for around the world.
Both Roberts and Cope agreed that the events on the pitch have always had an impact on what goes on in the stands and that the atmosphere cannot be the same in uneventful games of less importance, relatively speaking.
Cope continued: "We went into the Chelsea semi-final in 2005 – everyone's fired and pumped up obviously – but in the first five minutes you had massive incidents that just lit the blue touch paper and that created the atmosphere."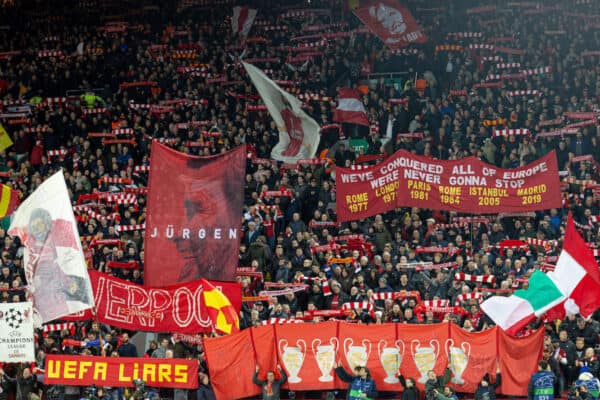 Roberts echoed those sentiments by saying: "Man United or the derby is always going to be an 'atmosphere game' and someone lower down the league with a crap kick-off time is not going to be.
"It can be the occasion, it can be the situation, it can be the fact you're 2-0 and no one thinks you've got a chance. That's when you get the really special moments."
---
Paul Cope and Gareth Roberts were speaking on a new show from This Is Anfield and The Late Challenge Podcast.
There is a live show that airs each Monday at 5pm (UK) on This Is Anfield's YouTube, with our second show each Wednesday (UK).
You can also listen as an audio show, here.