Jurgen Klopp, despite acknowledging some will not want to hear it, says the "only outcome should be a replay" after the Luis Diaz disallowed goal at Tottenham.
After the events that transpired in the Premier League game on Saturday, there was only ever going to be one big talking point as the manager fronted the press on Wednesday afternoon.
With the VAR audio now released from Diaz's goal never being awarded, a statement of VAR changes to come and various managers having their say, it was now Klopp's turn.
The manager, previewing the visit of Union SG in the Europa League, insisted he is not "angry" with what occurred but did say he wants a replay. This is what he had to say:
"The audio didn't change it at all, I wasn't interested in why things happen because I knew, I saw the outcome – we scored and it didn't count.
"I wasn't waiting for the audio and sitting there hoping I could find out how it happened or whatever.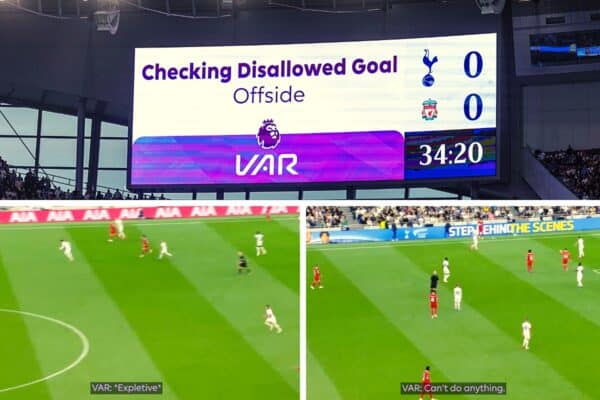 "What I want to say is, it's really important, as big and important as football is, that we really deal with it in a proper way.
"I mean all the people involved, on-field ref, linesman, fourth official and especially VAR, did not do that on purpose.
"We should not forget that. It was a mistake, an obvious mistake, and I think there would have been solutions for it afterwards.
"I can say immediately, and some people won't want me to say, not as a manager of Liverpool, more as a football person, the only outcome should be a replay. That's how it is.
"Probably will not happen, the argument against that is if we open that gate, everybody will ask for it.
"I think the situation is that unprecedented that, it didn't happen before, I'm 56 years old and since 50 years in football and I don't always deal well with it, but I'm used to wrong decisions.
"Something like that, as far as I can remember, never happened. That's why I think a replay would be the right thing.
"Against the argument, if it happened again I think a replay would be the right thing to do.
"Or, the referee has the opportunity to bring the coaches together and say, 'We made a mistake, but we can sort it. Let Liverpool score a goal and we start from there.'
"What makes it a bit more special is that we conceded two minutes after we scored a regular goal.
"How all things depend on each other, if the goal would've counted the ball would've started in the middle of the pitch. It would've been different.
"That's my view on it, I'm not angry with any of them. Not at all.
"It's not allowed to go for them, they made a mistake and they felt horrible that night, I'm 100 percent sure. No one needs further punishment.
"What made this day really difficult for us, was all the other decisions."
With the Spurs game dominating discussion, Klopp was then asked, from his comments, if Liverpool are to ask the Premier League for a replay.
He said: "At this stage, we're still going through the information that we have.
"From my point of view, if you face a situation for the first time, you try to understand it, then work on solutions.
"But that doesn't sort the problem, points are at stake. That's why, for me a replay would be the right decision."
READ: "Oh, for f***'s sake" – Full VAR audio of Diaz offside decision