Over the years, Liverpool have had their fair share of hits and misses in the transfer market, but what about the deals that never quite came off?
On this week's Wednesday episode of This Is Anfield's YouTube and podcast series with the Late Challenge Podcast, Paul Cope and Gareth Roberts recalled some of Liverpool's near transfers and discussed how things could have turned out.
Among the best footballers of all time is Cristiano Ronaldo. The Portuguese began his career at Sporting Lisbon before progressing to Man United then Real Madrid, where his goalscoring record was simply ridiculous – the No. 7 netted an astonishing 451 goals in 438 games for Madrid.
It could have been Liverpool he moved to, though, had things turned out differently in 2003.
With his performances for Sporting attracting attention, Gerard Houllier's Liverpool agreed a £4 million fee for the winger but, speaking to The Athletic, Phil Thompson revealed how it fell through.
The European Cup-winning captain said: "I asked about the salary and Tony [Henry, agent] told me it was £1 million a year, net.
"For an 18-year-old, that was a lot of money. But Tony said it was negotiable and I thought, 'Jesus, these lot are really trying to push him out of the door'.
"We were keen, the boy was obviously a great talent."
There was, of course, a twist in the tale and Thompson revealed: "I will never forget what happened next.
"On the Tuesday morning, we were having lunch at the training ground and it came up on the yellow strap on Sky Sports, 'Manchester United have signed Cristiano Ronaldo for £12.2 million'.
"Gerard and myself almost choked on our food. I can remember Gerard jumping up and saying, 'What the hell has gone on there?'"
Even if the Portuguese had signed for Liverpool, things may have not turned out as successfully for him as they did in reality.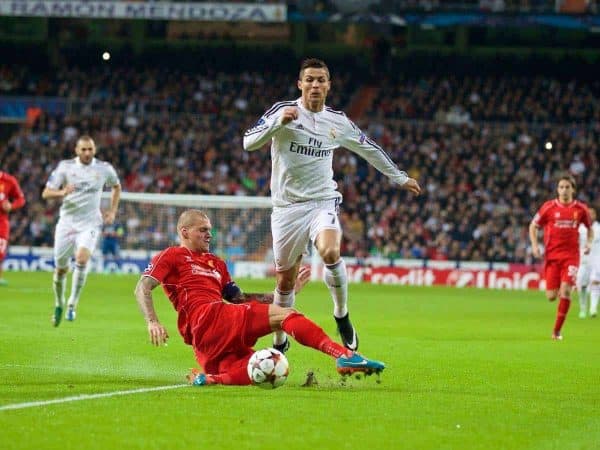 On this week's podcast, Cope suggested: "I don't think Houllier and Thompson would have been able to manager Cristiano Ronaldo in the same way Alex Ferguson could manage him.
"Alex Ferguson had that level of 'you can't f**k around with me', but also had the 'you've got to respect me because of what I've already done'.
"And I think that's the management Ronaldo needed. I think he'd have been too far the other way for us; too much the arrogant, cocky young lad.
"You've got to remember when he first came in, there was a lot of work to do with him."
Roberts had a similar feeling, saying he wasn't a "Liverpool player" and that "he's turned out to do what he's done in every respect of life, and let's say maybe it wasn't the right thing for Liverpool."
---
Paul Cope and Gareth Roberts are speaking on a new show from This Is Anfield and The Late Challenge Podcast.
There is a live show that airs each Monday at 5pm (UK) on This Is Anfield's YouTube, with our second show each Wednesday.
You can also listen as an audio show, here.